Bay Area Women's Center Presents Program to Rotary
July 19, 2011
By: Stephen Kent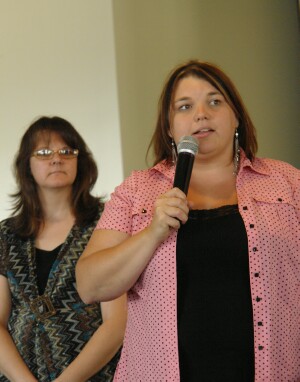 Jessica Gregory (foreground)
Intern Betty background.
Jessica Gregory has been with the Bay Area Women's Center since 2005. Today she is the Community Education coordinator. Along with intern assistant Betty, Jessica outlined some of the services provided by the center.
The vision and mission of the Bay Area Women's Center is to eliminate domestic violence and sexual assault in our community.
The Center operated as Eden House from 1981 to 1985. It then moved to a larger location and changed names to The Bay County Women's Shelter. A new 32 bed facility was built behind the old YWCA in 2000 and the name was changed again.
Many people know the center exists but not about its services. The
24 Hour Crisis Line
fields calls from around the region including shelter calls, referrals, sexual assault and domestic violence. The center provides many one-on-one services, including counseling.
The services go far beyond sexual assault. The Center provides residential services, children's services, group counseling, life skills training, a domestic violence group and others. They also help with court visits, protection orders, and related items.
An Incarcerated Women's program takes counselors to local jails. Up to 90% of the women in these situations have experienced some form of assault, sexual or domestic violence.
Shelter clients average 30 to 45 days after which Center employees become advocates where appropriate. Help is provided with housing, employment, education, income, safety and related barriers.
The Sexual Assault Nurse provides exam and other services that are much less traumatic and invasive than a visit to the emergency room. These specially trained nurses are on call 24/7. Too many people do not get an exam because they don't have insurance.
In 2010 the Center provided 7,521 nights of shelter to 129 families. 22,563 meals were served. Non-residential services were provided to 627 Adults and 112 Children. 56 Sexual Assault exams were performed, 20 of which were for children.
The Center provides numerous education services. Organizations, businesses and individuals are encouraged to contact the center for information.
For further information visit
www.bawc-mi.org
.
---
CLUB NEWS and ANNOUNCEMENTS
New Member Orientation will be held on August 10. The location will be announced soon.
Lee Newton
was announced as the President-elect for the year 2013-14 following Kim Prime, who follows Ed Keating. Congratulations Lee!
The 2011
International Night
date was announced as
October 13
. Auction items will be accepted by
Bob Chadwick
. The committee continues to meet regularly. Contact Kim Prime if you are available to help.
Breezes Reporters Wanted
: If you'd like to help write the weekly Breezes please see Steve Kent. It's an easy job. No experience necessary. Training provided. High Pay (well at least a lot of thanks).
---
Upcoming Programs
(See the official schedule at RotaryBayCity.org )
July 26, 2011: 10 Minute Rotarian
August 2, 2011: The Diversified Group.
Joel Wilson will talk about his company and explain about being a publicly traded company.
---
Current and past
DISTRICT DISPATCH
newsletters are available on the District site shown in the LINKS section below.


Rotary Bay City on Facebook!
Click on the Blue Facebook to visit us there.

Remember! Check attendance sheets at the front desk.
---
LINKS