10 Minute Rotarians Tell Their Stories
July 26, 2011
By: Stephen Kent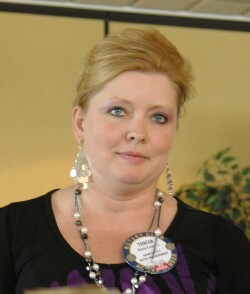 Tricia Coonan
Tricia Coonan
is the Catering Sales Manager for Bay City's Double Tree Hotel, where she's worked for 7 years. She has developed the wedding market but will soon concentrate in Corporate sales when a new wedding sales rep is hired. She's helped by her ability to remember people and their names.
Tricia started her talk by asking questions about herself then giving Doubletree cookies to those who know the answers.
Her husband is Chad who was a Marine Crypto Linguist for seven years and spent considerable time in the Middle East and Bahrain. Today he works for Echo Communications in Saginaw.
Tricia's son Cade is five years old and was just given his first mini-dirt bike for which they just bought insurance from Barb Englehardt. Cade is very sure of himself and currently plans to be a dentist because "hot mommas work in dental offices".
A native of Bay City and graduate of Central High School, Tricia and Chad love to travel and want to retire to Hawaii someday. Working for the Doubletree, a Hilton property, includes benefits that enable the couple to travel widely. Still, their favorite destination is Michigan's Upper Peninsula.
Her favorite food is sushi, and her favorite film is Gone With The Wind. She loves going to plays, although her husband doesn't.
Tricia's earliest career goal was to be a mortician or funeral director. In school she studied nursing. Today she's in the hospitality industry.
Besides her husband and son, Tricia has twin brothers and a sister and a big Newfoundland dog.
---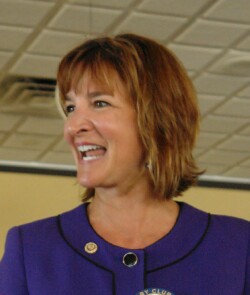 Barb Engelhardt
Barb Engelhardt gave her first 10 Minute Rotarian talk on December 29, 2009. Today she recapped some of that talk and gave some updates.
Born in Ohio, Barb's family moved immediately to Bay City where she was raised and educated. She went to the 1st ward's St. Joe's elementary and later graduated from Central High. Today she's back in the 1st Ward living in the Shearer Building.
Barb got her primary education at Delta College and then spent 18 years as a dental hygienist. Wanting to have her own business, she want back to school and graduated from Spring Arbor College in 2000.
Recruited as Trusted Business Advisor for Farm Bureau Insurance, Barb has been in that business ever since.
Barb was born on sunny day and her Dad likes to say she has sunny disposition. She says that she may have bad minutes and hours but never bad days. Her key to success is transparency. She also wears her heart on her sleeve, which can be both good and bad. Her goal and plan is to get up every day and shine up then move up.
As a high school athlete Barb took 3rd in the State Regional High Jump. Today she "walks bridges". Barb loves karaoke and dance but claims she's not good at either.
She loves loves the challenge of the insurance business. "Business comes at you, it's never smooth". She says that when people come to her office the first thing they notice is the good smell. "I'm a clean freak and get rid of stress by cleaning", she said.
Barb loves to speak and be a host. Has empathy and can see world through other's eyes. Combined with her very competitive nature it has let to being 25th or higher in company every year. She loves to win but is still a gracious loser.
Barb has two sons and a daughter. Her oldest son will be getting married on October 1.
---
CLUB NEWS and ANNOUNCEMENTS
New Member Orientation
will be held on August 10. The location will be announced soon.
The 2011
International Night
will be held
October 13
. Auction items will be accepted by
Bob Chadwick
. The committee continues to meet regularly. Contact Kim Prime if you are available to help.
Breezes Reporters Wanted
: If you'd like to help write the weekly Breezes please see Steve Kent. It's an easy job. No experience necessary. Training provided. High Pay (well at least a lot of thanks).
---
Upcoming Programs
(See the official schedule at RotaryBayCity.org )
August 2, 2011: The Diversified Group.
Joel Wilson will talk about his company and explain about being a publicly traded company.
August 9, 2011: New Senator Mike Green
from the 31st District will be here to talk about his role in state government.
August 16, 2011: Rotary 101:
Chuck Cusick will give us the real meaning of being a Rotarian.
August 23, 2011: District 6310 Governor Al Nietzke
will visit our club to provide an up date to the year 2011 - 2012.
August 30, 2011: Nadieska Vasquez
Rotary Inbound Student from Peru will speak.
---
Current and past
DISTRICT DISPATCH
newsletters are available on the District site shown in the LINKS section below.


Rotary Bay City on Facebook!
Click on the Blue Facebook to visit us there.

Remember! Check attendance sheets at the front desk.
---
LINKS