Rotary District Water Committee Updates Club
August 2, 2011
By: Stephen Kent
Rather than the scheduled program, District Water Project officers updated the club on the status of this project.
Immediate Past District Governor
Eileen Jennings
, lead off by saying that the development of a Water and Sanitation Resource Group was a crowning achievement of her year as governor.
The Dominican Republic is one of 3 countries, along with the Philippines and Ghana, which have been identified by RI as focus for water purification with bio-sand projects. Sanitation goes hand in hand. Contaminated water running down a hill doesn't help, even with bio-sand filters in place.
Jennings reported that 28 of the 32 district clubs are participating in these projects, mostly in the Dominican Republic. A number of people have traveled to the countries involved.
Two grants, along with matching funds from Rotary International are in progress now. A 3rd, lead by Bay City, is ready to go.
Arnie Leriche
from Oscoda talked about his club's participation in the 1st grant. The bar was set high by Eileen. Members from the club visited Haiti and the Dominican Republic 18 months ago to start the process.
Two rural villages are being helped. Where drinking water was taken from small streams the villages now have bio-sand filters. The club also built 40 latrines in each village for sanitation. These projects started in February and are almost finished.
Part of the contract calls for the gathering of annual statistics to be provided to the local club along with pictures of the condition of the projects. This provision is being incorporated by other clubs in their contracts.
Chip Sassone
reported on the projects the Frankenmuth club is leading to adopt a village. As with Oscoda, they are monitoring the project and have visited the villages.
Chip reported on the stark contrast between before and after visits. The club has run four projects building latrines and installing water filters and aqueducts. Even before starting the projects they sponsored training for the villages to implement such basic things as regular hand washing.
The club has raised funds for four grants of $7,100 each. These will be combined with matching grants from Rotary International. Commitments are coming in for four additional grants.
Frankenmuth has two upcoming trips. Rotarians are invited to go to the area from February 1 through 8. The club is also sponsoring a Spring Break trip for students from April 2 to 9 to install bio-stand filters. Anyone interested should contact one of the clubs.
The third project, lead by the Bay City Club, will be ready to go in a week. It will focus on rain water harvesting and aqueduct systems with water to be distributed in the villages. Word came yesterday that DR clubs will be signing papers and returning. This third project will allow small clubs to participate even if they can't donate as much.
Fourth project was developed by the Mt. Pleasant Club for Zambia. They have dug three water wells and are ready to start on fourth. They are looking for small grants from other clubs to leverage with matching grants and they hope to sponsor a trip to Zambia soon.
Cindy Chadwick
followed the talk by mentioning her "elevator speech" for when someone asks "why are you in Rotary"? Cindy says "Because Rotary does things that individuals and governments on this planet cannot do".
Eric Jylha quoted Rich King who said that when he asked why an African project was important he was told "Because when the well was put in the children stopped dying."
| | | |
| --- | --- | --- |
| Past Gov Eileen Jennings | Arnie Leriche | Chip Sassone |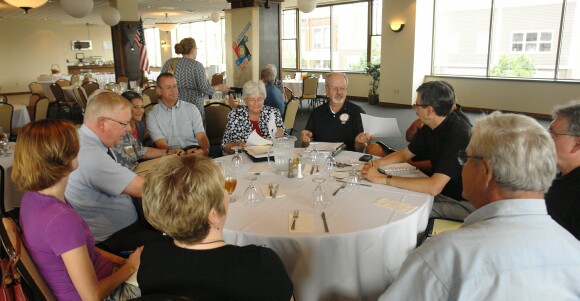 District Officers meet to discuss Water Project
---
CLUB NEWS and ANNOUNCEMENTS
The
Club Board
will meet at 11:00 am on Tuesday August 9 prior to the regular meeting. Everyone is welcome.
The
Program Committee
would appreciate ideas for upcoming programs. Contact Chris Girard, Jenna Schrumpf, Connie Schweitzer or Claudia Weiler.
New Member Orientation
will be held on August 10 at the Stein House.
The 2011
International Night
will be held
October 13
. Auction items are being accepted by
Bob Chadwick
. The committee continues to meet regularly. Contact Kim Prime if you are available to help.
On November 18, 2011 we will be holding our Annual Foundation Gala at Zehnder's of Frankenmuth. The price of admission is still very low, $35.00 per person or $250.00 for a table of eight. How about every club sending a table?

If you have attended before, you know what a great evening this is. If you have yet to attend, this year is a great time to start. Great food and great fellowship - an opportunity to celebrate our humanitarian efforts at home and around the world.

Leave your checkbook at home - we won't be asking for any money that night - we just want to thank you for all you do for Rotary.

More information to come so, be looking for it and PLEASE pass this on to your fellow Rotarians.

See you at the Gala,
Bob Chadwick
Breezes Reporters Wanted
: If you'd like to help write the weekly Breezes please see Steve Kent. It's an easy job. No experience necessary. Training provided. High Pay (well at least a lot of thanks).
---
Upcoming Programs
(See the official schedule at RotaryBayCity.org )
August 9, 2011: New Senator Mike Green
from the 31st District will be here to talk about his role in state government.
August 16, 2011: Rotary 101:
Chuck Cusick will give us the real meaning of being a Rotarian.
August 23, 2011: District 6310 Governor Al Nietzke
will visit our club to provide an up date to the year 2011 - 2012.
August 30, 2011: Nadieska Vasquez
Rotary Inbound Student from Peru will speak.
---
Current and past
DISTRICT DISPATCH
newsletters are available on the District site shown in the LINKS section below.


Rotary Bay City on Facebook!
Click on the Blue Facebook to visit us there.

Remember! Check attendance sheets at the front desk.
---
LINKS