The Breezes -- The Official OnLine Publication of the Bay City, Michigan Noon Rotary
---
Rotary to Hear of Mid-Michigan Children's Museum
at Tuesday Meeting
Club Has Contributed $107,000 to RI Foundation for Polio Plus Program
November 21, 2004
By: Dave Rogers
This week's program: Connie F. Kreft, executive director, Mid-Michigan Children's Museum.
Last week's program: Kathy Czerwinski, Harry Farris, Chuck Cusick and Rob Monroe -- Rotary Foundation.
NEWS FLASH: The date for the next Bay City Rotary Club International Night has been set for Oct. 13, 2005, at the DoubleTree Hotel - Bay City Riverfront.
Below:(Left)
Rob Monroe
programs the PowerPoint presentation on the Rotary Foundation as
Kathy Czerwinski
is at the podium. (Right) Spending money on jewelry is not necessary a bad thing, jokes
Tom Tabor
, retired jeweler, making a surprise "guest" appearance from his new home in Florida.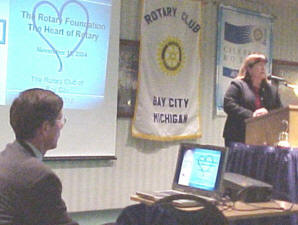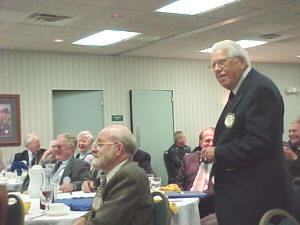 ---
      Members of the Bay City Rotary Club have donated a total of $107,000 since 1988-89 to the Polio Plus campaign to eradicate polio worldwide.
      That was the highlight of a report from several club officials involved with the foundation, headed by Kathy Czerwinski, foundation committee chair.
      An encouraging development, according to Mrs. Czerwinski, is that three members and two non-members have pledged part of their estates to the foundation. The local club has a giving target of about $120 a year per member, she said.
      The RI foundation was described as "the heart of Rotary" by the chairperson. Bay City's all-time annual giving has totaled $223,701, or a per member average of $2,217 in recent years, she said.
      Some 61 Rotarians have become Paul Harris Fellows by donating at least $1,000 each. She said 38 members are level one, 11 are plus one; four are plus 2; one is plus 3; three are plus 4; two are plus 5; one is plus 6 and one is plus 9.
      Funds go to Rotary International for three years and then are distributed 50 percent to local districts and 50 percent in grants to world service projects such as group study exchange, Rotary volunteers, Peace Scholarships, Centers for International Study, and humanitarian grants, said Mr. Monroe.
      "These grants effect world changes," he commented. "RI funds programs such as subsidizing university teachers, teen leadership and Ambassadorial Scholars.
      District 6310 foundation giving totals were listed at $93,828 in 2000-01;$93,203 in 2001-02; and $89,642 in 2002-03.
      "What we give today affects our ability to do good tomorrow," said
Dr. Harry Farris
.      
Chuck Cusick
, who with his wife Nancy are going to Egypt as Rotary volunteers in the PolioPlus campaign, noted that donations go only for vaccine. Rotary volunteers pay their own travel costs. They will be among 6-8 million volunteers worldwide.      
Jerome Yantz
, past district governor, noted that another big campaign to eliminate polio is being planned by Rotary International.###
(EDITOR'S NOTE: The Breezes logo appearing in this issue is from the club newsletter in the 1930s, provided courtesy of Dave Gregory, great-grandson of noted Rotarian ChanGregory who was honored for 50 years of service to the community by Rotary and other community groups in 1931.)