State Senator Mike Green Speaks to Rotary
August 9, 2011
By: Stephen Kent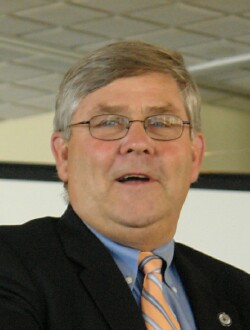 State Senator Mike Green (R)
Mike Green was elected to the Michigan State Senate on November 2, 2010. He represents the 31st District, which includes Arenac, Bay, Huron, Sanilac and Tuscola counties. Prior to that he owned and operated Green's Log Rails and Custom Log Furniture. He's married with 5 grown children and 20 grand children.
Mike was also a Michigan State Representation from 1995-2001. Previously he was a GM tool and die maker for 30 years, operated a family farm for 17 years and served as a county commissioner for 8 years.
Recently Green was the target of a recall campaign that has mixed results. He reported that he was surprised when he learned of the campaign
Green began his talk by saying that to talk about how things are going in Lansing you must start with your take on the problems. "I don't believe that the government was ever created to number 1 control our economy, own banks, own businesses, own the largest corporations...". Green's basic philosophy is for government to "just get out of our way. Let us run our own lives." He believes that there are times when government needs to help but it can't solve everything.
As a member of the budget committee, among others. As an example he noted that 60% of the DEQ budget comes from Washington. 40% of the overall state budget is federal money. At those levels he has little control as a legislator.
Commenting on the high price of Washington DC hotel rooms, Green said that he was told it is because Washington is now the hub of the financial world rather than New York City.
Considering the problems he sees, Green asked how can they be solved. He said since being elected he is committed to doing what he can. Many are financial including health care. "We have some of the best health care we've ever had in our life. It's just very expensive."
Michigan has had the worst unemployment in the nation for the last five years. Fortunately it's coming down some. The state has had budget crisis after crisis. The tax base has been eroding as well.
When people say they can't get jobs Green said "you hate to tell them to leave the state, but the only answer I can give them is to move where the jobs are".
Speaking about job creation Green said that Government can't create jobs. The President can't create jobs. Michigan has been trying to pick winners and losers for a long time. The best the state can do is to get its fiscal house in order. Michigan has not been a good place to do business. Green's party is trying to address that with budget, spending and tax reforms. He said that government's responsibility is to restore confidence.
As a legislator Green cannot control individual departments. The governor has the role of overseeing the day to day operations of the state. He was elected to appoint department heads to run their agencies.
Green spoke at some length, and answered question about the Canadian bridge project in Detroit. He commented on who is running ads and what the options are. He said that he has not made up his mind but that he's probably going to vote against the bridge.
Green believes we should see some major changes. No more gimmicks, no more kicking the can down the road. The legislature is only seven months into this four year process. Tax payers are the clients and government should make them more happy.
For more information visit
www.senate.michigan.gov, Dist. 31
---
CLUB NEWS and ANNOUNCEMENTS
Congratulations to
Ron Bloomfield
, who received his Paul Harris award on Tuesday. Members should note that first level Paul Harris donations can benefit from matching points offered by several members. Check with Gena Gates for more information.
The club mourns the passing of
John Bultrud
. John moved from the area in 2009, but he was a loyal member when he lived here. He will be remembered by all his friends.
The club also honors the memory of
Harry Farris' wife Geraldine
, who passes way last week and whose funeral was this week.
The Club board met today prior to the meeting.
A family is still needed for April through July for our incoming exchange student. See Brenda Rowley or Andrea Hales if you can help.
The
Program Committee
would appreciate ideas for upcoming programs. Contact Chris Girard, Jenna Schrumpf, Connie Schweitzer or Claudia Weiler.
The 2011
International Night
will be held
October 13
. Auction items are being accepted by
Bob Chadwick
. The committee continues to meet regularly. Contact Kim Prime if you are available to help.
On November 18, 2011 we will be holding our Annual Foundation Gala at Zehnder's of Frankenmuth. The price of admission is still very low, $35.00 per person or $250.00 for a table of eight. How about every club sending a table?

If you have attended before, you know what a great evening this is. If you have yet to attend, this year is a great time to start. Great food and great fellowship - an opportunity to celebrate our humanitarian efforts at home and around the world.

Leave your checkbook at home - we won't be asking for any money that night - we just want to thank you for all you do for Rotary.

More information to come so, be looking for it and PLEASE pass this on to your fellow Rotarians.

See you at the Gala,
Bob Chadwick
Breezes Reporters Wanted
: If you'd like to help write the weekly Breezes please see Steve Kent. It's an easy job. No experience necessary. Training provided. High Pay (well at least a lot of thanks).
---
Upcoming Programs
(See the official schedule at RotaryBayCity.org )
August 16, 2011: Rotary 101:
Chuck Cusick will give us the real meaning of being a Rotarian.
August 23, 2011: District 6310 Governor Al Nietzke
will visit our club to provide an up date to the year 2011 - 2012.
August 30, 2011: Nadieska Vasquez
Rotary Inbound Student from Peru will speak.
---
Current and past
DISTRICT DISPATCH
newsletters are available on the District site shown in the LINKS section below.


Rotary Bay City on Facebook!
Click on the Blue Facebook to visit us there.

Remember! Check attendance sheets at the front desk.
---
LINKS