Cusick Presents Rotary 101 Talk
August 16, 2011
By: Stephen Kent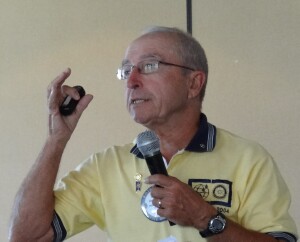 Chuck Cusick
Chuck Cusick, District Trainer and Bay City member, took the opportunity Tuesday to present a variation of his Rotary 101 talk. Rather than review the details of Rotary's philanthropic programs, Chuck held a question and answer program where he presented various Rotary acronyms and asked the members what they meant.
The International President's theme for this year is "Reach Within to Embrace Humanity". This provides a focus for the year.
Some interesting first include:
Feb 23, 1905 first meeting.
Oakland California 1909 first luncheon meeting.
Chicago 1910 first national convention.
Winnipeg, Manitoba first club outside the US.
Dublin Ireland first club outside of North America
Havana Cuba first club in non-English speaking country.

The Rotary motto "He Profits Most who Serves Best" was the first motto, approved at the second convention and was taken from a speech. That and "Service Above Self" became official mottoes at the 1950 convention in Detroit.

Many members think that Rotarians must have 100% attendance. In 1922 a contest was held to see which club could have best attendance. Ever since then people thought a Rotarian needs 100% attendance. Actually one is only asked to make 50% of meetings. This was adopted at the last Conference on Legislation.

A member at the 1914 convention in San Francisco brought his wife Ann and introduced her as a "Rotary Ann". The name stuck and soon there were auxiliary groups being founded as the "Rotary Anns". Women were admitted to Rotary in 1989 after a law suit against a club in California went all the way to the Supreme Court which determined that Rotary was a business organization and it was discrimination to disallow women. Linda Heemstra was the first woman member of the Bay City club.

In Britain the women belong, even to this day, to an organization called the "Inner Wheel". Britain also organizes into territories. During WWI, when Britain was cut off from much of the world they formed Rotary International British Isles (RIBI) for organizing purposes. RI tried the concept in 1922 but later dropped it. The practice continues in Britain.

Cusick continued with other facts and points of interest which informed many members of things they just didn't know.


---
CLUB NEWS and ANNOUNCEMENTS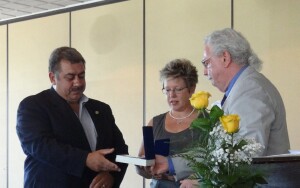 Gus Gallagher, former Bay Citian and member of the Washington DC Rotary, visits our club frequently. On this occasion he brought several guests and surprised his daughter Amy and son-in-law Rick Wood by presenting each with a Paul Harris Fellowship. Gus went on to assure members that neither he nor his wife Rita work for the Federal Government and they are NOT here to help anyone.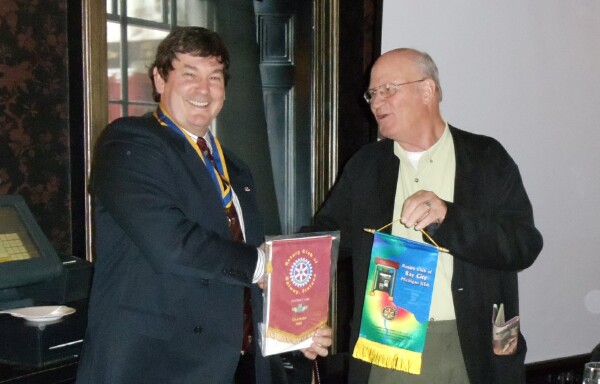 Michael Duke, president of the Rotary Club of Galway, Ireland, and Dave Rogers, of the Rotary Club of Bay City, Michigan, exchange club flags at a meeting Aug. 3 in Galway. Mr. Rogers presented a short talk on "The Irish Influence on the American Civil War," based on his forthcoming book from Michigan State University Press, "Apostles of Equality: The Birneys, The Republicans, and The Civil War."
John Shankool

The Morning Rotary is sponsoring their First Annual Driathlon on Sunday, September 18, 2011. The event will be held in Vets Park downtown. Two person teams will pay $60 per person to compete in a 5k Canoe race, a 15k bike race, and a 5k run.

For more information visit www.baycitymorningrotary.com,
Or contact Ken Piotrowski at kpiotrowski@boothmidmichigan.com
or contact John Shankool at john@shankool.com.

A family is still needed for April through July for our incoming exchange student. See Brenda Rowley or Andrea Hales if you can help.

The Program Committee would appreciate ideas for upcoming programs. Contact Chris Girard, Jenna Schrumpf, Connie Schweitzer or Claudia Weiler.



Yellow Roses are the symbol of Rotary honoring members and relatives who have passed away. Roses were on the podium today to honor the recent passing of loyal member John Bultrud, who left the area in 2009. The roses also honored the memory of Harry Farris' wife Geraldine, who passed away recently.

The 2011 International Night will be held October 13. Auction items are being accepted by Bob Chadwick. The committee continues to meet regularly. Contact Kim Prime if you are available to help.

On November 18, 2011 we will be holding our Annual Foundation Gala at Zehnder's of Frankenmuth. The price of admission is still very low, $35.00 per person or $250.00 for a table of eight. How about every club sending a table?

If you have attended before, you know what a great evening this is. If you have yet to attend, this year is a great time to start. Great food and great fellowship - an opportunity to celebrate our humanitarian efforts at home and around the world.

Leave your checkbook at home - we won't be asking for any money that night - we just want to thank you for all you do for Rotary.

More information to come so, be looking for it and PLEASE pass this on to your fellow Rotarians.

See you at the Gala,
Bob Chadwick


Breezes Reporters Wanted: If you'd like to help write the weekly Breezes please see Steve Kent. It's an easy job. No experience necessary. Training provided. High Pay (well at least a lot of thanks).


---
Upcoming Programs
(See the official schedule at RotaryBayCity.org )


August 23, 2011: District 6310 Governor Al Nietzke will visit our club to provide an up date to the year 2011 - 2012. THE BOARD SHOULD PLAN TO ATTEND A SPECIAL MEETING AT 11:00 am.

August 30, 2011: Nadieska Vasquez Rotary Inbound Student from Peru will speak.

September 6 , 2011: Pat O'Brien of Emcor will introduce us to the world of ball screw assemblies and tell us about a recently awarded contract to supply these for a solar powered spacecraft.

September 20, 2011: Bay County Sports Hall of Fame OJ Cunningham will talk about the Bay County Sports Hall of Fame.

September 27, 2011: Red Cross Ken Vavra will be speaking about the changes with the Red Cross and how it will affect our community.



---

Current and past DISTRICT DISPATCH newsletters are available on the District site shown in the LINKS section below.







Rotary Bay City on Facebook!
Click on the Blue Facebook to visit us there.

Remember! Check attendance sheets at the front desk.
---
LINKS




0202 nd 03-20-2019