District Governor Visits Rotary
August 23, 2011
By: Stephen Kent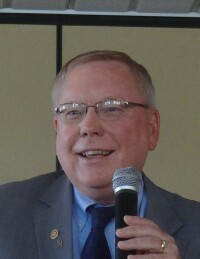 Governor Allan Nietzke
The 2011-12
District 6310 Governor, Allan W. Nietzke
, made his visit to the Bay City Club last Tuesday. At 11:00, the governor visited with the Club Board of Directors for an hour to review what the club has been doing and its plans for the upcoming year.
Nietzke then spoke to the club as a whole for the program. He talked about the role of Rotary and the charges from the International President.
The Theme for the year is "Reach Within To Embrace Humanity". The colors are bright yellow. (Al was pleased that Governors are not required to wear sport coats to match).
Al explained some of the emphasis of the new theme. The theme embraces three key points: family, continuity, and change. To build a better world Rotarians should see the family as the building block of the community. Continuity means that clubs should continue to do what they have done best around the world. Change says that we look past what we do now to accept new challenges.
Nietzke also talked about the Rotary Foundation and Rotary giving. The RI foundation is a top rated charity. Rotarians can be proud of this rating and the work of the foundation.
An major emphasis must be membership. Rotary has continue to induct new members, but it has lost others. The membership is stable but is not growing. Only 2% of members are under the age of 30. 11% are under 40. 68% are 50 or older. RI knows these statistics.
Rotary, and all service clubs, is addressing the membership issues. Existing members are encouraged to recruit new members. To that end RI is investigating various options and pilot programs. These include:
Associate Members who have no voting rights and join for a short period of time to see how things work.


Corporate Members where a company pays dues for a group of members that may change over time.


Satellite Clubs, as part of a regular club, that meet at alternate times.


The Free For All, which might include any new organization format.

For the first time the District is going to measure performance against the strategic plan. Membership is a goal of that plan and the objective is to end the year with 1,472 members. The latest numbers show we started with 1,402. Last year we added eleven members, ending a three year decline. The trend must be up from here.

Al went on to talk about giving, grants, projects and services. The work of Rotary continues to be an example to everyone.


---
CLUB NEWS and ANNOUNCEMENTS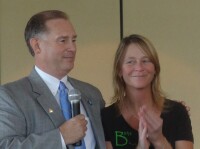 Ed and Julie

The entire club thanks our server Julie, who just completed her last day at Barts. Julie is going on to continue her education. We appreciate all her time and effort every Tuesday. The club wishes her the best of luck in her endeavors!

The Morning Rotary is sponsoring their First Annual Driathlon on Sunday, September 18, 2011. The event will be held in Vets Park downtown. Two person teams will pay $60 per person to compete in a 5k Canoe race, a 15k bike race, and a 5k run.

For more information visit www.baycitymorningrotary.com,
Or contact Ken Piotrowski at kpiotrowski@boothmidmichigan.com
or contact John Shankool at john@shankool.com.

A family is still needed for April through July for our incoming exchange student. See Brenda Rowley or Andrea Hales if you can help.

The Program Committee would appreciate ideas for upcoming programs. Contact Chris Girard, Jenna Schrumpf, Connie Schweitzer or Claudia Weiler.

The 2011 International Night will be held October 13. Auction items are being accepted by Bob Chadwick. The committee continues to meet regularly. Contact Kim Prime if you are available to help.

On November 18, 2011 we will be holding our Annual Foundation Gala at Zehnder's of Frankenmuth. The price of admission is still very low, $35.00 per person or $250.00 for a table of eight. How about every club sending a table?

If you have attended before, you know what a great evening this is. If you have yet to attend, this year is a great time to start. Great food and great fellowship - an opportunity to celebrate our humanitarian efforts at home and around the world.

Leave your checkbook at home - we won't be asking for any money that night - we just want to thank you for all you do for Rotary.

More information to come so, be looking for it and PLEASE pass this on to your fellow Rotarians.

See you at the Gala,
Bob Chadwick


Breezes Reporters Wanted: If you'd like to help write the weekly Breezes please see Steve Kent. It's an easy job. No experience necessary. Training provided. High Pay (well at least a lot of thanks).


---
Upcoming Programs
(See the official schedule at RotaryBayCity.org )


August 30, 2011: Nadieska Vasquez Rotary Inbound Student from Peru will speak.

September 6 , 2011: Pat O'Brien of Emcor will introduce us to the world of ball screw assemblies and tell us about a recently awarded contract to supply these for a solar powered spacecraft.

September 20, 2011: Bay County Sports Hall of Fame OJ Cunningham will talk about the Bay County Sports Hall of Fame.

September 27, 2011: Red Cross Ken Vavra will be speaking about the changes with the Red Cross and how it will affect our community.



---

Current and past DISTRICT DISPATCH newsletters are available on the District site shown in the LINKS section below.







Rotary Bay City on Facebook!
Click on the Blue Facebook to visit us there.

Remember! Check attendance sheets at the front desk.
---
LINKS