Exchange Student Introduced to Club
August 30, 2011
By: Stephen Kent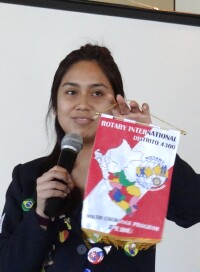 Nadieska Vasquez
Nadieska (Nadi) Vasquez, Rotary Exchange student representing Peru's District 4300, met the Bay City Club on Tuesday. Introduced by Andrea Hales, who's own son is on exchange in Mexico, Nadi had just arrived Friday night and was on something of whirlwind introduction to the area.
Nadi comes from a town smaller than Bay City. Her school had about 118 students, which is a far cry from the size of Garber High, which she'll attend this year. She will join the marching band as a clarinetist. Her long term goal is to become a dentist.
Where the geography in Peru is mountainous, Nadi was struck with the flat land around Bay City. Although someone in the office did ask if she had seen the Zilwaukee Bridge! She did say that the local houses made an impression in her first few days and she liked the water and trees as she rode over the bridges.
Nadi's family owns a pharmacy business. Her father is the pharmacist and her mother runs the office. She has a sister who's 23 and a brother who's 18. Both work in the family business.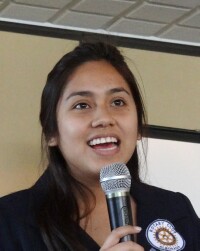 Nadieska Vasquez
In closing Nadi exchanged rotary flags and gifts with Club President Ed Keating and Exchange Counselor Barb Englehardt.
Andrea and Brenda Rowley are still looking for a host family for the last few weeks of Nadi's stay. If you have room, be sure to contact one of them.
If you're taking any trips this year and would like to host Nadi, talk to Andrea and Brenda about that too. Permission is required, but the chance to see the area is always welcomed.
The district's 14 inbound exchange students will be here through July. There's the possibility that the entire group could be hosted in Bay City for the Fireworks in July. This would be a first for the club and promises to be a lot of fun for everyone.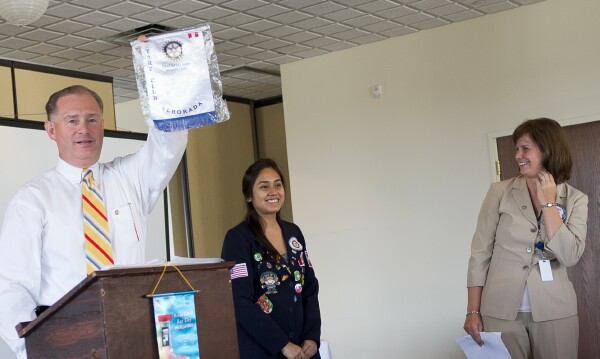 President Ed Keating, Nadieska Vasquez, and Andrea Hale
  Photo: Andy Rogers
---
CLUB NEWS and ANNOUNCEMENTS
The Morning Rotary is sponsoring their
First Annual Driathlon
on Sunday, September 18, 2011. The event will be held in Vets Park downtown. Two person teams will pay $60 per person to compete in a 5k Canoe race, a 15k bike race, and a 5k run.
For more information visit
www.baycitymorningrotary.com
,
Or contact Ken Piotrowski at
kpiotrowski@boothmidmichigan.com
or contact John Shankool at
john@shankool.com
.
A family
is still needed for April through July for Nadieska (Nadi) Vasquezour, our
exchange student
from Peru. See Brenda Rowley or Andrea Hales if you can help.
Andrea and Brenda are also looking for an
Outbound Exchange Student
for next year. Candidates should be between 15 and a half and 19 years old. You have until October 28 to submit names.
The
Program Committee
would appreciate ideas for upcoming programs. Contact Chris Girard, Jenna Schrumpf, Connie Schweitzer or Claudia Weiler.
International Night 2011
will be
October 13
. Auction items are being accepted by
Bob Chadwick
. The committee continues to meet regularly. Contact Kim Prime if you are available to help.
On November 18, 2011 we will be holding our Annual Foundation Gala at Zehnder's of Frankenmuth. The price of admission is still very low, $35.00 per person or $250.00 for a table of eight. How about every club sending a table?

If you have attended before, you know what a great evening this is. If you have yet to attend, this year is a great time to start. Great food and great fellowship - an opportunity to celebrate our humanitarian efforts at home and around the world.

Leave your checkbook at home - we won't be asking for any money that night - we just want to thank you for all you do for Rotary.

More information to come so, be looking for it and PLEASE pass this on to your fellow Rotarians.

See you at the Gala,
Bob Chadwick
Breezes Reporters Wanted
: If you'd like to help write the weekly Breezes please see Steve Kent. It's an easy job. No experience necessary. Training provided. High Pay (well at least a lot of thanks).
---
Upcoming Programs
(See the official schedule at RotaryBayCity.org )
September 6 , 2011: Pat O'Brien of Emcor
will introduce us to the world of ball screw assemblies and tell us about a recently awarded contract to supply these for a solar powered spacecraft.
September 20, 2011: Bay County Sports Hall of Fame
OJ Cunningham will talk about the Bay County Sports Hall of Fame.
September 27, 2011: Red Cross
Ken Vavra will be speaking about the changes with the Red Cross and how it will affect our community.
---
Current and past
DISTRICT DISPATCH
newsletters are available on the District site shown in the LINKS section below.


Rotary Bay City on Facebook!
Click on the Blue Facebook to visit us there.

Remember! Check attendance sheets at the front desk.
---
LINKS