The Breezes -- The Official OnLine Publication of the Bay City, Michigan Noon Rotary
---
Christine Greve, Small Business Center Director, Scheduled by Rotary
Mid-Michigan Children's Museum Exhibit Design Unveiling Tuesday
November 28, 2004
By: Dave Rogers
This week's program: Christine Greve, Michigan Small Business & Technology Development Center, Delta College. Deb Wieland, host.
      UPCOMING: PDG Jerome Yantz announces Rotary International's 100th Birthday Celebration, Feb. 23, 2005, DoubleTree Hotel - Bay City Riverfront, 6:15 p.m., dinner at 7 p.m. Gifts, prizes, celebration (minimal cost to Rotarians). Former Rotarians, spouses, guests welcome.
      Last week's program: Connie Frays-Kreft, Paul White, Mid-Michigan Children's Museum.
      The Mid-Michigan Children's Museum will unveil designs including a model of the museum and exhibits Tuesday, Nov. 30, 5:30-7 p.m. in the Andersen Enrichment Center, 120 Ezra Rust Drive, Saginaw.
      Connie Frays-Kreft, museum executive director, and Paul White, director, teamed up to provide Rotarians with an overview of the museum last Tuesday at Bay City Rotary.
      Goal of the project is to establish the No. 1 children's museum in Michigan, "providing a fun, hands on place where children, birth through age 12, use their curiosity and creativity to learn about their world," said Ms. Kreft.
      All area schools will be able to use the museum as an educational resource keyed to Michigan Department of Education and national standards and age and gender correct details, said Ms. Frays-Kreft.
      The facility, housed in a donated former Garber Buick auto dealership building in downtown Saginaw, will have 11 galleries providing about 17,000 square feet of interactive displays and exhibits. Much of the 30,000 square feet of the building will be demolished and reconstructed.
      A drive to raise $5,592,000 to complete the nearly $7 million facility is underway, she said.
      "We have to create something to make kids want to stay in this area," said Mr. White, president of Roth Cleaners. "We want to raise dollars to help subsidize school trips so no child is ever turned away."
      He said the project is important to economic development, is expected to draw about 75,000 visitors a year and has a potential impact of $2.5 million a year on the area. An opening is planned for June, 2006.
      Contact: ckrft@midmicm.org.
Below:(Left) Paul White and Connie Frays-Kreft teamed up to promote the Mid-Michigan Children's Museum development last week.(Right) Dressed in simulated period costume, Harry Farris delights Rotarians with his recitation of the Balland of Hard Luck Henry, an Alaskan gold miner who makes a futile trek to Wisconsin in search of a wife and arriving late but in time to "see the twins."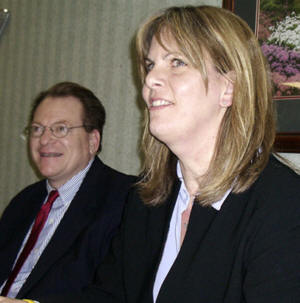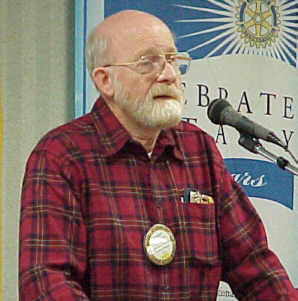 ---