Patrick O'Brien of Emcor, center, holds a replica of the Juno spacecraft ball screw now heading for Jupiter, as programmer Connie Schweitzer, left, and Rotary President Ed Keating look on.
---
Emcor's President Talks to Rotarians About High Tech Manufacturing
September 6, 2011
By: Dave Rogers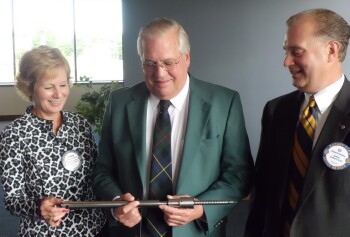 Patrick O'Brien of Emcor, center, holds a replica of the
Juno spacecraft ball screw now heading for Jupiter.
Connie Schweitzer, left, and President Ed Keating look on.
Bay City Rotarians last Tuesday heard a story of local high tech industrial success from Patrick O'Brien, president of Emcor, Inc.
From a 22,000 square foot factory located at 5154 Alliance Drive in the Valley Center Technology Park, Monitor Township, Emcor makes and maintains high precision linear motion ball screws for automotive, aerospace, nuclear, defense, medical and other industries.
One of the firm's ball screws is now on a spacecraft headed for the planet Jupiter, a trip of five and a half years at 77,600 miles per hour.
The Emcor ball screw is installed on the Lockheed-Martin Juno satellite to control solar panels essential to the spacecraft's operation.
This is a top secret project and mission and local officials are on a "need to know" basis only, said Mr. O'Brien. The Juno spacecraft was launched Aug. 5 from Cape Canaveral, Florida, via an Atlas V-551 rocket.
Objective of the flight is to determine how much water is in the Jupiter atmosphere as well as explore magnetic and gravity fields, he said. After 33 orbits of Jupiter, Juno is slated to complete exploration in July 2016 and de-orbit in October, 2017.
Another Emcor ball screw -- at 64 feet long the largest ever made -- is employed in power transmission of a 500 ton elevator lifting casks of spent plutonium at a nuclear waste disposal site in Nevada.
The local firm uses 22 Excello grinders and eight CNC machines and journeymen tool and die makers among its 23 employees.
The precision inherent in the firm's capabilities is described as producing components to the width of a human hair split 30 times, he said.
The state-of-the-art climate-controlled facility is "hospital clean" and holds the highest AS 9100 B certification, matched only by four companies worldwide, said Mr. O'Brien.
The ball screw industry dates to 1938 when President Franklin Roosevelt, anticipating another world war, had the Excello Corporation of Detroit fabricate ball screws to move airplane flaps and level artillery.
After graduation from Handy High in 1963, Mr. O'Brien became an apprentice toolmaker and studied nights. He worked for a tool and die firm in Linwood, attended technical school in Rock Island, Illinois, and served two years in the U.S. Army.
Following a sales stint with Detroit Copper and Brass Co., he bought Cambron Tool in Bay City. Bank failure is 1982 put him out of business but he started over in a garage in Linwood in 1982, using five pieces of equipment financed by friends.
Sleeping on the factory floor and working around the clock, the business was slowly rebuilt. Within three years Emcor moved to an old grocery store on Midland Road.
In 1988, Mr. O'Brien said, banker Cliff Van Dyke of the Bay County Growth Alliance convinced him to buy a 7.5 acre lot in the Monitor Downtown Development Authority's park on Mackinaw Road. An original 12,000 square foot building has been expanded to today's facility and business in high precision linear components has improved, one might say, until it has gone into orbit.
Today there are only 10 companies like Emcor in the nation and a dozen worldwide, said Mr. O'Brien.
---
CLUB NEWS and ANNOUNCEMENTS
The Morning Rotary is sponsoring their
First Annual Driathlon
on Sunday, September 18, 2011. The event will be held in Vets Park downtown. Two person teams will pay $60 per person to compete in a 5k Canoe race, a 15k bike race, and a 5k run.
For more information visit
www.baycitymorningrotary.com
,
Or contact Ken Piotrowski at
kpiotrowski@boothmidmichigan.com
or contact John Shankool at
john@shankool.com
.
Andrea and Brenda are looking for an
Outbound Exchange Student
for next year. Candidates should be between 15 and a half and 19 years old. You have until October 28 to submit names.
International Night 2011
will be
October 13
. Auction items are being accepted by
Bob Chadwick
. The committee continues to meet regularly. Contact Kim Prime if you are available to help.
On November 18, 2011 we will be holding our Annual Foundation Gala at Zehnder's of Frankenmuth. The price of admission is still very low, $35.00 per person or $250.00 for a table of eight. How about every club sending a table?

If you have attended before, you know what a great evening this is. If you have yet to attend, this year is a great time to start. Great food and great fellowship - an opportunity to celebrate our humanitarian efforts at home and around the world.

Leave your checkbook at home - we won't be asking for any money that night - we just want to thank you for all you do for Rotary.

More information to come so, be looking for it and PLEASE pass this on to your fellow Rotarians.

See you at the Gala,
Bob Chadwick
---
Upcoming Programs
(See the official schedule at RotaryBayCity.org )
September 13, 2011: Delta College 50 Year Anniversary
Presented by Pat Graves, Executive Director of Corporate Services.
September 20, 2011: Bay County Sports Hall of Fame
OJ Cunningham will talk about the Bay County Sports Hall of Fame.
September 27, 2011: Red Cross
Ken Vavra will be speaking about the changes with the Red Cross and how it will affect our community.
---
Current and past
DISTRICT DISPATCH
newsletters are available on the District site shown in the LINKS section below.


Rotary Bay City on Facebook!
Click on the Blue Facebook to visit us there.

Remember! Check attendance sheets at the front desk.
---
LINKS