Delta College to Host 50th Anniversary
September 13, 2011
By: Stephen Kent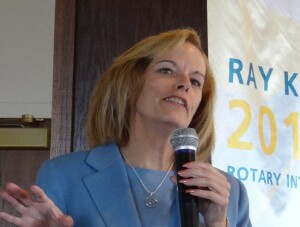 Pat Graves of Delta College
Twenty Seven year Delta College veteran Pat Graves spoke to Rotary Tuesday about the 50th anniversary of the institution. A show of hands revealed that most of the audience had some connection to Delta, which was formed in the 1950's. Rotarian Don Carlyon was the first President.
Construction started in 1959 and the doors were opened in 1961. A large part of the reason was to serve veterans who had GI Bill benefits. At that time the community had Bay City Jr. College on the 3rd floor of Central High School and it boasted 800 students in the mid-50's.
Ten key leaders from each of the three counties got together and made the decision to form a college. That committee was expanded to 100 from each county and the 300 convinced 7,000 voters to sign a petition to put an initiative on the ballot to form a college.
With the vote secured, the committee raised $8 million to purchase the 640 acres of land and begin the initial construction. Eight land owners gave up their land for the project.
Questions arose concerning two or four year status of the college. The University of Michigan even proposed making Delta an extension of their campus. Eventually Delta remained independent, leading to the formation of Saginaw Valley State University, which started in Delta's basement.
From an initial 1800 students Delta has grown to serve almost 17,000 today. The 10,000 student mark was passed in 1981. In the 1970's the number of women exceeded men and that trend continues today with 54% female students. About 18% of students represent minorities.
Over 50,000 degrees have been presented by the college. 40% of students transfer to a four year institution, the remaining 60% go directly to the workforce.
Delta received its first PEL grant in 1967 for $91,500. Today those grants, which help students afford college, totaled over $9 million.
Programs are closely allied with local business and industry. About 30% of the students are in nursing. Another 30% are in technical trades, manufacturing and chemical programs. The remainder are in information technology and business programs.
Delta's "Fast Start" program provides short term training that runs from six to twelve weeks and addresses the needs of specific businesses.
Started in 1964, Delta's Public Broadcasting radio and TV stations were among the first four in the nation. The Planetarium in downtown Bay City has served over 300,000 people.
The Michigan Small Business & Technology Development Center (MI-SBTDC) has trained as many as 1,100 students a year. Its $12.6 million program was instrumental in the creation of 42 new businesses and 155 new jobs.
Delta will host the premiere and dedication of the Delta Sculpture Walk on Sunday September 8, from 2 to 4 pm. The ceremony will be in the Sculpture Courtyard Lobby between wings B and S. RSVP to (989) 686-9224 if you plan to attend. An open house will also be held the afternoon of September 9.
For additional information about Delta, visit
www.Delta.edu
.
---
CLUB NEWS and ANNOUNCEMENTS
The Administrative Work Group (ARW) will present a two hour program on the results of its almost one year study, the club survey, and recommendations.

September 28, 11:30 at the Depot. Box lunch provided for $8.00.

The club Board is asked to be present. All members are welcomed.
Please RSVP to President Ed if you plan to attend.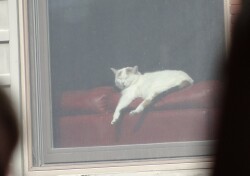 It's interesting to see what's
in the window across the street.
Andrea and Brenda are looking for an
Outbound Exchange Student
for next year. Candidates should be between 15 and a half and 19 years old. You have until October 28 to submit names.
International Night 2011
will be
October 13
. Auction items are being accepted by
Bob Chadwick
. The committee continues to meet regularly. Contact Kim Prime if you are available to help.

Getting to Rotary has been a challenge, but it can be done!
---
Upcoming Programs
(See the official schedule at RotaryBayCity.org )
September 20, 2011: Bay County Sports Hall of Fame
OJ Cunningham will talk about the Bay County Sports Hall of Fame.
September 27, 2011: DNR
representatives Lt. Utt or Sgt. Soave will talk about the Department of Natural Resources.
---
Current and past
DISTRICT DISPATCH
newsletters are available on the District site shown in the LINKS section below.


Rotary Bay City on Facebook!
Click on the Blue Facebook to visit us there.

Remember! Check attendance sheets at the front desk.
---
LINKS