Rotarians Hear About Bay County Sports Hall of Fame
September 20, 2011
By: Stephen Kent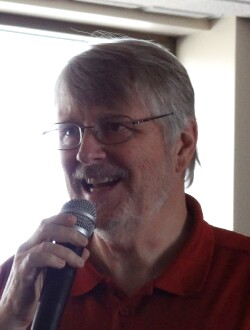 OJ Cunningham
HOF President
It was in May of 1990 that Denny Hayes became the first President of the Bay County Sports Hall of Fame (HOF). The organization grew out of a simple conversation where, according to OJ Cunningham Jr, current President of the organization, Hayes, Dave Rogers, Cunningham, and a few others thought a Sports Hall of Fame was a good idea and would be relatively easy to put together.
Cunningham told how he grew up in Bay City and played parochial sports. OJ, himself, went to St. James as a kid and sports was everything in the Cunningham family. Parents, kids, grandparents were all into sports. "In those days everything was parochial. There were strong rivalries. You didn't date outside of your school or do anything. And you didn't hang out with or date those 'city kids'", Cunningham said, laughing, as he shared the memories.
Early on, the Hall of Fame was quickly supported by the Bay City Times and other local media. Before anyone knew it, everyone was supportive of the HOF effort. People came out of the woodwork. Everyone wanted in. That original simple idea turned out to be anything but simple. "It became complicated, a lot like planning a wedding every fall," said Cunningham.
Cunningham says that HOF is one of the most enjoyable things he's done during his long business/sports career in Bay City because, he says, "nothing bad every happens at the annual HOF Banquet." HOF just selects winners, presents and displays awards, and gives scholarships, Cunningham explained.
At this time, the Hall of Fame has inducted 183 players and 31 teams known for their scholastic and recreational sports. Some of these inductions have made for very emotional stories.
The first class of inductees were selected by the HOF Board of Directors. Unfortunately, out of a huge group of potential candidates, the board decided to select 9. The number was somewhat arbitrary and mainly insured that there would be adequate time and everyone could speak.
One of the top candidates, Lefty Franz (St. Stan's), didn't make the cut the first year and then passed away the next year. The board never forgot that he missed the chance to be honored by his peers. "Very unfortunate," Cunningham reminisced.
On the other end of the spectrum was Stitch Wizner who played Blooper Ball and won countless games. When Cunningham went to his funeral, he found that all of the Hall of Fame memorabilia was displayed in Wisner's casket. That brought home how important the Sports Hall of Fame is to so many people.
After the first few years, the organization began to give scholarships. Their fund raising is a low key affair. The annual banquet pretty much pays for itself and paid ads help cover the about $4,500 given annually to scholarships, one given to a student athlete from each of the county's high schools.
While the first winners were selected by the board, today there is a nomination process, pre-vote ballot selection, and final member vote to select new inductees. About 600 voting members who receive the mailings and ballot.
The time line starts in the first quarter (each year) when the HOF receives nominations from the public. Anyone can be proposed, living or dead, who was born in bay county and/or played sports in Bay County. Details and a nomination form are on the
HOF Web Site
.
The board starts with around 170 nomination and screens these for a first cut. Those results show up in April on private web site for board discussion and voting. The top 18 living and top 5 deceased are then offered to the membership at large for final voting. Teams that have a state championship are generally selected by the board on a chronological basis.
The 23 nominations are presented to the members for voting in May and June. Votes are tallied by the board and winners selected
When voting ends and the selection is made, the board works from July to September to plan the banquet, promote the event, sell ads, print the program, and contact families and winners. The awards banquet is held on the second Sunday in October.
Cunningham says that being inducted into the Sports Hall of Fame shows your peers (and family) that your life has been good, you've done a good job, played sports and been good for the community. The Hall of Fame is just a way of recognizing that.
The annual program book displays all of the inducted members and the Hall of Fame plaques are displayed at the Community Center in Veterans Park.
---
CLUB NEWS and ANNOUNCEMENTS
The Administrative Work Group (ARW) will present a two hour program on the results of its almost one year study, the club survey, and recommendations.

September 28, 11:30 at the Depot. Box lunch provided for $8.00.

The club Board is asked to be present. All members are welcomed.
Please RSVP to President Ed if you plan to attend.
Welcome new member Frank Janca, who was inducted last Tuesday. Even before induction Frank has taken an active role in club functions, coming to board meetings and working the table. We look forward to Frank's continued interest and zeal!
Chuck Cusick reports that the dictionaries are ready to go. There are not as many schools this year but he's still giving assignments to volunteers.
A final Bijou Orchestra concert will be presented at the State Theater on November 19 as a tribute to
Leo Najar
. Following tradition there will be no conductor. A full page ad from Rotary has been purchased by an anonymous donor. Rotarians are encouraged to attend. Andreas, Rod and Cindy have information.
Andrea and Brenda are looking for an
Outbound Exchange Student
for next year. Candidates should be between 15 and a half and 19 years old. You have until October 28 to submit names.
International Night 2011
will be
October 13
. Auction items are being accepted by
Bob Chadwick
. The committee continues to meet regularly. Contact Kim Prime if you are available to help.
---
Upcoming Programs
(See the official schedule at RotaryBayCity.org )
September 27, 2011: DNR
representatives Lt. Utt or Sgt. Soave will talk about the Department of Natural Resources.
October 11, 2011: People Vs. LeFever
Judge William Crane will tell us about the case he presided over Ms. LeFever / Welch. This case was national news a little over one year ago. Ms. LeFever was sentenced for drug trafficking over 25 years ago escaped from prison then fled to California.
---
Current and past
DISTRICT DISPATCH
newsletters are available on the District site shown in the LINKS section below.


Rotary Bay City on Facebook!
Click on the Blue Facebook to visit us there.

Remember! Check attendance sheets at the front desk.
---
LINKS