Leader Dogs For The Blind Puppy Presented to Rotary
September 27, 2011
By: Stephen Kent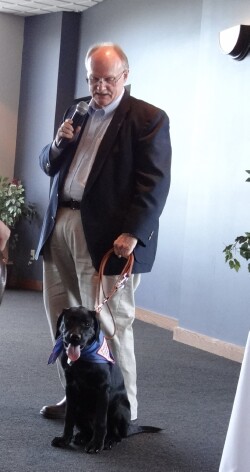 Jim Griffiths and Diesel
Rotarian
Jim Griffiths
filled in for the program by talking about Diesel, the Leader Dogs For The Blind puppy that he and wife Ann are raising. They've had Diesel for about ten weeks and watched him grow from eleven pounds to 22 pounds in two weeks and now 40. They're guessing he'll top out between 80 and 100 pounds.
This is the Griffiths' first leader dog, although they had a black lab of their own for 15 years. The picked up Diesel in Rochester. His mother was a yellow lab but all of her puppies were black.
Diesel eats about a cup and a half twice a day and finishes it in about 1 minute, 10 seconds. Their former dog ate anything and everything and knew the sound of packages or the fridge opening. Diesel has no clue, which is the plan.
Jim named the dog Diesel, which turns out to be a popular dog name. Although Ann didn't want to know in advance, Jim knew they were getting a black lab.
Jim and Ann are responsible for raising the puppy and giving him about ten commands before returning him to the service in May. At that time he'll enter intensive training to become an actual leader dog. "Hopefully they'll teach him to behave", Jim said.
Leader Dogs For The Blind is always looking for puppy raisers. They are responsible for care and maintenance. Diesel had his shots and Jim was pleased to report that Rotarian Griff Acker's group gave a discount because Diesel was going into Leader Dog training.
The Griffiths take Diesel everywhere. He's been to church and announced himself there, but he doesn't bark very much.
When Diesel returns to the service he'll enter four to six months of intensive training. About 70% of the dogs graduate. Those that don't make the cut are given a "career change". Those dogs are in great demand as pets because of their early training.
Jim and Ann know that Diesel will be leaving in a few months, still there is an unavoidable emotional connection. Jim said it will be difficult. A friend of theirs has raised six puppies and said that there are tears every time one goes back.
---
CLUB NEWS and ANNOUNCEMENTS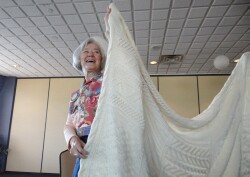 With
International Night
just around the corner several people talked about auction items, tickets, and volunteers. Barb Fisher, who works at the local prison teaching knitting and other needlework, showed an elaborate afghan made by one of the prisoners, which will be in the auction.
The
Administrative Working Group
presented a program to the Board and interested parties last week. About 30 members gathered at the Depot for the presentation. The recent member survey was presented along with some recommendations concerning dues, the foundation, and meetings. The board will discuss these items at upcoming meetings.
Rotary bids a fond farewell to the
Rev. Ron Fuller
, who passed away last week. Ron was a member of this club from 1970 and was a long serving editor of the Breezes. He will be missed.
A reminder from Bob Chadwick. The Annual Foundation Gala will be held at Zehnder's of Frankenmuth on November 18, 2011. The club has one table filled and is working on a second table. Talk to Bob if you want to attend. And remember, leave your checkbook at home - no money will be asked for at the event.
---
Upcoming Programs
(See the official schedule at RotaryBayCity.org )
October 4, 2011: Street Millage
City Manager
Robert Belleman
will talk about the upcoming proposal on the November ballot for a street millage for the City of Bay City
October 11, 2011: Judge William Crane
will tell us about the case he presided over Ms. LeFever / Welch. This case was national news a little over one year ago. Ms. LeFever was sentenced for drug trafficking over 25 years ago escaped from prison then fled to California.
---
Current and past
DISTRICT DISPATCH
newsletters are available on the District site shown in the LINKS section below.


Rotary Bay City on Facebook!
Click on the Blue Facebook to visit us there.

Remember! Check attendance sheets at the front desk.
---
LINKS