Milt Higgs, Delegate to the 1963 State Constitutional Convention, to Speak
Small Business Advocates Called "Bubble Busters" and Job Creators
December 5, 2004
By: Dave Rogers

The Breezes -- The Official OnLine Publication of the Bay City, Michigan Noon Rotary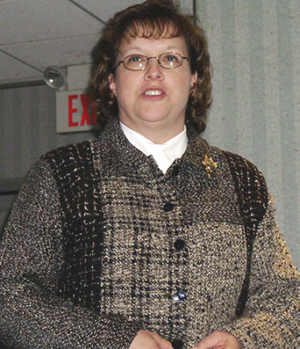 Christine Greve of the Michigan Small Business & Technology Development Center explains her agency's work.
      This week's program: Attorney Milt Higgs, delegate to the 1963 Michigan Constitutional Convention, recalls the process first-hand and puts the document in perspective for needs of today's citizens.
      Last week's program: Christine Greve, regional director, Michigan Small Business & Technology Development Center, at Delta College.
      Small business advocates help entrepreneurs create jobs but also can be "bubble busters," asserted Christine Greve, regional director of the Michigan Small Business & Technology Development Center (SbTdc) at Delta College.
      Ms. Greve was introduced by Rotarian Deb Wieland, one of three part-time counselors at the center, which provides counseling, research and training to help small businesses succeed.
      "It's all about creating new jobs and keeping the jobs we have," said Ms. Greve.
"The service is free and our one-on-one counselors talk about the special needs of small business people."
      "Sometimes we can be bubble busters," she said. "We help them get realistic expectations."
      The center, which began operating in January, 2003, had 341 clients the first year, including 29 veterans, 43 minorities and a 51-49 maleto female ratio, according to the director.
      Numbers increased 25 percent in 2004, to 452 clients served, including 40 veterans, 38 minorities, and a 54/46 male-female ratio. Some 43 percent of clients were already in business and about a quarter were home-based businesses.
      The vast majority, 66 percent, of clients of the center come from Saginaw County, with Bay and Midland contributing about 13 percent each, Ms. Greve said.
      Ms. Greve is regional director for Arenac, Bay, Midland and Saginaw counties. There are two satellite centers in Saginaw County and one in Midland and an auxiliary office at the MSU Extension Office in the Arenac County Building. Please see www.misbtdc.org/region5.
      Does the center work? Figures supplied by the director show that in 2003 as a result of center operations there were 232 jobs retained, 35 jobs created, sales growth of $4.3 million and state tax revenues of $404,000 and federal tax growth of $817,000.
      "Through September this year there already have been 15 new businesses created to which we provided assistance," said Ms. Greve.
      The main advice she provides to would-be business people: "Search deep within you and find something you love."
ROTARY RECOGNITION: Kudoes to Anne Trahan for winning the photo contest of Whisper in the Woods Magazine. Her winning entry was a picture of Lake Michigan at the Sleeping Bear Overlook.
      Work has started under a tenton the granite for the first Rotary Park at Center and Saginaw, according to Candace Bales, Downtown Management Board director. Go and take a look!
      SPECIAL NOTE: Rotarian Bob Rogers notes that he did not write a recent letter to The Bay City Times on a controversial topic. The similarity of names has caused confusion among Rotarians and non-Rotarians alike. Our Bob Rogers is known officially as Robert G. Rogers.###