Dow Chemical Gives $25 Million a Year to Universities for Research
Partnership, Grants, Aim at Boosting Nation's Manufacturing Base
October 9, 2011
By: Dave Rogers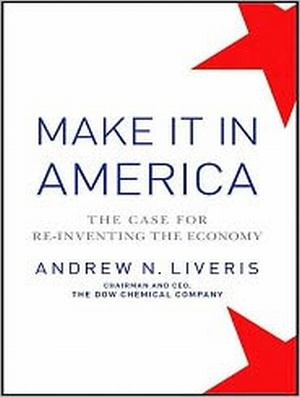 Book by Andrew Liveris, CEO of The Dow Chemical Company, lays out vision for manufacturing now backed by grants to universities.
The Dow Chemical Company has announced a 10-year expansion of its partnership with the nation's top scientific and engineering talent and research institutes.
The plan is a commitment to invest and re-energize U.S. manufacturing, said Dow officials at a recent Dow Investor Day.
Dow, headquartered in Midland, has increased its investment in programs with leading U.S. universities with a $25 million per year commitment for 10 years.
The investment will be distributed among 11 institutions, including the University of Michigan, to strengthen research in traditional scientific fields important to Dow and to the nation's future.
"As a major employer of scientific and engineering talent, Dow is committed to the development of the 21st century workforce, which will work to solve society's most pressing challenges while cultivating a more competitive U.S. marketplace," said Andrew N. Liveris, Dow's Chairman and Chief Executive Officer, adding:
"Excellence in scientific education and the development of innovative solutions go hand-in-hand. We are pleased to partner with academia to ensure that a vital pipeline of talent and research is available to fuel the discoveries and solutions of tomorrow."
Identified by their excellence in science and engineering education, research and willingness to collaborate with industry, the following 11 universities will benefit from Dow's investment: The California Institute of Technology; The University of California at Santa Barbara; The University of Minnesota; The University of Illinois at Urbana-Champaign; Georgia Institute of Technology; The Pennsylvania State University; The University of Wisconsin; Northwestern University; The University of California at Berkeley; Carnegie Mellon University and The University of Michigan.
Each university partnership has been designed to build off its unique strengths -- its faculty, facilities, institutes and infrastructure. Areas of research include: catalysis, process development, and new materials for application in electronics, energy, transportation, and consumer applications.
Dow's investment will support faculty, students and infrastructure, enabling a critical mass of resources to address some of the world's leading challenges.
"This unique and industry-leading investment will support breakthrough technologies and increase collaboration between Dow and key universities, while helping to develop America's future pipeline of PhD-level talent," said Dr. William F. Banholzer, PhD., Chief Technology Officer and Executive VP of Ventures, New Business Development and Licensing at Dow.
"It is vital that we support academic research to ensure universities can continue the tradition of excellence in chemical engineering, chemistry and materials science to help address the needs of the industry and of our country," he said.
Alongside this commitment to advanced research in leading universities, Dow has established a long-standing commitment to the enhancement of Science, Technology, Engineering and Mathematics (STEM) education in all levels, encouraging students to pursue careers in science and promoting teacher development.
Advancing science education is also a priority for the U.S., as evidenced by President Obama's public call for a focus on STEM education as part of the newly formed Advanced Manufacturing Partnership (AMP).
Co-chaired by Dow CEO Andrew Liveris and Susan Hockfield, of the Massachusetts Institute of Technology (MIT), this national effort brings together industry, universities, and the federal government to invest in the emerging technologies. In tandem with the national AMP programming, Dow also published its Dow's Advanced Manufacturing Plan for America last year aimed to rejuvenate the economic base to allow for greater competition, enhanced job creation and advances in technology.
In order for the AMP to succeed, Dow believes that it can and should have a strong role in educating the 21st century workforce to create a cleaner energy future and cultivate a more competitive U.S. marketplace.
To further outline those objectives, Dow released the book "Make It in America: The Case for Re-Inventing the Economy", which calls for effort from both public and private enterprises to energize U.S. manufacturing. ###