City Manager Outlines Proposed Roads Tax Millage
October 4, 2011
By: Stephen Kent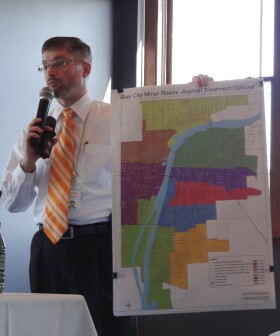 Robert Belleman Shows Road Map
City Manager Robert Belleman spoke to Rotary Tuesday about the upcoming proposal for a 2-mill city property tax devoted to maintaining neighborhood streets. The millage will be on the November 8 ballot.
The city's budget is about $5.1 million. That money is divided roughly into $1.5 M for personnel, $2 M for operating expenses and $1.6 M on capitol spending. Property taxes generate 16% of the budget.
The city is responsible for 124 of 193 miles of roads. No grants are available for these local streets so funding for maintaining, resurfacing and reconstructing comes from property taxes or state funds from gas tax or
ACT 51
funding.
Citing the city's PASER system (Pavement Surface Evaluation and Rating), Belleman said that 81% of the 124 miles of roads are rated at 5 or below on a scale where 1 is deplorable, 10 excellent. Of those inadequate roads, no amount of repair can extend their life. "It's just throwing good money after bad", he said.
Given available funds, the City does what it can with 9 workers and one supervisor to maintain the streets. Maintenance is done in-house or through partnership with bay county road commission. The city calls on water/sewer and parks employees during heavy snowfall so they don't have to over staff in other times. "They do the best job they can with limited resources the city can provide" said Belleman.
The City is responsible for street sweeping, pothole repairs, crack sealing, micro surfacing, traffic signs, marking and striping, traffic control, special events, utility work. "You may see more barrels than repairs because they're far behind" said Belleman.
Streets have a 20 to 25 year life if maintained. "Winter maintenance is a large component of the work". The City does necessary crack sealing to prevent winter moisture damage consuming some 8,000 pounds of fill a year. For larger jobs the city partners with the county, which owns the big equipment. The City prepares and the County finalizes those repairs.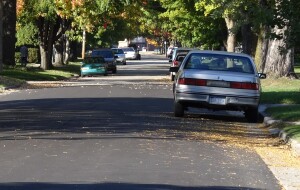 Jenny looking North
A new paver was purchased a couple of years ago and may be one of the better pieces of equipment. Attaching to a front end loader, this one machine can grind down and resurface a street. The City can do more work in-house before contracting for the larger jobs.
This new machine was most recently used on a block of Kiesel that was in terrible condition. The results are a good example of what can be accomplished.
"So why are streets so bad? It comes down to money. We don't have the money to do what needs to be done and every year that we've had to be lax addressing reconstruction our streets continue to get into a condition where they are deplorable to drive."
The ballot question asks City tax payers to levy a 2-mill tax for 5 years. That number was arrived at based on the economy and the minimum that can be done. The average tax will be $56/year, costing a tax payer $2 per $1,000 of taxable value. The levy is expected to raise 1.5 million, which will be spent on a pay as you go basis and invested into streets.
The average cost to reconstruct streets, without utility work, is $100,000 per block. The average to resurface only is about $30k. The funds will cover 11 to 38 blocks or 1 to 3 miles a year based on projections. The city has about 21 miles that are rated in the lower conditions.
The last major street effort was 1991 when a $10.6 million bond issue passed unanimously. The city charges about 2.5 mills to pay down that debt. The funds were used up by 2003-4 and any remaining funds were shifted to bridges.
For further information visit
www.BayCityMi.org
.
---
CLUB NEWS and ANNOUNCEMENTS
INTERNATIONAL NIGHT IS THIS WEEK!
There's hardly any time left, but you can still get tickets. Don't miss the great food and fun at the Doubletree on Thursday October 13! It's also the largest fundraiser of the year.
A reminder from Bob Chadwick. The Annual Foundation Gala will be held at Zehnder's of Frankenmuth on November 18, 2011. The club has one table filled and is working on a second table. Talk to Bob if you want to attend. And remember, leave your checkbook at home - no money will be asked for at the event.
---
Upcoming Programs
(See the official schedule at RotaryBayCity.org )
October 11, 2011: Judge William Crane
will tell us about the case he presided over Ms. LeFever / Welch. This case was national news a little over one year ago. Ms. LeFever was sentenced for drug trafficking over 25 years ago escaped from prison then fled to California.
October 18, 2011: Travels with Eric
Our own Eric Jyhla will present to us his tour and adventure with a group of travelers he took out west this year. Come hear about the high-lights, high-life and wild-life from the John Wayne of our Rotary Club!
October 25, 2011: Olympic Bobsled Team / Bronze Metal Winner
Dr. Doug Sharp will present his experiences as an Olympic Bobsled Team Member and Bronze Metal Winner in the 2002 Olympics. This is going to be really cool and unbelievably fast.
November 8, 2011: The Stevens Center for Family Business at SVSU
Rejeana Heinrich, Associate Director, will talk about the impact of family business in the region.
---
Current and past
DISTRICT DISPATCH
newsletters are available on the District site shown in the LINKS section below.


Rotary Bay City on Facebook!
Click on the Blue Facebook to visit us there.

Remember! Check attendance sheets at the front desk.
---
LINKS