Judge Speaks About LeFevre/Walsh Trial
October 11, 2011
By: Stephen Kent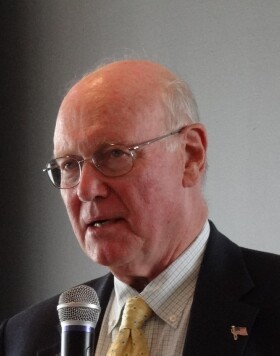 Judge William Crane
Judge William Crane spoke to rotary about his involvement in the Susan LeFevre case. LeFevre and an accomplice was arrested in 1974 on drug distribution charges and eventually sentenced to 20 years, a sentence some said was excessive but was typical of the time and the judge.
In 1976 the woman climbed a fence and escaped. Judge Crane said he is convinced that the woman's grandfather helped with that escape. LeFevre made her way to California where she changed her name and eventually married a dentist, became an upstanding citizen and raised a family. Susan LeFevre had become Marie Walsh.
In March 2008 police were tipped off to LeFever/Walsh's current location and status. She one time fugitive was arrested and returned to Michigan.
Judge William Crane drew the case. He studied the transcripts and history of the original trial and determined that there was no error for him to overturn. He also talked to the parole board and learned that they would like the case in their system. Based on those facts the case was turned over.
Crane read several news articles from the recent case, most of which came down on LeFevre/Walsh's side. He also read some blog entries.
LeFevre/Walsh was eventually released to return to her second life. She has since appeared on the Oprah show and is working on a book.
---
CLUB NEWS and ANNOUNCEMENTS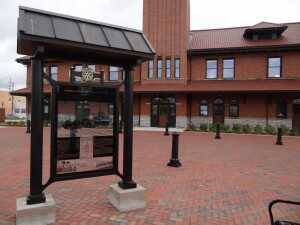 The historic glass panel titled
Cross Country Connections
has been installed in the Rotary micro-park at the
Pere Marquette Depot
. A dedication will be scheduled at an appropriate time. Everyone is encouraged to visit the Depot and take a look! Additional photos from Anne Trahan can be found on the club web site.
RotaryBayCity.org
web site.
The
club Board
met last Tuesday. Among the topics of discussion was the recent Administrative Work Group study. With International Night only two days away and occupying almost everyone, it was a short meeting.
Both
Bret and Jerry Lewless
received
Paul Harris
awards. The club and Rotary expresses it's thanks.
Rotary's annual
International Night
was held at the DoubleTree last Thursday night. A large crowd turned out for the event, the silent and live auction and lots of good Australian food. Among the guest was Hratch Basmadjian who reports that he is very active in Rotary at his new hotel in the Chicago area.

A reminder from Bob Chadwick. The Annual Foundation Gala will be held at Zehnder's of Frankenmuth on November 18, 2011. The club has one table filled and is working on a second table. Talk to Bob if you want to attend. And remember, leave your checkbook at home - no money will be asked for at the event.
---
Upcoming Programs
(See the official schedule at RotaryBayCity.org )
October 18, 2011: Travels with Eric
Our own Eric Jyhla will present to us his tour and adventure with a group of travelers he took out west this year. Come hear about the high-lights, high-life and wild-life from the John Wayne of our Rotary Club!
October 25, 2011: Olympic Bobsled Team / Bronze Metal Winner
Dr. Doug Sharp will present his experiences as an Olympic Bobsled Team Member and Bronze Metal Winner in the 2002 Olympics. This is going to be really cool and unbelievably fast.
November 8, 2011: The Stevens Center for Family Business at SVSU
Rejeana Heinrich, Associate Director, will talk about the impact of family business in the region.
---
Current and past
DISTRICT DISPATCH
newsletters are available on the District site shown in the LINKS section below.


Rotary Bay City on Facebook!
Click on the Blue Facebook to visit us there.

Remember! Check attendance sheets at the front desk.
---
LINKS