Jylha Speaks About Recent Travels
October 18, 2011
By: Stephen Kent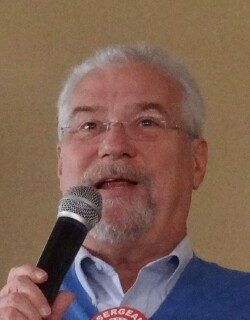 Eric Jylha
Immediate Past President Eric Jylha took the occasion Tuesday to speak to the club about his recent trips out west leading travel groups from WNEM-TV 5 and Holiday Vacations from Wisconsin. Having lead several such trips over the last five years, Eric has become something of a travel expert.
Holiday Vacations has been leading trips, often in conjunction with Radio and TV stations, for the last 38 years. Most trips have some Amtrak component giving participants the experience of rail travel in America. Holiday is the nations top buyer of Amtrak tickets.
The most recent trip was taken just a few weeks ago. The group of about 40 travelers took the Amtrak Empire Builder and headed west. Compartments include a rest room and shower. A steward comes in each night and makes the seating into bunks.
The train features observation cars with huge windows. Passengers sit facing out to give a great view. These trains don't run east of the Mississippi because the cars are too large to go over bridges and through tunnels found there.
A great feature of the train is that you take routes that others don't. You see scenery that people in cars don't see and much of it "is spectacularly beautiful".
Another trip took the Rocky Mountaineer, a train that is devoted only to tourist and sight seers. That trip left Vancouver for a two day trip north into British Columbia. Following the rivers including a passage through
Hells Gate
, a spectacular set of rapids that channels water from a huge region. The trip included ice buggy trips onto the glaciers.
Trips include beautiful lakes and vistas, wildlife, and sights you'll see no other way. Trips typically run from 9 to 14 days and cost $2,800 to $6,000 per person, dual occupancy. The fee covers everything and is locked in when announced.
---
CLUB NEWS and ANNOUNCEMENTS
The club welcomed as a new member Harry Lever from SVSU. Be sure to say hi to Harry at an upcoming meeting.
The club recognized all the volunteers and committee members who made this year's International Night a success. An accounting of the proceeds will be made at upcoming meetings.
Two final concerts by the Bijou Orchestra will be held November 19 to honor the memory of former Rotarian Leo Najar. Club members are encouraged to attend. Anyone who would like to write a short tribute to appear in the program should see Cindy Chadwick.
A reminder from Bob Chadwick. The Annual Foundation Gala will be held at Zehnder's of Frankenmuth on November 18, 2011. Talk to Bob if you want to attend. And remember, leave your checkbook at home - no money will be asked for at the event.
---
Upcoming Programs
(See the official schedule at RotaryBayCity.org )
October 25, 2011: Olympic Bobsled Team / Bronze Metal Winner
Dr. Doug Sharp will present his experiences as an Olympic Bobsled Team Member and Bronze Metal Winner in the 2002 Olympics. This is going to be really cool and unbelievably fast.
November 8, 2011: The Stevens Center for Family Business at SVSU
Rejeana Heinrich, Associate Director, will talk about the impact of family business in the region.
---
Current and past
DISTRICT DISPATCH
newsletters are available on the District site shown in the LINKS section below.


Rotary Bay City on Facebook!
Click on the Blue Facebook to visit us there.

Remember! Check attendance sheets at the front desk.
---
LINKS