Olympic Bobsled Bronze Metal Winner, Dr. Doug Sharp Speaks to Rotary
October 25, 2011
By: Stephen Kent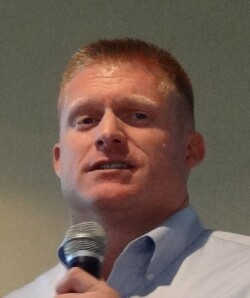 Dr. Doug Sharp
Olympic Bobsled Bronze medalist Dr. Doug Sharp of Bay City talked to Rotary about his experiences at the 2002 Olympics in Salt Lake City.
Sharp and his teammates (Brian Shimer, Mike Kohn, and Dan Steele) came in third (3:07.86) behind USA 1 (3:07.81) and the winner Germany (3:07.51). The difference between first and third was only 1/3 of one second.
Sharp graduated from John Glen as a pole vault champion and was on his way to the Olympics for Purdue University in 1996 when he "blew our his hamstring". He had been heavily recruited for bobsled, a natural transition for pole vaulters, and decided to change to that sport. Nine months later he was on the national championship team.
Racing for the Army's "World Class Athletes" program, Sharp went on to the Olympics. Coming right on the heels of 9-11, Olympians were admonished by President Bush to "show what we're made of and win this".
Historically, USA had not meddled in Bobsleigh since 1956. The Swiss, on the other hand, had not lost since 1928. Two USA teams beat the Swiss that year to take both Silver and Bronze medals.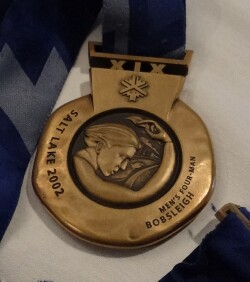 2002 Bronze Medal
Sharp talked about the way Bobsleighs are made and funded. Most sleighs are owned by Team USA. Winning teams can choose the sleigh they want and change at will. In Sharp's case, he and team members bought their own sleigh. That meant it was theirs alone.
Showing a video of the race, Sharp commented that the sleigh accelerates to 30 mph right out of the start. By turn 1 they're at 50mph and 90mph by turn 4. There are 15 turns on a course.
Commenting on the effect of the men in the sleigh, Sharp said that the driver controls the front runners and can steer the machine through the curves. He tries to make a perfect run on the best line. The other racers, who memorize the feel of the course, help by flexing muscles to control the balance and thus the direction.
Sharp, a native of Bay City, has returned to town and has his Chiropractic practice here. His wife Carrie Sharp appears on air with TV-5 News.
View YouTube Video
---
CLUB NEWS and ANNOUNCEMENTS
President elect Kim Prime filled in to preside over the meeting for the first time.
Next week's program will be about the dues and lunch fee structure. Everyone is encouraged to be there to vote on any changes.
There are still dictionaries to be delivered. When you have made your delivery be certain to tell Chuck Cusick.
International Night was another success. A wrap-up meeting will be held on November 22 before the regular meeting. Everyone is invited.
Two final concerts by the Bijou Orchestra will be held November 19 to honor the memory of former Rotarian Leo Najar. Club members are encouraged to attend.
Eric Jylha's history note took into account the tiles blowing off City Hall last week with his story from Oct. 25, 1894 when young Robbie Waldo, one week short of 12 years old, was carrying tiles to the roof of City Hall and fell to his death. Three weeks later the City Council passed an ordinance that no young boy (defined as less than 17 years) could do a man's job. This was one of the first child labor laws in the country.
A reminder from Bob Chadwick. The Annual Foundation Gala will be held at Zehnder's of Frankenmuth on November 18, 2011. Talk to Bob if you want to attend. And remember, leave your checkbook at home - no money will be asked for at the event.
---
Upcoming Programs
(See the official schedule at RotaryBayCity.org )
November 1, 2011: Administrative Review Workgroup Coordinator Valerie Roof
will talk about recommendations for changes to dues and lunch fees.
November 8, 2011: The Stevens Center for Family Business at SVSU
Rejeana Heinrich, Associate Director, will talk about the impact of family business in the region.
December 6, 2011: Good Samaritan Rescue Mission
.
---
Current and past
DISTRICT DISPATCH
newsletters are available on the District site shown in the LINKS section below.


Rotary Bay City on Facebook!
Click on the Blue Facebook to visit us there.

Remember! Check attendance sheets at the front desk.
---
LINKS