Stevens Center for Family Business at SVSU
November 8, 2011
By: Stephen Kent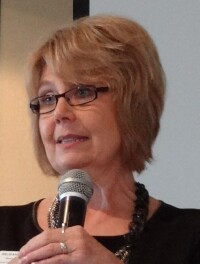 Rejeana Heinrich
Rejeana Heinrich began her talk to Rotary by noting that family owned businesses are a key to the US Economy. They are responsible for over 60% of the US GDP and employ over 60% of the country's workers. They also generate almost 80% of new jobs. With much of the wealth of the nation controlled by family owned business. Statistics show that they last longer than non family businesses and often out perform their counterparts.
Being a family owned business is worth talking about. It's no accident that SC Johnson bills itself as "A Family Owned Business". Other firms take advantage of that designation as well.
The Stevens Center for Family Business (SCFB) offers educational and networking opportunities for family businesses of all sizes. Through seminars and Peer Groups, the organization caters to business needs.
Founded in 2000, SCFB is the oldest university-based Family Business center in the state. SCFB has benefited hundreds of family businesses with it's programs and activities.
SCFB is a membership oriented organization that provides peer groups, workshops and resources. For more information visit
SVSU College of Business and Management
.
---
CLUB NEWS and ANNOUNCEMENTS
Two final concerts by the

Bijou Orchestra

will be held November 19 to honor the memory of former

Rotarian Leo Najar

. Club members are encouraged to attend.

NEW MEETING PLACE
Beginning December 6 the club will meet at the Doubletree.

NEW DUES PLAN

The Club's board has change the dues structure to NO LONGER REQUIRE pre-paying a portion of the meals. Two options will be offered in the invoices that will be distributed in the next week. Option 1 calls for payment of dues only. Meals are paid at the door. Option 2 allows pre-payment of the full meal cost must as it is now.

The change in pre-paid meals will have an effect on the budget where unused meal payments helped fund the club's programs. Under the new budget programs will be paid for from the local foundation and the club will be asked to raise any funds that are distributed.

A reminder from Bob Chadwick. The Annual Foundation Gala will be held at Zehnder's of Frankenmuth on November 18, 2011. Talk to Bob if you want to attend. And remember, leave your checkbook at home - no money will be asked for at the event.
---
Upcoming Programs
(See the official schedule at RotaryBayCity.org )
November 15, 2011: Gena Gates
will update the club on the
Rotary Foundation
.
November 22, 2011: Candace Bales
and
Teri King
will talk about
Holiday Shopping
in Bay City.
December 6, 2011: Good Samaritan Rescue Mission
.
December 13, 2011: 10 Minute Rotarian
.
December 20, 2011: Annual Holiday Program!
---
Current and past
DISTRICT DISPATCH
newsletters are available on the District site shown in the LINKS section below.


Rotary Bay City on Facebook!
Click on the Blue Facebook to visit us there.

Remember! Check attendance sheets at the front desk.
---
LINKS