Rotary Slates Annual Christmas Program Featuring Homegrown Talent
Rotary is Better, Has More Leaders, With Women Members, Says Jim Griffiths
December 19, 2004
By: Dave Rogers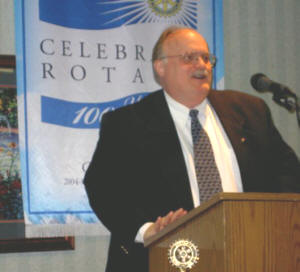 Jim Griffiths, president of the Bay City Rotary Club in 1986-87 during heated discussions over admission of women to membership, speaks to the Bay City club last week.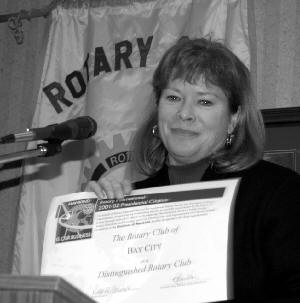 Kathy Czerwinski, Bay City Rotary Club president in 2001-2002, displays a Presidential Citation earned during her leadership tenure.
This week: Christmas program featuring local Rotarians in action. Programmer Mike Stoner.
Last week: Jim Griffiths on Women in Rotary.
     The days when the wives of Rotarians were called "Rotary Anns" are gone and best forgotten, former club president Jim Griffiths told Bay City Rotary last week.
      The battle over admission of women to Rotary went on for about 25 years and some international clubs still have no women members, said Mr. Griffiths, a formerBay City school official now heading up MEAP testing for the Michigan State Department of Education in Lansing.
      The first discussion of women members was at the Belfast, Ireland, club in 1911, just six years after formation of the organization in Chicago by Paul Harris and four friends.
      But the idea was quickly squelched by a resolution of the RI board in 1912 stating it was "undesirable to elect women to membership or have women at the weekly meetings."
      The Duarte, California, club admitted three women, using initials instead of first names, in a maverick move in 1976. In 1978 that club's charter was revoked and a subsequent case went all the way up to the U.S. Supreme Court which upheld a state appeals court ruling allowing women members.
      Many Rotarians were still obdurate, like the attorney who tried the Supreme Court case who was quoted: "They're trying to force us to take in everybody -- like a motel."
      After the Seattle, Washington, club's admission of 15 women was challenged, the decision was affirmed on a 7-0 vote by the U.S. Supreme Court in 1987, Mr. Griffiths said.
      The Midland Morning Rotary Club became the first in district 6310 to admit women, he said. The Frankenmuth club was the last holdout. Of the 33,000 Rotary clubs worldwide, some still have not admitted women, he said. Germany only recently broke the gender barrier.
      Locally, a dissident group broke off to form the Bay City Morning Rotary Club in 1988 which soon admitted women anyway in conformance with the court rulings. Only two years later that club elected Connie Deford as secretary and she later became president.
      On Jan. 2, 1989, Linda Heemstra, sponsored by Mr. Griffiths, and Joy Gaasch, sponsored by Cliff VanDyke, were admitted to membership in the Rotary Club of Bay City.
      Soon after Pat Vance and Cindy Chadwick were admitted and in 1993-94 Ms. Vance became the first woman president of the club.
      "The situation is much improved but some things still need to happen," commented Mr. Griffiths. "It has worked out fine and almost everybody is happy; we are much better off since many women have become leaders and the clubs are stronger and more vibrant."
      Of 131 members of the Bay City Rotary Club, there are 35 women with an average age of 46. The 96 male members have an average age of 57.
      He said there is a "strong possibility" that next year awoman Rotarian from Sault Ste. Marie, Michigan, may become a member of the RI Board of Directors.
      "Times change, but slowly," the speaker concluded.###