10 Minute Rotarians Give Talks
December 13, 2011
By: Stephen Kent
REMEMBER! - NEW MEETING PLACE
Doubletree Hotel and Conference Center
---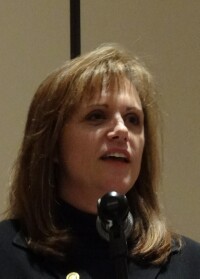 Ann Lingle
Rotarian
Ann Lingle
presented her "Ten Minute Rotarian" talk to give the club a little background on herself. Ann grew up on a farm in a small community where she did all the "farming stuff" including driving a tractor at age five.
After graduating from Catholic school at age 17, Ann went on to Alpena Community College where she studied pre-med and provided adult foster care for a local resident to allow her to live in town. She was the first in her family to go to college.
Taking an associate degree in 1983, Ann went to Mackinaw Island and worked at the Grand Hotel. She was one of six employees chosen to work for the Governor and in the mansions on the island.
Ann next moved on to Gaylord were she took a waitress job and saved her money. She scraped by and went back to school to study finance.
While in college she did an internship at Farm Credit Services, which gave her good experience. After school she joined Michigan National Bank in Grand Rapids. As the bank grew and transitioned Ann move to Lansing then Detroit.
At age 24 Ann married and moved to Bay City where, with her husband, she has raised two children (now 21 and 23). She worked at Comerica Bank for 15 years, did a stint with National City, and now works at Independent Bank.
Ann's entire career has been in commercial lending. She is proud to have originated over $200 million in commercial loans of which only $30 thousand ever went bad. She joked that she felt confident that she did not contribute to the current banking crisis.
Ann has served with many local community organizations and boards. She's worked with the library, Junior Achievement, the Kanzler Foundation, the Bay City EDC, the Brownfield EDC, The Chamber of Commerce, the United Way, and others. This year she is hosting a Rotary Exchange Student.
---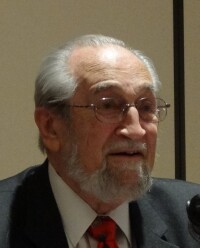 Don Carlyon
Don Carlyon
is well known as the past president of Delta College. He took a few minutes to give Rotarians some of his background and other interesting facts.
Don and wife Betty, also in attendance, have lived in the area for 51 years. He said that when they and their five children moved here from Kansas City, he promised her that they would only stay at Delta for five years. He didn't tell her which five years.
Born "on the kitchen table" Don grew up in a small town where his father was pastor. Like Ann Lingle, Don has a background in farming but he started driving a tractor at age 10.
Don joined the navy in World War II with goal of seeing the world. He was stationed in Kansas, Missouri, South Dakota and Iowa. Near the end of the war he joined the Merchant Marines and finally got the ocean on a troop ship where he was cook to 4,200 troops.
Returning to civilian life, and eloping with Betty, Don joined the Nebraska State Patrol for two years. Concerning the elopement, Don and Betty had decided to keep their marriage secret for six months. To this day they don't know why.
Don went on to the University of Nebraska and took a degree in business. During that time he was pastor at two small Methodist churches, was on the Nebraska business faculty and was director of men's housing.
After serving as acting Dean of the School of Business at Nebraska, Don, Betty and Family moved to Delta the year before it opened, where he served as Chief Business Officer, the job Rotarian Deb Lutz now holds. Don was responsible for setting up the financial structure of the college and construction of the buildings.
Don went on to become President of the College, from which he retired. When told that the average college president served six years and asked why he stayed so long, Don replied that Delta continued to grow and change and add programs year after year. It was never the same school five years in a row.
---
CLUB NEWS and ANNOUNCEMENTS
Welcome to new member
Ashley Anderson
, owner of Two Men And A Truck and Pet Butler. Ashley's father, Andy, was a long time Rotarian and sponsor of Stephen Kent, Ashley's sponsor. Her grandfather, Oscar, was sponsor to speaker Don Carlyon.
---
Dues invoices
for the first half of 2011 were mailed recently. The Club's board change the dues structure to no longer require pre-paying a portion of the meals. Two options are offered: Option 1 calls for payment of dues only. Meals are paid at the door. Option 2 allows pre-payment of the full meal cost must as it is now.
NEW MEETING PLACE REMINDER
Doubletree Hotel and Conference Center
---
December 20, 2011: Annual Holiday Program!
Rotary musicians will offer their great annual program. The Club welcomes guests the Optimists and the Morning Rotary Club.
January 1, 2011: Rotary Connect
. There will be no formal program and speaker so Rotarians will have the opportunity to visit and learn more about fellow Rotarians.
January 17, 2011: Rob Clark
will talk about recent changes with local Media groups MLive.com and the Bay City Times.
---
Current and past
DISTRICT DISPATCH
newsletters are available on the District site shown in the LINKS section below.


Rotary Bay City on Facebook!
Click on the Blue Facebook to visit us there.

Remember! Check attendance sheets at the front desk.
---
LINKS