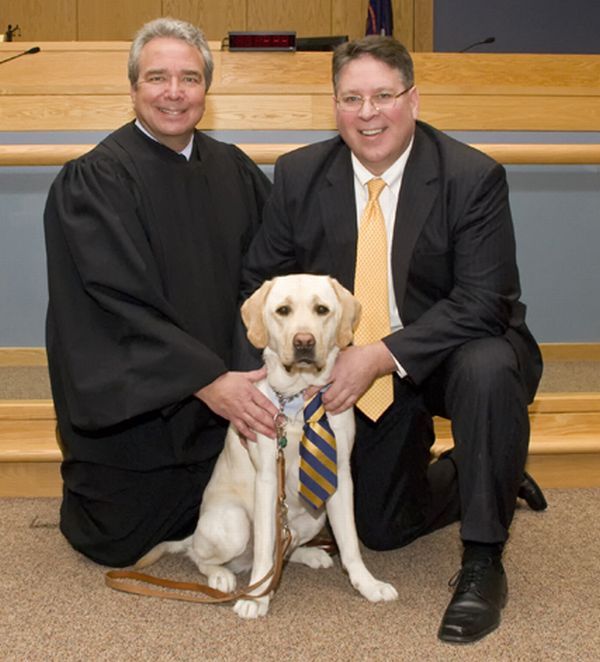 Judge Sheeran (Left), Chief Prosecutor Kurt Asbury, and the newest member of the Prosecutor's Office, Dodger, a yellow Labrador retriever.
(MyBayCity Photo by John Keuvelaar)
---
No Bones About It
Dodger Swears to Nurture-Comfort-Protect Child Victims
December 18, 2011
By: John Keuvelaar
In a ceremony held in the 18th Circuit Court, Chief Prosecutor Kurt Asbury introduced his newest member of the Prosecutor's Office, Dodger, a yellow Labrador retriever. And with a raise of Dodger's paw and a nod of his head, Judge Sheeran swore in Dodger.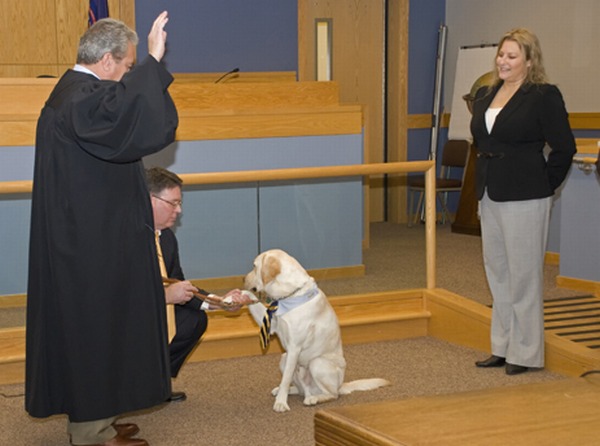 Raise your right paw and repeat after me...
(MyBayCity Photo by John Keuvelaar)
While Dodger sat dutifully with collar and necktie in front of Judge Sheeran, who coincidentally had on the same attire, the young lab acknowledged his oath promising: "to assist the child victims of Bay County as their victim advocate by nurturing them, comforting them and protecting them." Then Judge Sheeran asked Dodger. "Do you promise to nuzzle them and be petted by them? Do you promise to be faithful and true to them? Do you promise to be their best friend?" And with a dutiful nod of the head aided by Kurt Asbury's carrot filled encouragement, Dodger became an official member of the office assigned to the Victim's Rights Unit.
But make no bones about it, Dodger will serve a real function in the office aiding victims to overcome the stress and fears of having to be in court and often testify.
"As adults, we all know how stressful and intimidating an experience going to court is," Kurt Asbury pointed out in his introductory remarks. "Just think of that experience if you were a child. Then, add to that experience having to go to court and discuss issues of a very personal nature, sometimes even involving your own family members."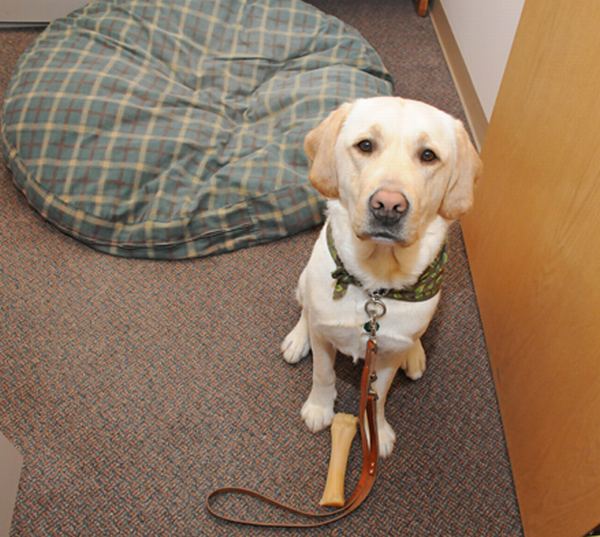 Hi! My Name is Dodger!
(MyBayCity Photo by John Keuvelaar)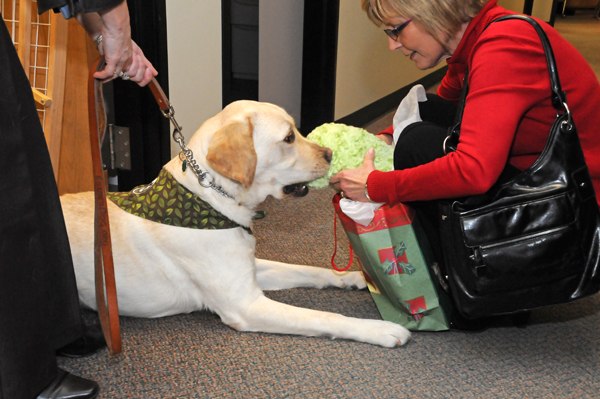 Oh boy I wonder what it is!
(MyBayCity Photo by John Keuvelaar)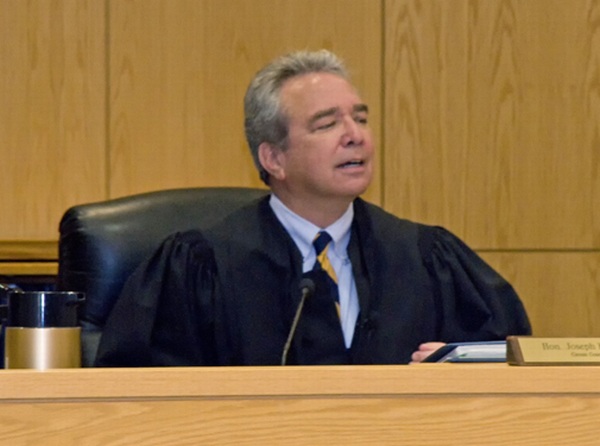 Judge Sheeran checks out Dodger's matching (tie) attire.
(MyBayCity Photo by John Keuvelaar)
Mr. Asbury further identified the thought process behind employing a canine in the office. "It's well documented that a child's anxiety level is dramatically reduced by the presence of canine advocates. Dogs have that special ability to sense people's emotions and alleviate their stress. We believe that every child that comes to court will benefit by having Dodger at their side, offering them his emotional support."
This philosophy has already manifested itself of relieving a child victim's trauma and stress in a recent case. On December 5th, an 11-year old child victim of Criminal Sexual Conduct came to court to participate in the sentencing of the sexual offender. Cindy Howell, Bay County's Victim's Rights Coordinator, sensed the young child's tension of being in the courtroom for the hearing. She brought the child to the office to meet Dodger.
As one might expect, the child enjoyed the visit and he was more at ease. It was then decided that Dodger would accompany the child back to court. The child sat in the back of the courtroom with Dodger lying at the child's feet. As the sentencing progressed and the young child's letter to the court was read, the child was clearly affected by the moment and the past events. "Dodger sat up, turned around and he put his nose underneath the little boy's hands and laid his head on his lap," Ms Howell recalled. "Then he nuzzled against his cheek and gave him a lick and turned around laid back down."
The idea of employing Dodger was first presented by Cindy Howell two years ago. While attending a conference, she had met Dan Cojanu who started the state's first canine victim support program in Oakland County in 2008. After further research and consultation with Cojanu, Kurt Asbury launched the present Bay County program. This is the first such dog based specifically out of a Michigan prosecutor's office.
As Dan Cojanu has pointed out, his use of a dog to comfort child victims has been well received by the defense bar in Oakland County as well. He notes that his dog Amos, a chocolate lab, tends to put the child at ease and allows the child to talk more freely in the courtroom when questioned. "He further notes that 100% of the kids that originally were unwilling to testify, did testify when Amos accompanied them to the courtroom."
A bonus to the Bay County program is that it comes at no additional cost to the Bay County tax payers. Dodger was donated by the Rochester Hills-based Leader Dogs for the Blind program to Kurt Asbury. He is not only housing Dodger, but will be paying all associated costs for him.
As a member of the office assigned to the Victims Right's unit, Dodger will be handled at the office by victims' advocates Cindy Howell, Wendy Hoffard and Kristin Monaghan. Dodger will meet the children associated with both criminal cases as well as neglect and abuse cases and be waiting for them to return from court. In some cases, he will also accompany them to court when appropriate.
Dodger will be a welcome addition to the courthouse and community. He will certainly help alleviate the stress of coming to court for many victims, of any age.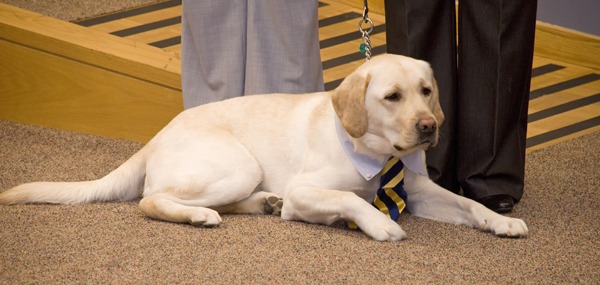 Dodger gets comfortable in the courtroom.
(MyBayCity Photo by John Keuvelaar)
Dan Cojanu with his lovely wife, Kathy, looks on as his prize pupil does his stuff in court.
(MyBayCity Photo by John Keuvelaar)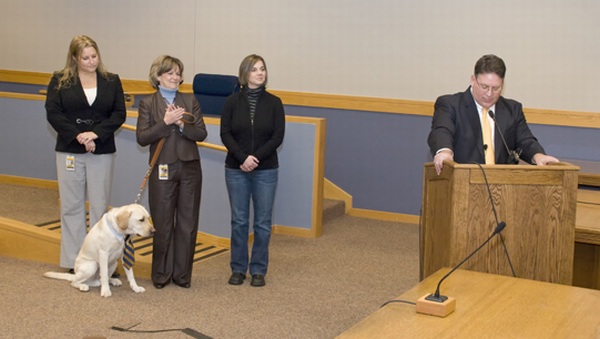 The three victim rights advocates and now Dodger handler, Wendy Hoffard, Cindy Howell and Kristin Monaghan stand ready as Kurt Asbury addresses the audience.
(MyBayCity Photo by John Keuvelaar)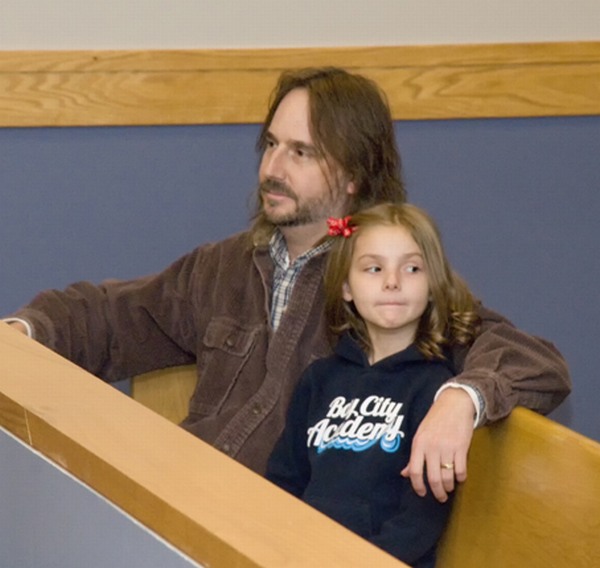 John Bellsmith, owner of Bellsmith Graphic Design and designer of the Dodger coloring sheet, listens to the ceremony with his daughter.
(MyBayCity Photo by John Keuvelaar)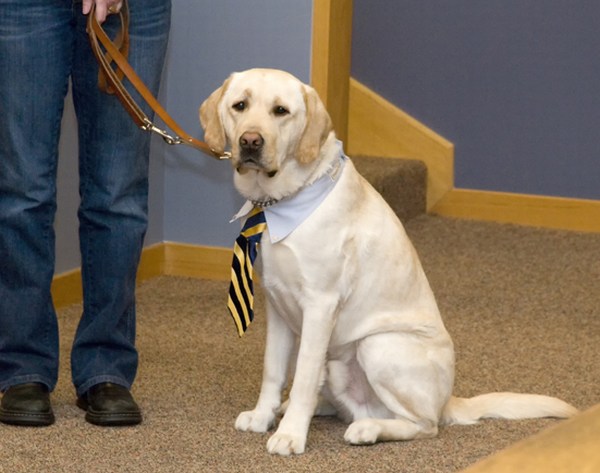 Dodger looking smart in his attire.
(MyBayCity Photo by John Keuvelaar)