Rotarians to Hear State of Bay County, Bay City from Hickner, Belleman
100th Birthday Celebration Feb. 23 Shaping Up to Be Momentous Affair
January 2, 2005
By: Dave Rogers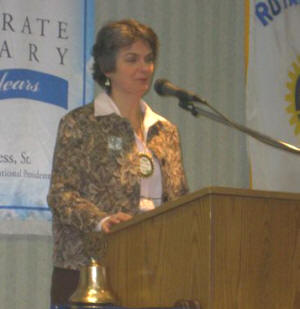 Anne Trahan introduces the ever-popular Ten Minute Rotarians Program on Dec. 28.

      This week: State of the County and City, with County Executive Tom Hickner and City Manager Robert Belleman.
      Last week's program: Ten Minute Rotarians - The Life and Times of Bill Soper, Dom Monastiere and Linda Heemstra.
      In a program that is shaping up to be a Rotary tradition, County Executive Tom Hickner and City Manager Robert Belleman of Bay City will divine their prognostications of the future for the Bay City Rotary Club on Tuesday, Jan. 4.
      The pair of governmental leaders will start the new year of 2005 off with presentations tempered no doubt by tough economic times, especially affecting Michigan right now.
      Mr. Hickner is struggling to find about $400,000 in cuts to the county budget each year to stay in black ink while the city manager has announced intentions to reduce the city property tax rate by a half a mill a year, a goal that will inevitably involve some reductions in personnel.
      Rotarians are eagerly awaiting these talks to see what financial wizardry the pair will conjure up to guide the two main local governments through treacherous times while awaiting an economic upturn.
      Insiders say the county may have to divest itself of all butessential services mandated by law. The city must pare down one of the state's highest municipal tax rates to spur needed residential growth.
      Word on the street is that current conditions are ripe for ideas like consolidation of police andfire protection by county, city and townships and merging taxing units such as schools, proposals that lay a veritable minefield of political controversy but which may have leverage with local voters.
      Meanwhile, under leadership of PDG Jerome Yantz, Rotary Clubs are planning a 100th Anniversary birthday party on Wednesday, Feb. 23 to top them all. Former Rotarians, spouses and community friends of both the morning and noon clubs are invited to the event in the DoubleTree Hotel - Bay City Riverfront. The regular Tuesday noon meeting of the Bay City noon club and the Thursday morning meeting of the morning club will be cancelled that week to boost attendance at the Wednesday evening anniversary event.
      President Mike Stoner gave a mid-year report on club members' response to his "challenges," 1) Bring a prospective member to lunch (18); 2) Do make-ups on line at RotaryOne.org (13); 3) Contribute to the Rotary Foundation ($100 from every Rotarian, every year); 4) Participate in Reading is Everybody's Business (18); and 5) Work on club projects (33). In addition, many members are involved in the committee for the new Rotary Friendship Park downtown and support is growing for the "twin club" project with Zekeriakoy, Turkey. Another goal is to work more closely with other clubs, exemplified by the partnership with the Bay City Morning Rotary on the anniversary celebration and the Saginaw Club on events there.
      Rotarian Bonnie Marsh was given kudoes for her confirmation as executive director of the Saginaw Basin Land Conservancy (she had been serving as interim director), and Tim Holsworth was credited with $118 toward his Paul Harris Fellowship for winning the weekly drawing.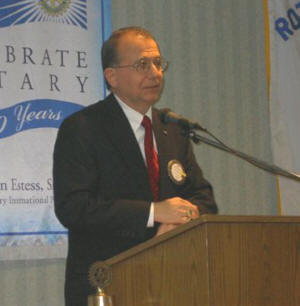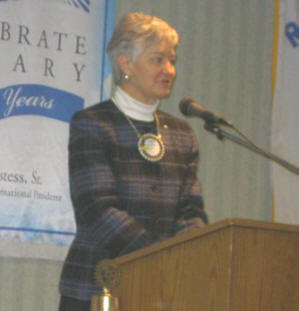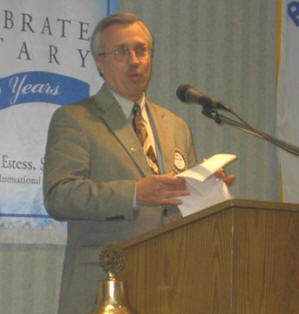 ---
      Bill Soper, Dom Monastiere and Linda Heemstra (Top) and Bill Soper (Just Above) were the Ten Minute Rotarians last week.
      Mr. Soper told of growing up on his grandfather's farm at Bay and Tittabawassee (obviously pre-Fashion Square Mall days). His grandfather was assistant superintendent of the Saginaw Schools and was Rotary club president and district governor. He also recalled the fact that his great-grandfather had fought in the 23rd Michigan Infantry in the Civil War and that he inherited "excessive frugality" from his family that brings him criticism from his two children. Mr. Soper, a veteran of Army service in Germany, worked 20 years for the Bay County Department of Water and Sewer and joined ReNew Systems in 1999.
      Mr. Monastiere, a native of Detroit and 1965 graduate of Grosse Pointe High School where he was president of his senior class, recalled his start in finance -- a job as mail clerk at Merrill Lynch at age 16. Switching from an engineering curriculum, Mr. Monastiere graduated from the University of Michigan Business School and also did post graduate school at the University of Detroit. He worked for National Bank of Detroit and became the youngest president of a Michigan National Bank at Midland in 1983 at age 36. "Having the opportunity to come to Bay City was a great fit," he said. His list of community activities is extensive and he has been on the board of the Kantzler Foundation since 1987 and president for 10years. "I have a passion for community service," he said.
      Mrs. Heemstra, a native of Troy, Ohio, moved to Richmond, Michigan, with her mother on the family farm and then to Ann Arbor where her father worked as an electrical engineer for Detroit Edison. After a brief stay in Houston, the family moved to 10 different houses in 9 Michigan communities, including Gaylord, Traverse City, Gagetown and Cass City. She was graduated as salutatorian of her class at Rochester High in 1961. At Bowling Green (OH) State University, she was recruited by Ted Southerland, then principal of Central High in Bay City.
After two years as high school librarian she got a master's in Library Science at the University of Michigan, married Physics teacher Ray Heemstra and in 1969 began part-time work on the reference desk at the Bay City Public Library. Consolidation of libraries through a countywide millage approval by voters in 1973 put her as assistant director and in 1974 she became director of the Bay County Library System. "I had the good fortune to be in the right place at the right time," she said, calling her experience ൦ wonderful years." She was president of the Michigan Library Association in 1989, the same year she became one of the first two women in the Bay City Rotary Club, along with former Bay County Growth Alliance executive Joy Gaasch.
Rotary Club programs for January 2005:
· January 4, 2005 - Tom Hickner, County Executive, and Robert Belleman, Bay City Manager, State of the City and the County;
· January 11, 2005 - Valerie Roof, Guidebook for Family Friendly Businesses, Introduced by Jerome Yantz;
· January 18, 2005 - Michael Dewey, BAISD Superintendent, Report on the Imagination Library;
· January 25, 2005 - Patrick Flynn, Saginaw Bay Symphony Orchestra - Introduced by Evelyn Mudd, Saginaw Rotary Club.###