Rotary Presents Holiday Music Program
December 20, 2011
By: Stephen Kent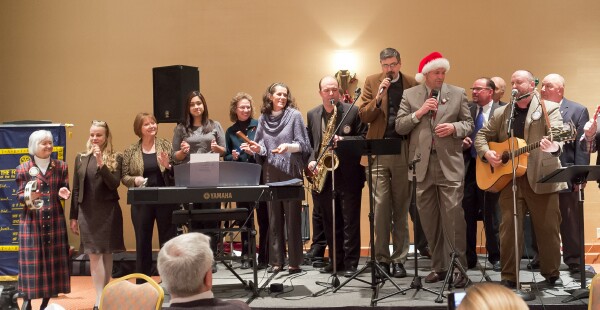 Rotarians and Guests Sing Holiday Greetings
(Photo by Sandy Rogers)
Happy Holidays to the entire Rotary Club, Friends, and Family!
The Club presented its annual Holiday Program with music from many talented Rotarians. Thanks to all. (If you want more, remember the Rotary Concert later in 2012!)
Musicians included Lee and Molly Newton, Jeff Yantz, Rob Clark, Ron Bloomfield, Andy Rogers, and Jeff's daughter Ella. Ella, who performed last year as well, was seven years old but turned eight two days later.
The program concluded when Rob Clark passed out instruments, bells, tambourine, etc. to various audience members and asked (forced) them to come to the front for a round of rocking "It's Christmas!"
The club also welcomed the Optimists and the Morning Rotary Club to the luncheon and program. There were nearly 110 people in the room.
The Doubletree when out of their way to make the occasion festive with decorations, a larger room and stage, and a DESSERT TABLE! Great stuff. (And for those of you (us) who stayed late... nibbling on left overs counts as naughty.)
Check the
Club Web Site
for a few more pictures from the program.
Play the YouTube video of Ella singing "Santa Claus Is Coming To Town".
---
CLUB NEWS and ANNOUNCEMENTS
If you haven't hears, member
Valerie Roof
is leaving for a new job in New York. Her energy and talents will be missed by the club. The recent Administrative Work Group could not have done so much without Valerie's leadership and hard work! There will be
reception
for Valerie on
Wednesday, December 28 from 4:30 to 6:30
at the
Pere Marquette Depot
. All Rotarians are welcome!
---
In
Two Weeks
there won't be a formal program. Members are welcomed and encouraged to take a longer time to visit with their fellow Rotarians and guests after the meeting.
Also that week
: A sub-committee was formed to review and make recommendations on developing a
policy manual
for various club activities. That group, and anyone else who's interested, will meet informally to begin talking about this task.
---
Dues invoices
for the first half of 2011 were mailed recently. The Club's board change the dues structure to no longer require pre-paying a portion of the meals. Two options are offered: Option 1 calls for payment of dues only. Meals are paid at the door. Option 2 allows pre-payment of the full meal cost must as it is now.
NEW MEETING PLACE REMINDER
Doubletree Hotel and Conference Center
---
Upcoming Programs
(See the official schedule at RotaryBayCity.org )
December 27, 2011: The Great Rotariac
will honor the club with his annual visit. Jonathan Teich will also do a brief presentation on Rotariact.
January 3, 2011: Rotary Connect
. There will be no formal program and speaker so Rotarians will have the opportunity to visit and learn more about fellow Rotarians. The sub-committee on club policies, and anyone else who's interested, will also meet informally.
January 17, 2011: Rob Clark
will talk about recent changes with local Media groups MLive.com and the Bay City Times.
---
Current and past
DISTRICT DISPATCH
newsletters are available on the District site shown in the LINKS section below.


Rotary Bay City on Facebook!
Click on the Blue Facebook to visit us there.

Remember! Check attendance sheets at the front desk.
---
LINKS