(Not So) Great Rotariac Visits Bay City
December 27, 2011
By: Stephen Kent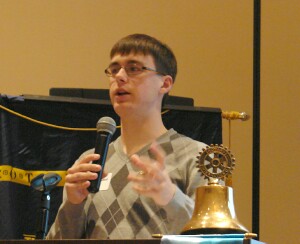 Jonathan Teich
Jonathan Teich
spoke to Rotary about the
Rotaract Chapter
he's a member of at Bradley University in Peoria, IL. Jonathan is the son of Andreas and Tracy Teich. As such he's a familiar face to Rotarians who have watched him grow up with regular visits to the Bay City Club with his father.
Rotaract is a Rotary-sponsored service club that is both community and university based. Sponsored by the local Rotary Club, the club represents one of Rotary's most significant and fastest-growing service programs. There are more than 7,000 clubs in about 163 countries.
The Bradley Rotaract club has between 20 and 30 members. The meet regularly and work for the benefit of the community and campus with service projects, leadership and team building networking.
Jonathan talked about why Rotaract attracts college students. Not the least of the benefits is "free food" at meetings and social events. Other activities include social events, leadership awards, and training programs for young members.
For more information visit
Bradley.edu
or
Bradley Rotaract
---
With help from
Bob Chadwick
(straight man), the
Not So Great Rotariac
, sage visitor from the East (East, Bay City), visited the club and brought significant insights for the new year with answers to pressing questions affecting Bay City.
Using his great mental powers, Rotariac, that all knowing, all seeing, and all around wise guy, provided the answers BEFORE seeing the questions, which had been sealed in a Michigan Sugar bag and kept on the back porch of the Michigan Department of Education offices since that morning. Answers and Questions included the like of:
A:
New home sales, the job market, and the economy in general.
Q:
Name three things in Bay County that still stink more than the sugar plant.
A:
The Wirt Library, the Bay Area Chamber of Commerce, and Bay Regional Medical Center.
Q:
Name a place for readers, a place for leaders, and a place for bleeders.
A:
A Bay City DPW truck
Q:
Name something that's big, yellow, and usually sleeps two.
A:
A milk shake, a banana split, and a Sundae without nuts.
Q:
Describe two ice cream treats and any weekend in Washington when the House is not in session.
A:
Hell's Half Mile
Q:
What's the new name for Midland Street?
| | |
| --- | --- |
| The Not So Great Rotariac divines the answer to a question in a sealed envelope. | The Not So Great Rotariac has less than polite retorts to audience comments. |
| | |
| --- | --- |
| Al Hicks introduced his Granddaughter Jessica. Rotarians will be interested to know that Al's book "Magical Pond" was written for Jes. | Andreas Teich introduced visitors Hans and Sigrid Teich (left) Visiting from Germany. They joined his son Jonathan and wife Tracy. |
Happy Holidays to the entire Rotary Club, Friends, and Family!
---
CLUB NEWS and ANNOUNCEMENTS
This Week's
meeting will not feature a formal program. Members are welcomed and encouraged to take a longer time to visit with their fellow Rotarians and guests after the meeting.
Also
: A sub-committee was formed to review and make recommendations on developing a
policy manual
for various club activities. That group, and anyone else who's interested, will meet informally to begin talking about this task.
---
Dues invoices
for the first half of 2011 were mailed recently. The Club's board change the dues structure to no longer require pre-paying a portion of the meals. Two options are offered: Option 1 calls for payment of dues only. Meals are paid at the door. Option 2 allows pre-payment of the full meal cost must as it is now.
NEW MEETING PLACE REMINDER
Doubletree Hotel and Conference Center
---
Upcoming Programs
(See the official schedule at RotaryBayCity.org )
January 3, 2011: Rotary Connect
. There will be no formal program and speaker so Rotarians will have the opportunity to visit and learn more about fellow Rotarians. The sub-committee on club policies, and anyone else who's interested, will also meet informally.
January 10, 2011: Steve Black
will provide an update of the new proposed development by SSP associates at the Uptown project.
January 17, 2011: Rob Clark
will talk about recent changes with local Media groups MLive.com and the Bay City Times.
January 24, 2011: George Puia
, Chair in Global Business at SVSU will speak about the European economy and its impact on the US.
January 31, 2011: John Decker
and
Ellen Crane
from Braun Kendrick PLC, will talk about Social media in the workplace (Facebook, Twitter, etc.) and the impact on the work place. What are the emerging issues, trends and claims.
---
Current and past
DISTRICT DISPATCH
newsletters are available on the District site shown in the LINKS section below.


Rotary Bay City on Facebook!
Click on the Blue Facebook to visit us there.

Remember! Check attendance sheets at the front desk.
---
LINKS