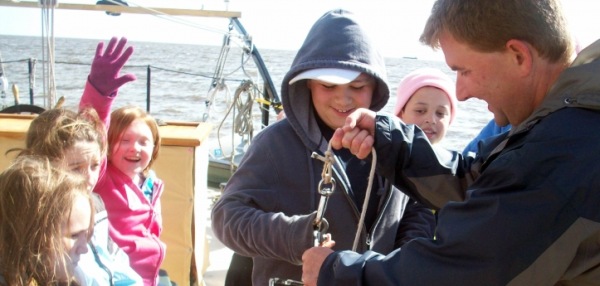 Since 1998 BaySail has been teaching students about the Great Lakes though award winning shipboard education programs - Science under Sail. Over 34,000 K-12 students have come aboard BaySail ships to sail on their local waters.
---
BaySail Seeks Financial Help With Education Programs
January 8, 2012
By: O. J. Cunningham
Teachers continue to say good things about BaySail's environmental education programs offered aboard the Appledore schooners.
Jennifer Verellen - Western Middle School
"I try to provide meaningful, real-life experiences for my students through field trips, activities & presenters. This experience is, by far, the most valuable of anything I have ever done! I feel the lessons they learned & the appreciation for our local ecosystem/watershed is priceless. Thank you for the opportunity!"
Kelly Hugo, Cramer Junior High"
"The students, myself, and the chaperones had a wonderful time aboard the Schooner Appledore. It was a great experience for the students and really reinforced the 7th grade GLECS that are taught in the classroom. It allowed the students to get hands on experience outside the 4 walls of the classroom. Highly recommended."
According to BaySail Executive Director Roger Nugent, "Teachers appreciate the value of our hands-on science programs and BaySail knows that students are in need of real life experiences that connects them with the natural world."
Nugent went on to say that this is why BaySail has given over 34,000 K-12 students a first-hand educational experience on the engaging and exciting platform of a Tall Ship under sail.
Nugent is asking the community for some help in the form of a year-end donation?
"This is an experience all young students will remember," Nugent said. "This is a moment that may turn them from disinterested bystanders into genuine environmental stewards. And it will be anything but boring," Nugent went on to explain.
To continue offering this award winning shipboard science program, BaySail relies on the generous donations of people like those who live in the Great Lakes Bay Area.
In an open letter to potential contributors, Nugent said, "As 2012 approaches, please consider BaySail for year-end charitable giving. Your tax deductible donation will support BaySail's efforts," Nugent said.
The goal of the BaySail education program is to teach the next generation their role as environmental stewards, raise awareness of threats to the Great Lakes and show our children the wonders of the natural world.
With continued support, BaySail's extraordinary on-the-water educational experience will continue to inspire the next generation to help save the threatened freshwater seas.
"By donating today," Nugent's letter explained, "you can support our student programming and increase your tax deduction for 2011 - make your year-end donation online today."
To donate to BaySail,
Click Here