Rotarians Enjoy Fellowship and New Years Greetings
January 3, 2012
By: Stephen Kent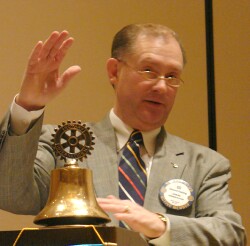 President Ed Keating
Happy Holidays to the entire Rotary Club, Friends, and Family!
Following the invocation by
Jeffrey Weenink
,
President Ed Keating
opened the meeting by saying that this would be the first annual after New Years Fellowship meeting. There was no formal program with speaker. Members were encouraged to take the free time to enjoy the meal, the venue, and to just visit.
Greeter Dee Dee Wacksman
noted that there were no guests or visiting Rotarians then extended New Years greetings to all members and shared the following:


I wish you health so you may enjoy each day in comfort.

I wish you the love of friends and family and peace within your heart.

I wish you wisdom to choose priorities for those things that really matter in life.

I wish you generosity so that you may share all the things that come to you

I wish you happiness and joy and blessings for the new year.

Have a Happy New Year and a Great Day!
President Ed
then read some of the historic events of this day including these:
In 1945 General Macarthur took command of all US Ground Forces. General Nimitz took command of all US Naval Forces thus ending the concept of unified command.

In 1959 Alaska became a state. Also in 1959 Castro took command of the Cuban Army. In 1961 the US broke diplomatic relations with Cuba.

In 1974 President Nixon refused to hand over tape recordings from his office. He resigned eight months later.
Keating also offered some of his own
New Years Resolutions
saying "I have a few vices and the way to get rid of them is to publicly talk about them." To every one's amusement his resolutions included...
Stop streaking at football events just to gain recognition.
Stop whistling at every pretty girl walking down the street. (To which Cindy Chadwick called out "You never whistle at ME!".)
Stop making moonshine in the basement and selling it from the back of my pickup.
Stop depositing $5 bills in the church offering plate while taking tens and twenties out.
---
CLUB NEWS and ANNOUNCEMENTS
Vocational Days Chair Griff Acker
said "I know you guys always do this to me" then went on to say that Vocational Days are Tuesday March 13 and March 27. Assignments are being handed out in 3 weeks so commitments are needed ASAP! Bay Med will take students on the 13th and Delta College will take the 27th. Additional places are needed for other job shadowing students. There are six schools so it would help if groups of six students work well.
---
Dues invoices
for the first half of 2011 were mailed recently. The Club's board change the dues structure to no longer require pre-paying a portion of the meals. Two options are offered: Option 1 calls for payment of dues only. Meals are paid at the door. Option 2 allows pre-payment of the full meal cost must as it is now.
NEW MEETING PLACE REMINDER
Doubletree Hotel and Conference Center
---
Upcoming Programs
(See the official schedule at RotaryBayCity.org )
January 10, 2011: Steve Black
will provide an update of the new proposed development by SSP associates at the Uptown project.
January 17, 2011: Rob Clark
will talk about recent changes with local Media groups MLive.com and the Bay City Times.
January 24, 2011: George Puia
, Chair in Global Business at SVSU will speak about the European economy and its impact on the US.
January 31, 2011: John Decker
and
Ellen Crane
from Braun Kendrick PLC, will talk about Social media in the workplace (Facebook, Twitter, etc.) and the impact on the work place. What are the emerging issues, trends and claims.
---
Current and past
DISTRICT DISPATCH
newsletters are available on the District site shown in the LINKS section below.


Rotary Bay City on Facebook!
Click on the Blue Facebook to visit us there.

Remember! Check attendance sheets at the front desk.
---
LINKS