European Economy's Impact On US Topic of Talk
January 24, 2012
By: Stephen Kent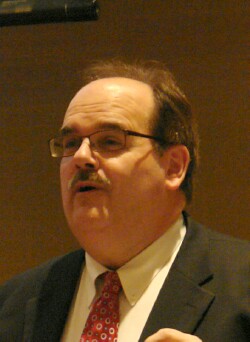 George Puia, Ph.D.
George Puia
, Chair in Global Business at SVSU spoke to Rotary about the European economy and its impact on the US, how we got where we are,and the implications for the future.
When the European Union (EU) started the US had a population of about 225 million and Germany's population was about 45 million. Investors tended to put their money with the larger countries. To gain more jobs Germany and France knew they needed a larger market and easier ways to do business and the lack of tariffs. They created a trade union, which grew into the EU.
Adoption of a common monetary created a larger economy but also meant that countries had to give up some of their sovereignty to achieve that common monetary policy and common fiscal policies. Resulting core problems were that the recession created deficit spending and Greece cheated.
Greece became a problem. Low interest rated encouraged unsustainable borrowing, which lead to a real estate bubble in the weaker Greece, Italy, Portugal and Spain. Low interest rates encouraged government borrowing and, in 2009, Greece announced that the size of its debt had been disguised.
Puia went on to describe the uncertainty of the true value of currency and the increased perceptions of risk. He talked about higher interest rates and the 2010 EU and IMB bailout package that eventually approached a trillion dollars. Greece, Ireland and Portugal fell into deep recessions.
In a second round of responses in mid 2011 the EU bought massive levels of Italian and Spanish bonds. The financial crisis became political with protests and strikes over lost government jobs and benefits.
As the difficulties grew, the US can offer little financial support to Europe due to its own debt crisis. Furthermore the US has lost credibility in asking conditions of the Europeans.
This huge dilemma would require a total bailout of Greece, which could lead to bailing out Italy. Ignoring Greece would lead to bank failures. Why banks reacted so slowly is that they're smart. Given the time they have sold off their Greek debt. Deutsche Bank now has Greek debt of only about 7%.
New economic realities are that nations can default. Everything is interconnected. Real estate prices can fall. Ford won't do as well as they could because of their sales overseas. The US will continue to face pressure from the weakness of European markets. The consensus forecast: Slow to no growth in 2012 with the beginning of a mild recovery later.
It's a new world. What's scary was how easy it was to hide the problems due to the lack of moral and ethical leadership in one country.
---
CLUB NEWS and ANNOUNCEMENTS
Congratulations to
Griff Acker
and
Linda Heemstra
who received their Paul Harris Fellow recognition for Plus-3 and Plus-5 respectively. Their contributions to the Rotary Foundation are greatly appreciated by all.
As of two weeks ago the district was within $2,000 of its $192,000 Polio goal for the
Rotary Foundation
. It's certain that the goal will be met.
Jim Griffiths
brought his Leader Dogs For The Blind "puppy" Diesel. The last time Rotarians saw Diesel he weighed 22 pounds. This time he's eight months old and weights 60 pounds. Jim says he'll top out around 100 pounds and will be sent back in a month or so.
Gena Gates
announced that the
Club's Foundation Board
will meet next week after the regular meeting. Everyone is welcome to that meeting.
On
April 10 the Lieutenant Governor Brian Calley
will speak to the club. Mark your calendars and invite guests to attend.
The club is looking for
new members
. A committee headed by Lee Newton has a list of individuals and businesses to be approached. See Lee if you'd like to help.
---

Rotary Bay City on Facebook!
With the help of Jenna Schrumpf the club has started a
Face Book
web page.
Click on the Blue Facebook to visit us there.
---
Dues invoices
for the first half of 2011 were mailed in November and were due on January 1. Most dues have been paid. If you have not paid, please contact the secretary with your intentions.
OFF SITE MEETING FEBRUARY 21
The club will hold an off-site meeting on February 21 at the new Family Y.
Remember:
International Night
is scheduled for October 11, 2012.
---
Upcoming Programs
(See the official schedule at RotaryBayCity.org )
January 31, 2011: John Decker
and
Ellen Crane
from Braun Kendrick PLC, will talk about Social media in the workplace (Facebook, Twitter, etc.) and the impact on the work place. What are the emerging issues, trends and claims.
February 7, 2011: Cindy Luczak
speaks about the The Michigan Presidential primary process and will discuss changes effective this year.
February 21, 2011: OFF SITE MEETING
at the new Bay Area Family Y. See and learn about the new facility.
March 13, 2011: First Vocational Day
.
April 10, 2011: Lieutenant Gov. Brian Calley
. .
---
Current and past
DISTRICT DISPATCH
newsletters are available on the District site shown in the LINKS section below.


Rotary Bay City on Facebook!
Click on the Blue Facebook to visit us there.

Remember! Check attendance sheets at the front desk.
---
LINKS