Imagination Library to Be Highlighted by Bay-Arenac ISD Supt. Mike Dewey
Family Friendly Businesses Said Important Ingredient to Economic Growth
January 16, 2005
By: Dave Rogers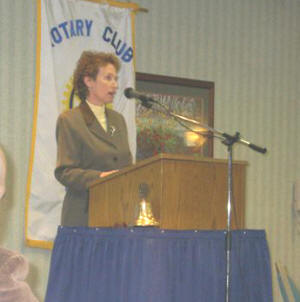 Valerie Roof, vice president of the Bay Area Chamber of Commerce speaks to the Bay City Rotary Club on Family Friendly Businesses.

Last week's program: Valerie Roof, Guide to Family Friendly Business.
This week's program: Mike Dewey superintendent, Bay-Arenac Intermediate School District, the Imagination Library.
Kudoes to: Dominic Monastiere, recipient of the Martin Luther King Award today at the Dow Events Center, Gary Riedlinger, who received a Paul Harris Fellowship from Kathy Czerwinski, RI Foundation chair, at last week's meeting.
Approved for membership: EileenCurtis, Robert Belleman, Dee Dee Wacksman, Rev. Bill Findlay.
Upcoming: Wednesday, Feb. 23, Rotary 100th Anniversary Celebration; evening joint meeting with Bay City Morning Rotary Club at DoubleTree; invite past Rotarians, bring a guest; PDG Jerome Yantz, chairman.
Vocational Days, March 15 and 22; mentor a student for a day, bring a student to lunch. Sign up now: Contact Griff Acker, Ralph Knop or Chuck Moulds.
      The Bay Area Chamber of Commerce is taking a leadership role in helping parents improve the environment for their children's education in several ways.
      One pace-setting program is the "Family Friendly Business" that aims to help parents care for children in the crucial 0-6 age group. This program was explained to the Bay City Rotary Club last Tuesday by Valerie Roof, vice president, Bay Area Chamber of Commerce. Programmer was Jerome Yantz.
      The Family Friendly Business concept was an outgrowth of a "Ready to Succeed" forumthat revealed that employers are the key to accessing and influencing parents.
      "There are a number of things employers can do at no cost to help parents help their children," said Mrs. Roof.
      She outlined "Five Easy Steps" and 31 programs, including flextime, wellness, dependent care, child care, work and family balance awards, technical assistance and others.
      Among firms receiving awards as "Family Friendly Employers" last year were First American Title, General Motors, SC Johnson & Son, Inc., Independent Bank, Wade Trim and Weinlander-Fitzhugh. Awards will be made again March 23, she said.
      "Businesses can make enormous contributions to the community through programs like this," said Mrs. Roof.
      A Guide to Family Friendly Business is available through the Chamber for $25, $40 for non-members, she said. The Small Business Help Center (baycityarea.biz) can be accessed for guidance at no charge.
      Mr. Yantz, one of the originators and sponsors of the program, noted that 65 percent of Chamber members have 25 or fewer employees. He called the program "an important ingredient to economic growth."###