Attorney Speaks to Rotary About Social Networking
January 31, 2012
By: Stephen Kent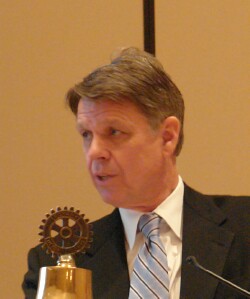 John A. Decker
John Decker
, Attorney with the law firm
Braun Kendrick
, spoke to rotary on "The Impact of Social Networking in the Workplace". The topic applied to many cases and generated numerous questions from the audience.
Among the topics was the question "Should employees be cyber-vetted before employment?" This is the practice of using social media such as facebook, youTube and related sites to see what a person has said about themselves in public. Decker advised against the practice. When asked how someone could get past security of such sites, Decker responded that people often willingly, if not knowingly, give up their privacy. In response to another audience comment he said "read the fine print".
Decker also discussed discipline of an employee for use of social media. There is the concern of "willful" misconduct and violation of the employer's policies. In some ways this is similar to use of a mobile phone. Even off-duty use can have implications.
Addressing termination for off-duty activity he cited cases of employees exploiting the employer's image and making threats of violence.
Employers may be liable for an employee's use of social media. There may be a duty to redress complaints of harassment and discrimination. An employer may also have a duty to take action to stop a crime, such as an employee's viewing of child porn, once the employer has knowledge of the behavior.
There are considerations when an employer accesses private communications without permission. This could violate the Stored Communications Act or Computer Fraud and Abuse acts.
Employers must also consider the use of social media for work related tasks done outside of the work environment like using a home computer or smart phone. Such activity might have overtime considerations.
All employers need to be aware of the new world of electronic communications and social media. Laws continue to evolve and change with the advance of technology.
---
CLUB NEWS and ANNOUNCEMENTS
April 12 has been reserved for this year's
Rotary Concert
. The concert will return to its roots and be a music only program held at the State Theater without food. Performers and musicians are being recruited now. Groups will include a Bob Segar tribute.
The Club's Foundation met after the regularly scheduled meeting. The membership was invited and a number attended. With upcoming fundraisers it seems certain that the club will meet its major project commitments.
On
April 10 the Lieutenant Governor Brian Calley
will speak to the club. Mark your calendars and invite guests to attend.
The club is looking for
new members
. A committee headed by Lee Newton has a list of individuals and businesses to be approached. See Lee if you'd like to help.
---

Rotary Bay City on Facebook!
Members are encouraged to visit the club's
Face Book
web page. Click on the Blue Facebook to visit us there.
OFF SITE MEETING FEBRUARY 21
The club will hold an off-site meeting on February 21 at the new Family Y.
International Night
is scheduled for October 11, 2012.
Rotary Concert
at the State Theater on April 12, 2012.
---
Upcoming Programs
(See the official schedule at RotaryBayCity.org )
February 7, 2011: Cindy Luczak
speaks about the The Michigan Presidential primary process and will discuss changes effective this year.
February 14, 2011: Dave Rogers
will talk about his latest book release.
February 21, 2011: OFF SITE MEETING
at the new Bay Area Family Y. See and learn about the new facility.
February 28, 2011: Andrew Kornecky
Speaks about caregiver support, forms of dementia including Alzheimer's Disease and how to deal with the emotions of being a caregiver..
March 6, 2011: Mark Pankner
talks about Junior Achievement.
March 13, 2011: First Vocational Day
.
April 10, 2011: Lieutenant Gov. Brian Calley
.
---
Current and past
DISTRICT DISPATCH
newsletters are available on the District site shown in the LINKS section below.


Rotary Bay City on Facebook!
Click on the Blue Facebook to visit us there.

Remember! Check attendance sheets at the front desk.
---
LINKS