Rotary Holds Meeting at New Dow Family Y
February 21, 2012
By: Stephen Kent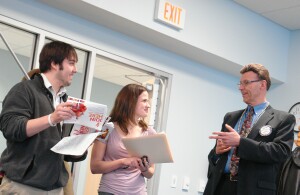 John Rooy, Katie VanDuinen and Walt Szostak
The Rotary club held one of its two annual off site meetings today at the newly constructed Dow Family "Y". Costing about $15 million and providing around 100,000 sq feet of the most modern facilities, the new "Y" has proved to be a jewel in Bay City.
Rotarian and "Y" board member Walt Szostak spoke briefly about the new facility then introduced membership director John Rooy and Senior Program Director Katie VanDuinen.
The Bay City "Y" was founded on March 23, 1885 and this is the 3rd building to house the facility. The previous building was built in 1954 and was beginning to fall apart.
Known sometimes as the "gym and swim" place where you can learn to swim and play a little basketball, the "Y" has grown into a place where you can do so much more. They have grown to be responsive to the community and the new building reflects that purpose.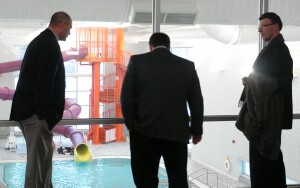 Rob Clark, Ron Bloomfield and Walt Szostak
take a second floor look at the new pool
Today's "Y" focuses on community needs in youth development, health living and social responsibility. Individual "Y's" are responsive to the community and each is different to reflect local needs.
The "Y" has a high quality, licensed child care facility where parents can drop their kids and not worry. The "Y" promotes healthy living through exercise but also supports emotional and social health and well being.
The social responsibility goal means that no one will be turned away from the "Y" for financial reasons. Since January the organization has received over 300 scholarship requests based on financial need. Every dollar that is given away comes from fund raising efforts.
At the old facility the "Y" had about 2,000 members. Since opening the new facility membership has exceeded 3,500 and is on its way to 4,000 members.
Following the talk Rotarians were given individual tours of the new facility.
For more information visit
Bay Area Family Y web site
.
---
CLUB NEWS and ANNOUNCEMENTS
The club mourns the loss of Joy Baker who passed away last week. Joy was an asset to the club and the community and will be missed.
February 23 was proclaimed Rotary Day in Bay City to celebrate the anniversary of the organization, which was founded in 1905. The proclamation was presented to President Keating at the City Council meeting Monday night and cited the many good works of Rotary.
On
April 10 the Lieutenant Governor Brian Calley
will speak to the club. Mark your calendars and invite guests to attend.
This year's
Rotary Concert
will be on April 12 at the State Theater as a music only program. Performers and musicians will include a Bob Segar tribute.
Program Ads
are being sold at this time. Sign up at the next meeting.
The next International Night organizational meeting will be held next Tuesday, February 28, at 11:00 am before the regular meeting.
The club is looking for
new members
. A committee headed by Lee Newton has a list of individuals and businesses to be approached. See Lee if you'd like to help.
Rich Milster announced that the Thesauruses will arrive next week. Anyone who wants to deliver to area 4th graders are encouraged to see Rich.
---

Rotary Bay City on Facebook!
Members are encouraged to visit the club's
Face Book
web page. Click on the Blue Facebook to visit us there.
Rotary Concert
at the State Theater on April 12, 2012.
International Night
is scheduled for October 11, 2012.
---
Upcoming Programs
(See the official schedule at RotaryBayCity.org )
February 28, 2011: Andrew Kornecky
Speaks about caregiver support, forms of dementia including Alzheimer's Disease and how to deal with the emotions of being a caregiver..
March 6, 2011: Mark Pankner
talks about Junior Achievement.
March 13, 2011: First Vocational Day
.
April 10, 2011: Lieutenant Gov. Brian Calley
.
---
Current and past
DISTRICT DISPATCH
newsletters are available on the District site shown in the LINKS section below.


Rotary Bay City on Facebook!
Click on the Blue Facebook to visit us there.

Remember! Check attendance sheets at the front desk.
---
LINKS