Rotary Hears Program On Dealing With Dementia and Related Disorders
February 28, 2012
By: Stephen Kent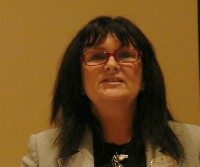 Joellyn Gutherie
Joellyn Gutherie
and associate
Andrew Kornecky
from Brookdale Senior Living presented a program titled "Our Role", which talked about how to effectively deal with people in the community who have dementia and related disorders.
Brookdale has been in business since 1984 and has installations in 38 states. It is the leading provider of senior health care.
Gutherie's presentation was not about Brookdale but about the condition of dementia itself, a serious and grace condition. "If it does not currently affect you, it's not IF it affects you, it's when it will affect you." It is the leading and growing disease in the nation with a diagnosis occurring every 33 seconds.
Dementia is a group of symptoms typified by a loss of intellectual and social abilities severe enough to interfere with daily functioning. Symptoms include forgetfulness, confusion, difficulty understand and using language, poor judgment and loss of reasoning.
Some dementias are classed delirium and are reversible with treatment. The causes can range from depression to medications and certain health conditions. Health tests are among the first things that should be tested for.
Other dementia cases are not reversible. These range from Alzheimer's Disease to injury. Some causes are rare while others are common. Dementia is defined in at a number of levels but most facilities simply use mild, moderate, and severe.
Most of Gutherie's presentation covered practical things to look for an ways to deal with patients. The overriding point was to be patient and caring with dementia patients. They don't understand the way other people do and they have a tendency to be easily confused, frightened and upset. Simple common sense and gentle treatment was perhaps the best summary of the numerous examples and points that Gutherie made.
For more information visit the
Brookdale web site
.
---
CLUB NEWS and ANNOUNCEMENTS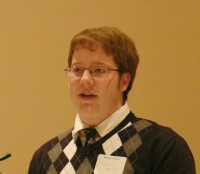 Tanner Norton
Potential Rotary Exchange Student
Tanner Norton
was introduced to the club as a potential Rotary Exchange Student. Tanner presented a short slide show titled "Rotary Exchange: A Dream Uncertain". He went on to describe the cost and the difficulties he faces raising enough to make the trip.
Tanner needs to raise at least $8,000 and he's just getting started. He presented a good humoured talk outlining the steps he's taking, from selling candy bars to collecting pop cans, to selling off possessions. Both he and his family are sacrificing for this adventure.
A number of Rotarians made contributions on the spot and the club sincerely hopes that Tanner can raise the rest of the funds he needs. See
Brenda Rowley
if you would like to offer help.
This year's
Rotary Concert
will be on April 12 at the State Theater as a music only program. Performers and musicians will include a Bob Segar tribute.
Program Ads
are being sold at this time. Sign up at the next meeting. The poster for this year's event has been designed by Cindy Chadwick and is being printed now. Be sure to see the preview on the front page of the club web site
RotaryBayCity.org
REMINDER: On
April 10 the Lieutenant Governor Brian Calley
will speak to the club. Mark your calendars and invite guests to attend.
International Night organizational meetings are well underway. Be sure to let
Kim Prime
know how you can help with this year's event!
The club is looking for
new members
. A committee headed by Lee Newton has a list of individuals and businesses to be approached. See Lee if you'd like to help.
Rich Milster
announced that the Thesauruses are coming in. Anyone who wants to deliver to area 4th graders are encouraged to see Rich.
Welcome back
Dan Streeter
of Bay City's Good Samaritan Rescue Mission. Dan was a former member who took a leave for other commitments. Everyone is glad to have Dan back in the club.


Rotary Bay City on Facebook!
Members are encouraged to visit the club's Face Book web page.
Click on the Blue Facebook to visit us there.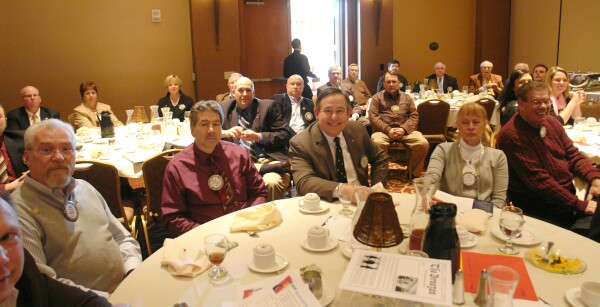 Remember to check the attendance sheets at the front desk.
The Secretary won't take pictures every week!
DATES TO REMEMBER
Rotary Concert
at the State Theater on April 12, 2012.
International Night
is scheduled for October 11, 2012.
---
Upcoming Programs
(See the official schedule at RotaryBayCity.org )
March 6, 2011: Mark Pankner
talks about Junior Achievement.
March 13, 2011: First Vocational Day
.
Brandon Donajkowski
and a team of high school and college students talk about participating in a mission to Zambia.
March 20, 2011: Tracy Rainey
, the Sexual Assault Program Director ad the
Bay Area Women's Center
will talk about Sexual Assault Awareness Month in April and Denim Day.
March 27, 2011: Second Vocational Day. Lisa Woodke
will talk about Dow's Agricultural business and vocational opportunities.
April 10, 2011: Lieutenant Gov. Brian Calley will speak
. This is a great opportunity to invite guests to Rotary.
---
Current and past
DISTRICT DISPATCH
newsletters are available on the District site shown in the LINKS section below.


Rotary Bay City on Facebook!
Click on the Blue Facebook to visit us there.

Remember! Check attendance sheets at the front desk.
---
LINKS