First Vocational Day of 2012 Hears About Mission Trip to Zambia
March 13, 2012
By: Stephen Kent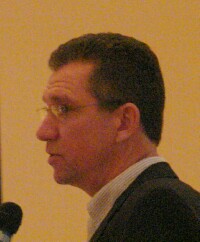 Dave Grzegorczyk
Last Tuesday was the first Vocational Day for 2012. Many students and counselors attended the meeting. Students job shadowed at a number of businesses, clinics, and with the State Police. A second Vocational Day will follow in two weeks, on March 27.
Rotarians, students and guests at Tuesday's meeting heard a presentation by
Dave Dave Grzegorczyk
and a team of high school and college students who talked about their annual mission trip to Zambia.
Sponsored by the Catholic Diocese of Saginaw, these students went to a village in the interior of the country to provide help to the Mission there.
After a twenty plus hour air trip into Lusaka, the team then takes an overland trip of about 600 kilometers, which takes ten to twelve hours. Traveling in Land Rovers, the first part of the trip is fine. Pointing to the projected map Grzegorczyk said "everything is OK until you get to that little fork in the road. That last four hours... I'll tell you what... once you travel that road you'll never forget it and you'll never complain about pot holes in Bay City."
Located on a bluff above the Zambezi River, the Sancta Maria Mission was established in 1936 and is supported by the Oblates of Mary Immaculate. The mission and those who travel there in support, minister to the needs of the very poor population through a hospital, schools, AIDS education, a trade program and a church.
The program began at Saint James Catholic Church in Bay City and is now based out of Saint Agnes Catholic Church in Freeland. They work with the Sancta Maria Mission in Lukulu, Zambia.
Among this year's activities will be teaching youngsters in Lukulu to play Basketball, which was one of their requests. Team member Brandon Donajkowski is a basketball enthusiast and looks forward to this teaching opportunity.
The next trip is planned for this summer. Although most students come from the Catholic Schools, one young lady from Bay City Central stood to say that she will be making this year's trip.
For more information visit the
Love For Lukulu
web site.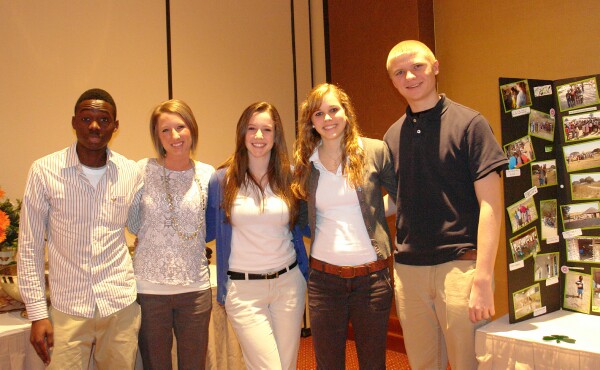 Nyambe Jordan, Katie Swieruz, Arlena Clayton, Michelle Kleinau, Brandon Donajkowski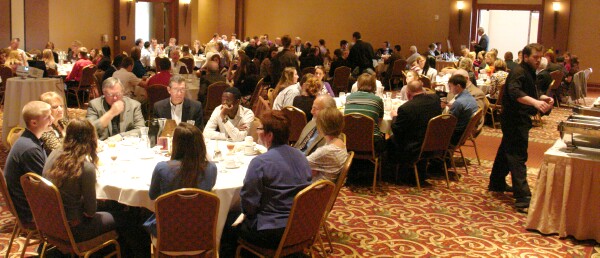 First Vocational Day Guest Swells Crowd at Rotary
---
CLUB NEWS and ANNOUNCEMENTS
BOARD MEETING THIS WEEK
The Board will meet this Tuesday, March 3/20, before the regular meeting.
This is one week late due to Vocational Days, which were held last week.
REMINDER: On
April 10 the Lieutenant Governor Brian Calley
will speak to the club. Mark your calendars and invite guests to attend.
This year's
Rotary Concert
will be on April 12 at the State Theater as a music only program. Performers and musicians will include a Bob Segar tribute.
Program Ads
are being sold at this time. Sign up at the next meeting. The poster for this year's event has been designed by Cindy Chadwick and is being printed now. Be sure to see the preview on the front page of the club web site
RotaryBayCity.org
The club continues to recruit
new members
. Talk to any of the club officers if you have prospects. Be sure to invite friends and prospects to hear the Lt. Governor on April 10th.
International Night organizational meetings are well underway. Be sure to let
Kim Prime
know how you can help with this year's event!


Rotary Bay City on Facebook!
Click on the Blue Facebook to visit us there.

Remember! Check attendance sheets at the front desk.
The Secretary won't take pictures every week!
---
DATES TO REMEMBER
BOARD MEETING CHANGED!
Due to Vocational Days on 3/13/2012, the Board will meet on 3/20 this month.
Rotary Concert
at the State Theater on April 12, 2012.
International Night
is scheduled for October 11, 2012.
---
Upcoming Programs
(See the official schedule at RotaryBayCity.org )
March 20, 2011: Tracy Rainey
, the Sexual Assault Program Director ad the
Bay Area Women's Center
will talk about Sexual Assault Awareness Month in April and Denim Day.
March 27, 2011: Second Vocational Day. Lisa Woodke
will talk about Dow's Agricultural business and vocational opportunities.
April 10, 2011: Lieutenant Gov. Brian Calley will speak
. This is a great opportunity to invite guests to Rotary.
---
Current and past
DISTRICT DISPATCH
newsletters are available on the District site shown in the LINKS section below.


Rotary Bay City on Facebook!
Click on the Blue Facebook to visit us there.

Remember! Check attendance sheets at the front desk.
---
LINKS