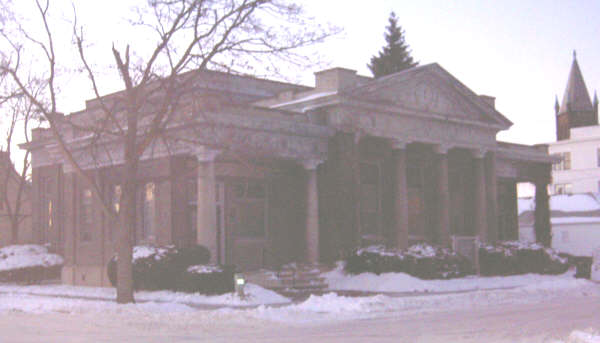 Visitors from 15 area counties are patrons of this new 'Dinner Theatre' scheduled to open this year in the newly renovated Christian Science Church at 701 North Van Buren St.
---
Bay City Poised to Grab Share of Michigan Tourism Increase Forseen in 2005
Shopping, Boat Trips, Trolleys, Theatres, Music Energizing Local Economy
January 26, 2005
By: Dave Rogers
      Bay City offers tourists more interesting places, tours and stories than almost anywhere else, says Gay McInerney, executive director, Bay County Historical Society.
      Ms. McInerney is part of a team of community promoters who are optimistic about the local economic outlook for 2005. Part of the reason for their optimism is a report from the state that tourism is expected to increase.
           "Michigan Residents Can Expect Plenty of Tourists in 2005," headlines Travel Michigan, the state's officials agency for tourism promotion.
      Historic Bay City, one of the fastest growing tourism areas in Michigan, is primed and primped to grab a greater share of the $16 billion that annually comes into the state's economyfrom tourism, according to Shirley Roberts, executive director, Bay Area Convention and Visitors Bureau.
      Why the optimism? Fifty-eight percent of Michigan businesses surveyed anticipate business increases from tourism, says George Zimmerman, senior vice president of Travel Michigan.
      Local promoters point to a variety of commercial and cultural attractions, besides shopping including musical, theatrical, historical, educational and other tourism draws in the Bay City area.
      For example, Mike Asiala, former president of the Bay Area Chamber of Commerce, is a partner in a new organization renovating the former Christian Science Church, 701 N. Van Buren St., as a private theatre company that formerly operated out of the Hereford & Hops restaurant on Midland Street.
            Asiala says his theatre productions attract visitors from 15 counties in this region and he predicts a successful dinner theatre enterprise in the new location.
      Cocktails also may be part of the dinner theatre menu if the new enterprise proceeds as planned, Mr. Asiala said. Application for transfer of an existing liquor license has been filed.
      The State Theatre has a host of attractions upcoming, including the movie "Singin' in the Rain" Jan. 27-29; and "Love is a Many Splendored Thing," Feb. 11-12 and 14.
      The State Theatre Jazz and Blues Sessions presents Robert Jones and Matt Watroba Feb. 5 at 7:30 p.m., Ray Kamaly & His Red Hot Peppers Mar. 5 and the New Reformation Band Apr. 2.
      Music and comedy with the Dream Machine are scheduled Jan. 29 at 2 p.m. at the State, and juggler and magician Ben Spitzer is set Feb. 19 at 2 p.m.
      The Bijou Orchestra comes storming back to the State Feb. 25-26-27 with "Songs of Hope 1939-45," a multi-media presentation featuring Broadway, Hollywood and the Big Bands celebrating the hope that music gave us in time of war.
      When ice in the river moves out and spring creeps over the land, waiting at the dock in Bay City will be three excursion boats operated by Bill and Elaine Fournier, one more than last year.
      The dockage for the Princess Wenonah and two sister ships may be a little south of the present site in Wenonah Park. The new site will be at the foot of Ninth Street in the Uptown at RiversEdge development, if the city approves.
      Reason for the move is the cost of maintaining water levels at the Wenonah Dock. The Fourniers spentabout $12,000 last year improving the site and deeper water is needed, they have told City Manager Robert V. Belleman.
      Tall ships including the Appledore and sister vessel also await visitors and students at the Wenonah Park dock, offeringexcursions and educational trips on Saginaw Bay.
      In addition, only final County Commission approval is needed for another historical attraction expected to draw 100,000 or more visitors a year to Bay City. That is the USS Edson, a 418 footlong destroyer formerly a main attraction in New York City. The Saginaw Valley Naval Ship Museum is seeking approval of the County Commission to moor the Edson on the west side of the river near the Independence Boat Launch.
      Endorsements of the ship museum project have already been received from the City of Bay City, Michigan Department of Natural Resources and the federal government. The Navy Department is believed set to release the visitor-ready ship to Bay City if a docking site is secured. And, museum promoters have raised nearly $600,000 to have the ship towed to Bay City from Philadelphia and situated at a permanent dock.
      "The city stands ready to assist them in any way that we can to make their efforts successful," says City Manager Belleman.
           A revitalized schedule of trolley tours also awaits visitors through the Bay County Historical Museum. And, a new offering, is a Bay City Rotary Club walking tour of Historic Pine Ridge Cemetery, that will have its initiation on Memorial Day, May 30.
      Mr. Zimmerman of Travel Michigan is buoyed by the fact that more than five million viewers have checked up on Michigan.org for travel information in 2004, a 25 percent increase over 2003.
      "This is certainly positive news for Michigan tourism and an indication that the industry's upbeat outlook is justified," says Mr. Zimmerman.
      Tourism generates about 182,000 jobs and $853 million in state tax revenues, and is secondin economic vitality, behind the automotive industry.
      Visitors to Bay City can select from several trolley tours that depart the Historical Museum, 321 Washington Ave., every Saturday at 2 p.m.
      Tours include: "Historic Mansions & Hell's Half Mile," including stately Center Avenue homes of lumber barons, ready-cut homes, and the notorious riverfront bawdy strip on Water Street; "West Bay City: The 1800s,", featuring historic buildings and a former stop on the Underground Railroad; and "South Bay City: Triumph & Tragedy," the former village of Portsmouth where an 1892 fire destroyed 40 blocks and made 1,300 people homeless.
      Special trolley tours scheduled occasionally are Historic Cemeteries, a visit to the final resting places of pioneers, industry titans and Gold Rush adventurers, and Ghosts, Legends and Bay City Lore, from the origins of the legendary Paul Bunyan right here on Water Street to the mysterious visions that still haunt the community after more than a century. Call Michelle at 893-5733 to schedule a tour.###