Dow AgroSciences Program Highlights 2012's Second Vocational Day
March 27, 2012
By: Stephen Kent
Rotary held its second Vocation Day for 2012 today. Almost 100 students job shadowed and visited Delta College for the day. The students were introduced individually and gave their name, school and where they went for the day.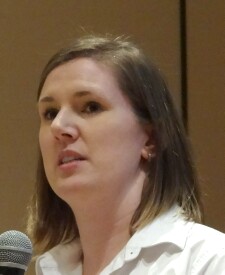 Lisa Woodke
Dow Chemical's
Lisa Woodke
spoke to Rotarians and the visiting students about Dow's Agricultural business and vocational opportunities. Lisa's job is with Dow AgriSciences. A native of the Thumb, Lisa graduated from MSU and has been with Dow AgroSciences since 2007.
Lisa began her remarks by playing a short video that outlined some of the impact that the agricultural and chemical business has on farming and food production business. She went on to speak about the various products offered by Dow.
After the video Lisa spoke about the importance of Agriculture and the relation of science and chemistry, in the form of pest control and fertilizer. She went into some detail about the range of products that Dow provides to agriculture.
Of significance to the students, Lisa talked about jobs that the students might consider and some of the preparation that the need to consider. Dow AgroSciences currently has 232 positions open in locations around the world. 33 of those jobs are in Michigan.
Lisa talked about the value of internships while during the college years as a good way to extend the job shadowing experience and help identify jobs of interest as well as those that might now work.
The importance of a college education was also emphasized. Dow requires a degree and a 3.5 grade average. They do not care so much about what the degree is in as they do in an applicant's interviewing well and their ability to explain why they took the degree that they did.
Nearly 100 Students join Rotary on Second Vocational Day
---
CLUB NEWS and ANNOUNCEMENTS
REMINDER: On
April 10 the Lieutenant Governor Brian Calley
will speak to the club. Mark your calendars and invite guests to attend.
Congratulations to
Lee Newton
and
Robert Belelmann
, who both received recognition at the Chamber of Commerce Annual Meeting last week. Over 470 were in attendance, including many Rotarians.
Members who had a birthday in March were recognized. A special table and cake were postponed until next month due to the large number of students in attendance on Tuesday.
The district conference will be held on May 4 and 5 in Frankenmuth. Members are encouraged to attend one or more sessions. Visit the
District website
for more details.
Rotary International will be offering
double Paul Harris points
for contributions made in specific ways. See Gena for details.
This year's
Rotary Concert
will be on April 12 at the State Theater as a music only program. Performers and musicians will include a Bob Sege tribute.
Program Ads
are being sold at this time. Sign up at the next meeting. The poster for this year's event has been designed by Cindy Chadwick and is being printed now. Be sure to see the preview on the front page of the club web site
RotaryBayCity.org
The club continues to recruit
new members
. Talk to any of the club officers if you have prospects. Be sure to invite friends and prospects to hear the Lt. Governor on April 10th.
International Night organizational meetings are well underway. Be sure to let
Kim Prime
know how you can help with this year's event!


Rotary Bay City on Facebook!
Click on the Blue Facebook to visit us there.

Remember! Check attendance sheets at the front desk.
The Secretary won't take pictures every week!
---
DATES TO REMEMBER
Lt. Governor to Speak
on April 10, 2012. Invite guests and potential members!
ANOTHER BOARD MEETING CHANGE!
Due to the Lt. Governor's talk on 4/10/2012, the Board meeting on that day will be moved back to 4/17 in April.
Rotary Concert
at the State Theater on April 12, 2012.
International Night
is scheduled for October 11, 2012.
---
Upcoming Programs
(See the official schedule at RotaryBayCity.org )
April 3, 2011: Jennie Mason
talks about
FabulaCity Community Education
.
April 10, 2011: Lieutenant Gov. Brian Calley will speak
. This is a great opportunity to invite guests to Rotary.
April 17, 2011: Cat Hyland - General Manager Bay Valley
will speak to us about the new educational program at Bay Valley.
April 24, 2011: Tammy Roehrs, Bay County Division on Aging
will speak on Elder Abuse.
---
Current and past
DISTRICT DISPATCH
newsletters are available on the District site shown in the LINKS section below.


Rotary Bay City on Facebook!
Click on the Blue Facebook to visit us there.

Remember! Check attendance sheets at the front desk.
---
LINKS