FabulaCity Community Education Presented to Rotary
April 3, 2012
By: Stephen Kent
THIS THURSDAY!
Rotary Concert at the State Theater
Don't miss it!
(see announcement below)
Lt. Governor Brian Calley Speaks Tuesday.
A great day to bring a guest!
The talk will come before lunch so be on time or early.
---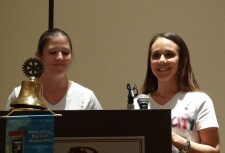 Jennie Mason and Amber Kendra
Jennie Mason
and
Amber Kendra
spoke to Rotary last week about their
FabulaCity Community Education
program. Their mission is to bring community education back to Bay City, bringing people from diverse backgrounds together, reducing crime and delinquency, and to help people work on those issues through new activities, fun, and entertainment.
The two young women started
FabulaCity
based on their backgrounds, interest, and desire. They both have regular jobs and families and do this separately. They built their own web site, do their catalog and mailings, and promote the program. They also take class reservations and make schedules.
FabulaCity
offers a wide variety of opportunities including classes, programs, trips and youth activities. Recent events included a Daddy Daughter Dance. Upcoming events include an Easter Egg Hunt, Dinners, and Murder Mystery parties. Trips include Tigers games, Michigan Adventure and Cedar Point trips, the Ann Arbor Art Fair and Mackinaw Island. Classes range from hobbies to hunter education.
FabulaCity
is affiliated with
Bay County Public School Academy
, which has provided guidance and facilities. Classes may be taught there or they can be at a business or other location.
Ideas come from Amber and Jennie as well as from instructors, students, and interested parties. Anyone can with an interest in teaching a class, or anyone with an idea, can contact Jennie or Amber to see where it might go. Teachers set their own prices and split the proceeds with
FabulaCity
on a commission basis.
For more information visit the
FabulaCity
web site.
---
CLUB NEWS and ANNOUNCEMENTS
REMINDER:
Lieutenant Governor Brian Calley
will speak to the club this week,
April 10
. Mark your calendars and invite guests to attend. The talk will be given before lunch so be on time or early.
The
board meeting
, normally held on the 2nd week of the month, will be postponed due to the Lt. Governor's talk. Join the board on Tuesday the 17th before the regular meeting.
The
District Conference
will be held on May 4 and 5 in Frankenmuth. Members are encouraged to attend one or more sessions. Visit the
District website
for more details.
Rotary International will be offering
double Paul Harris points
for contributions made in specific ways. See Gena for details.
This year's
Rotary Concert
will be on April 12 at the State Theater as a music only program. Performers and musicians will include a Bob Seger tribute.
Program Ads
help raise money for Rotary. The poster for this year's event has been designed by Cindy Chadwick. Be sure to see the preview on the front page of the club web site
RotaryBayCity.org
Tickets are available at Rotary and the State Theater box office.
The club continues to recruit
new members
. Talk to any of the club officers if you have prospects. Be sure to invite friends and prospects to hear the Lt. Governor on April 10th.
International Night organizational meetings are well underway. Be sure to let
Kim Prime
know how you can help with this year's event!


Rotary Bay City on Facebook!
Click on the Blue Facebook to visit us there.

Remember! Check attendance sheets at the front desk.
The Secretary won't take pictures every week!
---
DATES TO REMEMBER
Lt. Governor to Speak
on April 10, 2012. Invite guests and potential members!
ANOTHER BOARD MEETING CHANGE!
Due to the Lt. Governor's talk on 4/10/2012, the Board meeting on that day will be moved back to 4/17 in April.
Rotary Concert
at the State Theater on April 12, 2012.
International Night
is scheduled for October 11, 2012.
---
Upcoming Programs
(See the official schedule at RotaryBayCity.org )
April 10, 2011: Lieutenant Gov. Brian Calley will speak
. This is a great opportunity to invite guests to Rotary.
April 17, 2011: Cat Hyland - General Manager Bay Valley
will speak to us about the new educational program at Bay Valley.
April 24, 2011: Tammy Roehrs, Bay County Division on Aging
will speak on Elder Abuse.
---
Current and past
DISTRICT DISPATCH
newsletters are available on the District site shown in the LINKS section below.


Rotary Bay City on Facebook!
Click on the Blue Facebook to visit us there.

Remember! Check attendance sheets at the front desk.
---
LINKS