Lt. Gov. Calley Describes Michigan's "Not Without Pain Fiscal Reinvention"
April 10, 2012
By: Dave Rogers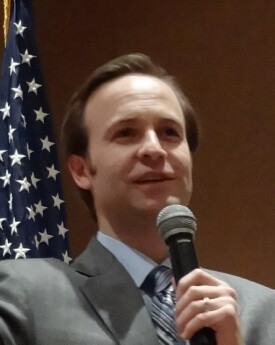 Lt. Gov. Brian Calley
Michigan Lt. Gov. Brian Calley
joked that he is so unknown that recall promoters in Jackson asked him if he wanted to sign a petition to oust Gov. Rick Snyder.
"You know what would happen in that case?" Calley playfully asked. "The lieutenant governor would become governor -- me! And maybe things would be worse."
Confronting the governor soon after, Calley joked: "Sorry, Rick; the people want me. Maybe that should be the campaign slogan: 'Things could be worse.'"
Brian Calley, 34, is the second youngest lieutenant governor in Michigan's history and currently the youngest in the nation holding that post.
With about 100 Bay City Rotarians and guests in attendance, Mr. Calley outlined the tough steps the Snyder administration and legislators have had to make to reduce state debt by $5.6 billion since taking office in 2010.
"The situation was more dire than most people understood," he commented. "A year ago the rainy day fund would have operated state government for about 30 minutes. It was difficult but we got through it with a bunch of rookies. The group in there now (the legislature) has a real heart for the work."
Stating that the Michigan fiscal reinvention process has been "not without pain since everyone has a favorite program they don't want cut. There are lots of defenders of the status quo."
He contrasted the 1990s under Gov. John Engler to the 2000s under Gov. Jennifer Granholm, noting that new start-up companies proliferated under Engler while languishing in the 2000s. "The problem was that we were charging more taxes to pay for bringing in new companies. Now we have eliminated double taxation and we are building a system around expanding companies that are already here," he asserted.
The key has been simplification of the tax code, eliminating all special tax breaks. "We went from having the nation's second worst tax policy to seventh place -- making a leap to best practices."
The lieutenant governor pointed to a 5.2 percent gain in personal income among Michigan citizens because of rising employment opportunities and a predictable situation in state government.
"This year the argument is what to do with the surplus," he added.
He fielded some tough questions from Rotarians, including one about State Sen. Mike Green's proposal to allow carrying concealed weapons in sites where they are now banned. Revealing he has a concealed carry permit himself, Mr. Calley jokingly said: "But I'm not carrying now."
Admitting that "enforcement is difficult" in "target rich environments," the lieutenant governor said "even if it's uncomfortable I would err toward freedom."
Local infrastructure costs was the concern of Chris Girard, a Bay City commissioner and program chair, citing crumbling roads and failing sewers. "I do believe in performance-based funding," said the lieutenant governor, "the carrot approach as opposed to the stick. The problem is that funding for local roads is tied to the per gallon gasoline tax that he described as "not a good way to pay for infrastructure," adding: "We are moving to more effective use of fossil fuels."
He said the Snyder administration is willing to "stick our necks out to achieve dramatic changes even when reality is hard to deal with," like connecting I-75 with highway 401 in Canada for a freeway-to-freeway border crossing.
He noted that one in eight jobs in this area depend on trade with Canada and that the Ambassador Bridge is "the worst bottleneck" to one of the busiest border crossings in the world.
A native of Ionia, Calley served two terms as a state representative. He was minority vice chair of the House Tax Policy Committee. Calley said he is "committed to continuing a spirit of bipartisanship to bring an end to the bitter fighting and divisiveness that has held Michigan back for so long."
Prior to his time as a state lawmaker, Calley worked 10 years as a community banker and small business lender. He was also elected to the Ionia County Board of Commissioners, serving from 2003 to 2006 and was vice chairman all four years he served.
Calley graduated from Michigan State University in 1998 with a B.A. in business administration and received his MBA from Grand Valley State University in 2000.
Calley is an active member of the Portland Baptist Church where he is a song leader and pianist as well as serving on the deacon board. His wife Julie teaches Sunday school to middle school age children. The couple has three young children: Collin, Reagan and Karagan. ###
---
CLUB NEWS and ANNOUNCEMENTS
BOARD MEETING THIS WEEK
The Board will meet this Tuesday, April 17, before the regular meeting.
This is one week late due to the Lt. Governor's talk, which were held last week.
The
District Conference
will be held on May 4 and 5 in Frankenmuth. Members are encouraged to attend one or more sessions. Visit the
District website
for more details.
Congratulations to
Rod Sundstrom
who received his Paul Harris Plus 1 pin at Tuesday's meeting.
Rotary International will be offering
double Paul Harris points
for contributions made in specific ways. See Gena for details.
The club continues to recruit
new members
. Talk to any of the club officers if you have prospects. Be sure to invite friends and prospects to hear the Lt. Governor on April 10th.
International Night organizational meetings are well underway. Be sure to let
Kim Prime
know how you can help with this year's event!


Rotary Bay City on Facebook!
Click on the Blue Facebook to visit us there.

Remember! Check attendance sheets at the front desk.
The Secretary won't take pictures every week!
---
DATES TO REMEMBER
ANOTHER BOARD MEETING CHANGE!
Due to the Lt. Governor's talk on 4/10/2012, the Board meeting on that day will be moved back to 4/17 in April.
International Night
is scheduled for October 11, 2012.
---
Upcoming Programs
(See the official schedule at RotaryBayCity.org )
April 17, 2011: Cat Hyland - General Manager Bay Valley
will speak to us about the new educational program at Bay Valley.
April 24, 2011: Tammy Roehrs, Bay County Division on Aging
will speak on Elder Abuse.
---
Current and past
DISTRICT DISPATCH
newsletters are available on the District site shown in the LINKS section below.


Rotary Bay City on Facebook!
Click on the Blue Facebook to visit us there.

Remember! Check attendance sheets at the front desk.
---
LINKS