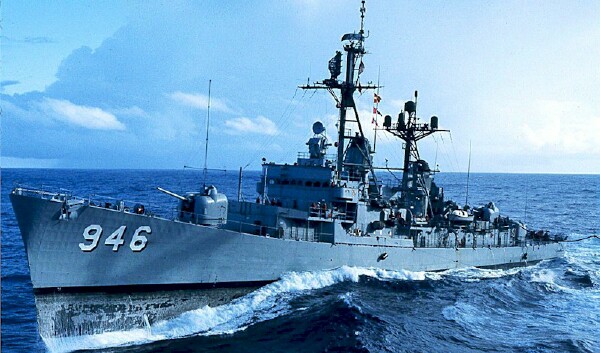 USS Edson (DD-946) December 1974 (photo by Phil Toy www.navsource.org)
---
Club Updated on Sag Valley Ship Museum Effort to Land USS Edson in BC
February 3, 2005
By: Stephen Kent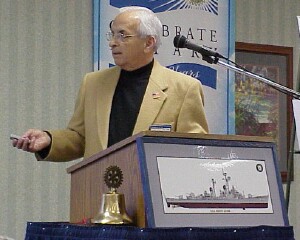 At the February 1, 2005 meeting the club was updated on the progress ofthe
Saginaw Valley Naval Ship Museum Committee
in their efforts to bring the Forrest Sherman class destroyer USS Edson (DD-946) to Bay City. Dick Janke (photo at right), assisted by Mike Kegley made the presentation.
The Museum Committee has been working for several years to bring a ship to Bay City's river front where so many ships were once built. At one time it was hoped that a ship built at the Defoe works could be found, but the last of those ships was scuttled just a few yearsago. As a Sherman class destroyer, the Edson is very similar to the Adams class ships which were built by Defoe during World War II. At 418 feet, the Edson is just a bit shorter than a Defoe Adams class boat.
The Edson was built at Maine's Bath Iron Works in 1956. She was decommissioned in 1988 and went to New York city as part of the city's Intrepid Naval Museum. New York has other, larger ships and needed space for other exhibits. The Edson was released and sent to Philadelphia. The ship has just completed an $800,000 overhaul which puts her in great shape. Having been a museum ship since 1989, she is a perfect candidate for the Saginaw Bay Museum.
The local committee has secured a location just north of the IndependenceBridge. There are existing facilities for the dock, the river depth is more than adequate and the location is easy to reach. The group will add access roads, parking, utilities and other improvements and hopes to have the ship towed to Bay City in the fall.
The Saginaw Valley Naval Museum, with the help of SVSU and other educators has created an educational program which has been endorsed by 42 school districts in the state. The ship will be used for school tours as well as being open to the public.
For more information visit
www.USSEdson.org
---
In other news, February is Black History month. Joy Baker, the day's greeter, told the club about Garrett Morgan, theinventor of the traffic light in 1923. Morgan, a gifted inventor, was born in Paris Kentucky in 1877. With only a fifth grade education, Morgan invented, among other things, the gas mask used by fireman and soldiers in World War 1.
---
President's Corner:
Remember, club members, that the regular noon Rotary meeting on Tuesday, February 22nd, has been cancelled. That week, we will hold a joint meeting with the morning club on Wednesday evening, February 23rd, at the DoubleTree. Also, the regular noon meeting scheduled for Tuesday, March 1st, will be held at the Delta College Planetarium instead of the Holiday Inn. The program on that date will be the dedication of the club's centennial project --- the first historical micro park in downtown Bay City.
---
Upcoming programs:

February 8, 2005 - James Pryor, Saginaw Regional Correctional Facility: Prison Volunteers; Community Re-entry Program - George Heron


February 15, 2005 - Deb Wieland/Rotary Classifications


February 23, 2005 - Wednesday evening Centennial Celebration: joint meeting of Bay City noon and morning Rotary Clubs, DoubleTree Hotel; 250-300 expected to attend; PDG Jerome Yantz, chair. Bay City Rotary History Book to be distributed at the meeting.


March 1, 2005 - Dedication of Centennial Project @ Delta Planetarium site


March 8, 2005 - Tina Baciagalupo, BASID Skills USA Program [Gail Bitzer]

A favorite Rotary picture

Twin club
:
Zekeriakoy, Turkey
Committee members Anita Bowden, chair; Jerry Hill and Roger Pickering reported that a card signed by members of the Noon Club was mailed to Zekeriakoy. Information has been requested concerning the cookbook to be published by the Zekeriakoy club.
---
eClub-One
: Members with internet connections are encouraged to visit eClub-One monthly for a makeup. To get makeup credit you need to fill out the makeup form on that site. Print the acknowlegement for you receive and turn it in to recive credit. Be sure to enter our club's district number (
6310
) on that form.
Click this link to open eClubOne in a new window: