Elder Abuse Signs Presented to Rotary
April 24, 2012
By: Stephen Kent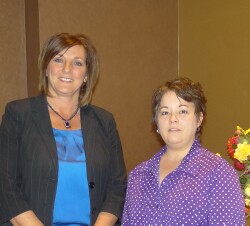 Tammy Roehrs and Annette Jeske
Tammy Roehrs
, Director of the Bay County Division on Ageing, spoke to Rotary about her organization and some facts about the aged population in the area.
Elder Abuse has been a hot topic lately as the population ages. Under the Older Americans Act, an elder is defined as 60 years or older. Today Elders find themselves helping their families financially, raising their grandchildren and sometimes housing grown children. Elders are also exposed to scams from people who want to take their dollars and some suffer physical and mental abuse.
The Bay County Division recently received a three year federal grant to address elder abuse in the county. The award will allow them to educate the community and to provide training to law enforcement, judges, prosecutors and first responders in how to both identify and protect the elderly.
Elders who suffer abuse often don't report it. Among the reasons is that they don't want to turn in the person who cares for them.
Annette Jeske
, Program Development at Region VII Area Agency on Aging, said that 1 in 5 individuals are 60+ years. 1 in 13 of these will be abused but only 1 in 44 of those are reported.
The elderly are at risk due to fears, frailties, dependence, isolation, and the greed of others. Perpetrators of abuse include strangers, family members, and caregivers. Scams are a major problem with new ones being created every day.
Among the top scams are health care and insurance fraud. Counterfeit prescriptions, funeral scams, anti-aging products, telemarketing, and Internet frauds are others.
Jeske went on to offer a number of tips on avoiding fraud and abuse. Perhaps one of the best tips came from Rotarian Al Hicks who reminded everyone that "if it sounds too good to be true, it probably is NOT true."
More information is available at
www.fbi.com
and
baycounty-mi.gov/Aging
.
---
CLUB NEWS and ANNOUNCEMENTS
The
Thesaurus Project
is underway and deliveries are being made now. If you've signed up be sure to get your books and deliver them. Talk to
Rich Milster
or
Chuck Cusick
if you have questions.
Brenda Scramlin
is heading the
Camp Rotary
committee. The club hopes to sponsor about a dozen students this year. If you have candidates, please see Brenda.
The
District Conference
will be held on May 4 and 5 in Frankenmuth. Members are encouraged to attend one or more sessions. The club will pick up half of the registration fee for any member who requests it. Visit the
District website
for more details.
The club continues to recruit
new members
. Talk to any of the club officers if you have prospects. Be sure to invite friends and prospects to hear the Lt. Governor on April 10th.
The
International Night
committee continues to meet and plan this year's event. Be sure to let
Lee Newton
or
Kim Prime
know how you can help with this year's event!


Rotary Bay City on Facebook!
Click on the Blue Facebook to visit us there.

Remember! Check attendance sheets at the front desk.
The Secretary won't take pictures every week!
---
DATES TO REMEMBER
The Annual Golf Outing
will be held Monday, June 25. Visit
RotaryBayCity.org
or see Tim Holsworth for details.
International Night
is scheduled for October 11, 2012.
---
Upcoming Programs
(See the official schedule at RotaryBayCity.org )
May 1, 2012: GSE Team that traveled to Greece
May 8, 2012: Girl Scouts Heart of Michigan
will be presented by Jan Barker, who will tell us about the exciting things happening with the Girl Scouts as they celebrate their 100 year anniversary.
May 15, 2012: Kristal Corrion
will present the proposed vision for the reuse of the former Hampton 5 movie Theater as a
Community Empowerment Center
.
---
Current and past
DISTRICT DISPATCH
newsletters are available on the District site shown in the LINKS section below.


Rotary Bay City on Facebook!
Click on the Blue Facebook to visit us there.

Remember! Check attendance sheets at the front desk.
---
LINKS