Rotary briefed on activities at Saginaw Correctional Facility
Community volunteers important for prison educational and special programs
February 8, 2005
By: Stephen Kent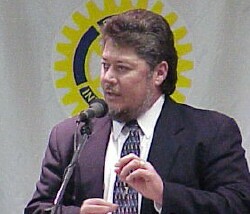 James Pryor, Special Activity Director at the Saginaw Correctional Facility emphasized the need for collaboration with the community and with businesses .
February 8, 2005: James Pryor, Special Activity Director at the Saginaw Correctional Facility presented a program about the prison facility and the programs provided to inmates. He emphasized the need for collaboration with the community and with businesses and the opportunities for citizens to volunteer.
The SRF facility, located in Auburn, houses some 1,448 inmates at maximum capacity. "Special Activities" are a crucial element in the education and control of inmates. Pryor said "programs help keep inmates busy so they're not thinking about rape, stealing or stabbing someone." But he also pointed out that the programs, such as GED, horticulture, custodial maintenance, and food tech provide crucial skills for helping inmates cope whenthey are released.
Other, recreational programs provide community service as well as giving inmates something to do. The Horticulture class grows and donates flowers to civic groups around the area. Another group made Christmas stockings, using donated materials, which were distributed to pediatric wards, the Women's shelter, the "Super Kids" program and to other organizations. The Spanish HASTA group made pinatas which were donated to kids. Some programs were not so obvious. The "Lifers Knitting Group" made knit caps to donate to kids in need.
According to Pryor, Michigan ranks 15th in the country for pouplation, but 3rd in prison population. He said that 70% of the inmates are going to get out someday and re-enter society. Prison programs such as these are very important to help those people become productive citizens again.
As with so many state programs, the prison budgets are under great stress. Special Programs receive almost no funding from state taxdollars. The majority of the programs are funded by the prison store and some donations. Community volunteers provide another essential resource.
For more information you can contact Jim at (989) 695-9880 ext 1306 or email him at JAPryor@Michigan.gov.
---
Black History Month Facts
from Joy Baker: The first heart surgery was performed by Dr. Daniel Hale Williams, a black man, in 1873. Williams, born in 1856 in Hollidaysburg, Pennsylvania was the fifth of seven children.
The son of a barber who died when Williams was young, Williams moved to Maryland where he was apprenticed to a shoemaker in Baltimore. He ran away to join his mother in Illinois, then moved to Edgerton, Wisconsin to opened a barber shop. Heworked as an apprentice to a physician and, in 1880, entered what is now Northwestern University Medical School. In 1883 he opened a medical office in Chicago.
Williams became known for his professionalism and he pioneered the use of antiseptic and sterilization methods. He was appointed as a surgeon at the South Side Dispensary, became an anatomy instructor at Northwestern, and in 1889, was appointed to the Illinois State Board of Health. In 1891 Williams established the Provident Hospitaland Training School Association.
On July 9, 1893 Williams was presented with a young Black man who had been stabbed in the chest in a bar fight. Faced with the young man's condition, Williams made the decision to open the chest and repair the heart. The patient walked out of the hospital fifty one days later and lived another fifty years. Although Williams was to busy to document this surgery, the local newspapers picked up the story and Williams received credit for the first open heart surgery.
---
President's Corner:
Remember, club members, that the regular noon Rotary meeting on Tuesday, February 22nd, has been cancelled. That week, we will hold a joint meeting with the morning club on Wednesday evening, February 23rd, at the DoubleTree. Also, the regular noon meeting scheduled for Tuesday, March 1st, will be held at the Delta College Planetarium instead of the Holiday Inn. The program on that date will be the dedication of theclub's centennial project --- the first historical micro park in downtown Bay City.
---
Upcoming programs:
February 15, 2005 - Deb Wieland/Rotary Classifications


February 23, 2005- Wednesday evening Centennial Celebration: joint meeting of Bay City noon and morning Rotary Clubs, DoubleTree Hotel; 250-300 expected to attend; PDG Jerome Yantz, chair. Bay City Rotary History Book to be distributed at the meeting.

Note that the Midland club will be holding a special luncheon at the Midland Country Club the same day and invites all Rotarians to come.


March 1, 2005 - Dedication of Centennial Project mini-park at the Delta Planetarium. The Planetarium will premier their new Bay City short film for the club. This film is to be screened before all Planetarium shows for the next few months.


March 8, 2005 - Tina Baciagalupo, BASID Skills USA Program [Gail Bitzer]
---
Favorite Rotary Pictures
Jeff Yantz came up with a new way to raise some money. He taught a "dance move". He said "Everyone put up your 'Jazz Hands'. Now do a 'tabor to the left' (look left). If your neighbor is not wearing his Rotary pin, tell him to put a dollar on the table!"
---
eClub-One
: Members with internet connections are encouraged to visit eClub-One monthly for a makeup. Toget makeup credit you need to fill out the makeup form on that site. Print the acknowlegement for you receive and turn it in to recive credit. Be sure to enter our club's district number (
6310
) on that form.
Click this link to open eClubOne in a new window:
www.rotaryeclubone.org
.