Saginaw Basin Land Conservancy Director Speaks
May 22, 2012
By: Stephen Kent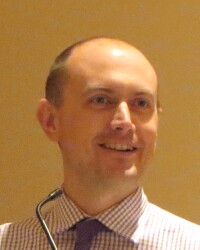 Zachary Branigan
Zachary Branigan
the new Executive Director of the director of the
Saginaw Basin Land Conservancy
(SBLC) spoke to Rotary about the Conservancy and his reasons for leaving Ann Arbor to return to Bay City, making it a home for his family.
Zak is a native of Bay City and was educated in the local school system. His father is well known Realtor Bill Branigan. After getting his masters degree, Zak worked as an urban planner in the Ann Arbor area consulting to dozens government units in the area then as city planner for such communities as Troy.
Despite numerous opportunities, Zak and his wife decided to downsize their life style. With opportunities around the country he was surprised to find the opportunity to return to his home town of Bay City, which they did.
Zak spoke of the many advantages that people may overlook in Bay City. He said that in Ann Arbor he and his wife both worked and made much more money. But they were working all the time and watching their son Leo being raised in expensive day care.
After 17 years away the couple moved to Bay City. They bought more home, which cost less and was close to his parents. His work with the Land Conservancy gives him the opportunity to be outdoors and to raise his son to do more than shop and play computer games.
Many people thought the couple was crazy to move from a city like Ann Arbor to a small town like Bay city. Zak said most of those folks were from Ann Arbor and were uses to paying three times too much for housing, and milk, and day care, and standing in lines, etc. They don't appreciate the many benefits of a town like Bay City.
Branigan went on to talk about the Saginaw Basin Land Conservancy and the work that it does to preserve natural spaces in the largest watershed in the state.
For more information on the SBLC visit:
www.sblc-mi.org/
.
---
CLUB NEWS and ANNOUNCEMENTS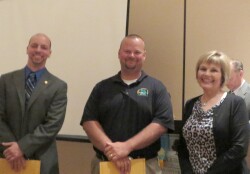 Green, Clements, Allen
The club inducted three new members to its ranks on Tuesday. Welcome to
Rob Green
of Wade Trim, Inc.,
Ed Clements
of the Bay City Public Schools, and
Kathy Allen
new director of the Bay Area Women's Center.
The club continues to recruit
new members
. The committee will meet next Tuesday at 11:00 am before the regular meeting.
Welcome former Bay City Rotarians
Mike Stoner
, now a member of the Northern Bay and Arenac Rotary Club, and
Hratch Basmadjian
, now a member of the Elgin, Illinois club. Both men were former presidents of the Bay City club.
The
International Night
committee continues to meet and plan this year's event. Be sure to let
Lee Newton
or
Kim Prime
know how you can help with this year's event!


Rotary Bay City on Facebook!
Click on the Blue Facebook to visit us there.

Remember! Check attendance sheets at the front desk.
---
DATES TO REMEMBER
The Annual Golf Outing
will be held Monday, June 25. Visit
RotaryBayCity.org
or see Tim Holsworth for details.
International Night
is scheduled for October 11, 2012.
---
Upcoming Programs
(See the official schedule at RotaryBayCity.org )
May 29, 2012: Salvador Ayala, Jr.
, Agricultural Employment Specialist for the Workforce Development Agency with the State of Michigan will talk about the services offered to employers/growers/producers and job seekers that may be seeking employment opportunities in the local area.
June 5, 2012: 10 Minute Rotarian Jr.
(tentative)
June 26, 2012: Lisa Grills
will speak on the YWCA Womens Economic Impact Study in the Great Lakes Bay Region
July 3, 2012: Passing the Gavel
President Ed Keating passes the president's gavel to Kim Prime.
July 10, 2012: Calum Maclean
will speak about the
Sawyer Filter
and how it makes a low cost water filter that is being used in over 70 countries around the globe.
---
Current and past
DISTRICT DISPATCH
newsletters are available on the District site shown in the LINKS section below.


Rotary Bay City on Facebook!
Click on the Blue Facebook to visit us there.

Remember! Check attendance sheets at the front desk.
---
LINKS