Speaker talks about Migrant, Immigrant & Seasonal Worker Services
May 29, 2012
By: Stephen Kent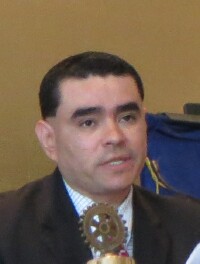 Salvador Ayala, Jr.
Agricultural Employment Specialist
Salvador Ayala
spoke to Rotary about migrant, immigrant and seasonal workers in Michigan's agricultural community. As one of 17 Agricultural Employment Specialist with Michigan's Workforce Development Agency, Ayala has direct contact with these workers and the state's services.
The state agency provides services ranging from referring workers to assistance navigating the state's web site and providing support services to workers. Agents like Ayala work with both the farmer and the workers. The majority of services are on the west side of the state.
With the change in agriculture, the need for seasonal workers is not as significant as it once was. The use of herbicides like Roundup had reduced the number of workers needed for weeding. Other crops have seen similar decline in workers. Most pickles north of Bay City have moved to automated harvest. Of the remaining few who used hand harvesting, one stopped that last year and will become mechanized.
The Michigan asparagus crop may be an exception. Migrant workers are needed for a variety of services but they have proved to be in short supply making something of a crisis in that industry.
At one time Michigan, with its diversity of crops, had huge number of workers coming to the state for seasonal agricultural work. Today the number have dropped in significant levels. In some cases farmers worry about finding enough workers to harvest their crops.
The state has many services that migrant workers rely on including education, health care, and free housing. Although the housing may be free to the workers, it is largely paid for by the farmers who may receive some grants and subsidies from governmental agencies. The state operates 870 licensed camps which can house 23,000 people. That's not everyone, but it is one of the highest numbers in the country and attracts workers to the state.
Most workers come from southern states like Florida and Texas. Although there is surly some problem with illegals, the state agency does not ask or monitor worker status. It is up to the employer to do that.
Workers are generally paid at least minimum wages of $7.40 and hour. Due to the demand, many skilled workers are paid more, some exceeding $11/hour. Child labor does not seem to be a problem these days, although children traveling with their families may sometimes be found working.
For more information visit sites like:
michaglabor.org/
.
---
CLUB NEWS and ANNOUNCEMENTS
Garden works wanted!

Doug Rise will lead a crew of volunteers who will weed and clean up the Rotary Flower Bed in river front park. The bed is located near the big rudder in the park, across from the Community Center. Weather permitting, workers should arrive around 5:00 on Thursday, May 31.

President Keating announced that

Ron Bloomfield

has been named club President elect for the year 2014-15. That will be a good year to have a professional historian as president since the club will celebrate its 100 year anniversary. (The club was founded in 1914 and chartered in 1915).

The

Golf Outing

date is being changed. An announcement will be made of the new date. Contact Tim Holsworth for more information.

The

International Night

committee continues to meet and plan this year's event. Be sure to let

Lee Newton

or

Kim Prime

know how you can help with this year's event!

Member Profile Request Update
from Georgene Hildebrand, Rotary Club of Alpena.
PEOPLE ARE ASKING!

A number of members have received this e-mail and have asked it it's legit or a phishing attempt. Georgene is the district secretary and the request is legitimate. If you received the e-mail then it means that they have your e-mail address already. It's up to you if you want to update other information. The information is supposedly restricted, but that's not made clear.






Rotary Bay City on Facebook!
Click on the Blue Facebook to visit us there.

Remember! Check attendance sheets at the front desk.
---
DATES TO REMEMBER
The Annual Golf Outing
date is being rescheduled. An announcement will be made when the new date is set. Visit
RotaryBayCity.org
or see Tim Holsworth for details.
International Night
is scheduled for October 11, 2012.
---
Upcoming Programs
(See the official schedule at RotaryBayCity.org )
June 5, 2012: 10 Minute Rotarians
June 12, 2012: Shelly Paterson
from the Bay City Garden Club will speak.
June 19, 2012: Scott Redman
will speak about 2-1-1 Northeast Michigan.
June 26, 2012: Lisa Grills
will speak on the YWCA Womens Economic Impact Study in the Great Lakes Bay Region
July 3, 2012: Passing the Gavel
President Ed Keating passes the president's gavel to Kim Prime.
July 10, 2012: Calum Maclean
will speak about the
Sawyer Filter
and how it makes a low cost water filter that is being used in over 70 countries around the globe.
---
Current and past
DISTRICT DISPATCH
newsletters are available on the District site shown in the LINKS section below.


Rotary Bay City on Facebook!
Click on the Blue Facebook to visit us there.

Remember! Check attendance sheets at the front desk.
---
LINKS