10 Minute Rotarians Tell About Their Businesses
June 5, 2012
By: Stephen Kent
Harry Leaver
Harry Leaver grew up on a farm in the Detroit area. After college he go into the machine tool business and eventually ran operations around the world. In 1995 he moved to this area and worked for a Midland based company until 2003 when he joined the staff at Saginaw Valley State University (SVSU).
At SVSU Harry heads the Center for Business and Economic Development. This real world center provides many services to businesses beyond the traditional Educational programs.
There are six units in the CBED program:
Michigan Manufacturing Technology Center - Northeast (MMTC-NE) Assisting area manufacturers to achieve sustained profitability through training and support.
Office of Continuing Education (OCE). Providing quality professional development, new career and personal enrichment opportunities
Osher Lifelong Learning Institute (OLLI). Educational, travel and social opportunities for adults over 50 who never stop experiencing life.
Independent Testing Laboratory (ITL) Improving existing products and bringing new products to market through quality analytical services and technical support.
Saginaw Valley Research and Development Corporation (SVRDC) Taking new technology to commercial viability
These programs have provided an exciting outlet for Harry's talents and experiences. For more information visit www.svsu.edu/cbed.

---
Frank Janca

Frank Janca is truly a self made man. He had a challenging youth losing first his father then, at age 17, his mother. Because he was close to the age of majority at the time, the State allowed him to live alone in his house that last year.

Frank would work then get some schooling, then work and get some more. He went through Delta then on to Central Michigan University to get his BA with a major in hotel restaurant management and a minor in psychology.

Despite his degree, Frank found himself in the Real Estate business. He bought a Better Homes and Gardens agency in 1981. He sold that firm then started a new agency, which he called Best Real Estate, and which has become a highly successful venture.

As youth Frank would see friends playing penny arcade games, which he couldn't afford. That gave him a love of mechanical games and toys and today he has a large collection of many such devices. He's in the process of finding a good way to exhibit these so others can enjoy his collection.

Frank is married, with no children, and he and his wife enjoy traveling the world. For more information visit frankjanca.com/. is own business in


---
CLUB NEWS and ANNOUNCEMENTS
BOARD MEETING THIS WEEK
The Board will meet this Tuesday, June 12, before the regular meeting.



The District received a Rotary International Grant for over $23,000 toward a water harvesting project in the Dominican Republic. Our Bay City club is the lead on this project.

Dues Invoices have been distributed. The Dues structure started last term requires only payment of dues. Rather than prepaying part of the meal cost, you may pay in advance or pay at the door.
THANKS to the Rotarians who joined Doug Rise to clean and prep the Rotary Garden last Thursday. It was some cold work that day but the beds look much better now. More work will be done during the season.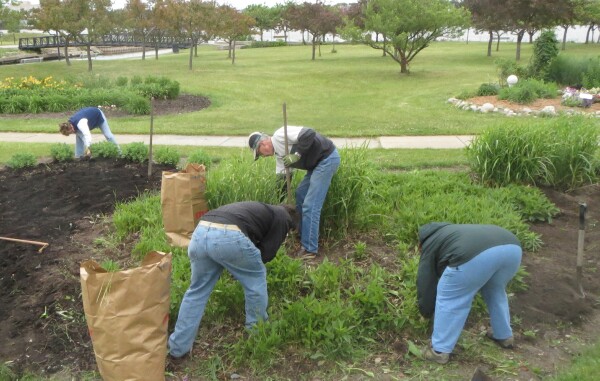 Volunteers work the Rotary Garden in Arboretum





Member Profile Request Update
from Georgene Hildebrand, Rotary Club of Alpena.
PEOPLE ARE ASKING!

A number of members have received this e-mail and have asked it it's legit or a phishing attempt. Georgene from the district says the request is legitimate. If you received the e-mail then it means that they have your e-mail address already. It's up to you if you want to update other information. The information is supposedly restricted, but that's not made clear.






Rotary Bay City on Facebook!
Click on the Blue Facebook to visit us there.

Remember! Check attendance sheets at the front desk.
---
DATES TO REMEMBER
The Annual Golf Outing date is being rescheduled. An announcement will be made when the new date is set. Visit RotaryBayCity.org or see Tim Holsworth for details.

International Night is scheduled for October 11, 2012.


---
Upcoming Programs
(See the official schedule at RotaryBayCity.org )


June 12, 2012: Shelly Paterson from the Bay City Garden Club will speak.

June 19, 2012: Scott Redman will speak about 2-1-1 Northeast Michigan.

June 26, 2012: Lisa Grills will speak on the YWCA Womens Economic Impact Study in the Great Lakes Bay Region

July 3, 2012: Passing the Gavel President Ed Keating passes the president's gavel to Kim Prime.

July 10, 2012: Calum Maclean will speak about the Sawyer Filter and how it makes a low cost water filter that is being used in over 70 countries around the globe.



---

Current and past DISTRICT DISPATCH newsletters are available on the District site shown in the LINKS section below.







Rotary Bay City on Facebook!
Click on the Blue Facebook to visit us there.

Remember! Check attendance sheets at the front desk.
---
LINKS




0202 nd 02-16-2019