Rotary Clubs to Celebrate Centennial Wednesday Evening at the DoubleTree
March 1 Meeting at Delta Planetarium Cancelled; Meeting set at Holiday Inn
February 20, 2005
By: Dave Rogers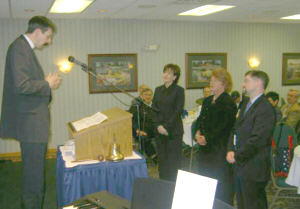 New members Robert Belleman, Dee Dee Wacksman and Eileen Curtis are inducted by Rev. Andreas Teich.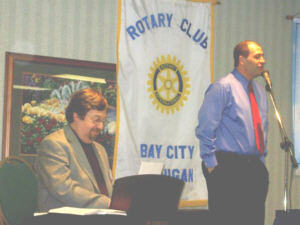 Leo Najar at his favorite instrument and Rob Clark delight the noontime crowd at last week's meeting with the original composition, "Twelve Months of Rotary."
This week's program: Wednesday evening meeting with Morning Club, other Rotary Club members, and guests at the DoubleTree Hotel - Bay City Riverfront. Cash bar, 5:30 p.m., dinner 6:15 p.m., program 7:30 p.m.
Last week's program: The Twelve Months of Rotary, with Leo Najar and Rob Clark.
New members inducted by Rev. Andreas Teich: Robert Belleman, Eileen Curtis, Dee Dee Wacksman. Mr. Belleman, sponsored by Linda Heemstra, is city manager of the City of Bay City; Mrs. Wacksman, sponsored by Marty Fitzhugh, is a community volunteer and chairman of the Board of Delta College; Mrs. Curtis, sponsored by Kathy Czerwinski, is interim executive director of Bay Future, Inc.
      Rev. Jeff Weenink introduced a returning Rotarian, Rev. Dr. William P. Findlay, associate pastor of First Presbyterian Church. He has been a Rotarian for 29 years, a member of seven clubs and is a Paul Harris Fellow.
Black History Month note by Joy Baker: Dr. Charles Drew, a black physician, invented the blood bank. The traffic light and open heart surgery also are credited to black innovators, she said.
      It was a meeting notable for musical creatity.
      First, the inimitable Rob Clark played and sang his composition: "Granite Island," a tribute to his visit to the Lake Superior lighthouse as the guest of former Rotarian Scott Holman Sr.
      The most memorable lyrics were: "The days are short and the nights are cold; Granite Island, won't you take me home."
      Then our own favorite empresario Leo Najar played the keyboard he said he doesn't like to play "in front of people" just as if he really liked to tickle the ivories for crowds.
      Leo explained: "Music brings people together and creates a sense of camradarie; it is important that we feed interest in the arts."
      The lyrics to this unusual composition followed closely those of "The Twelve Days of Christmas" performed so admirably by Mr. Clark during a recent holiday season Bijou Orchestra concert at the Scottish Rite Masonic Center.
      Here are the Twelve Months of Rotary as presented by the Najar/Clark musical duo:
First month - A 100th Anniversary
Second month - Two Paul Harris Fellows
Third month - Three Mini Parks
Fourth month - Four Four-Way Tests
Fifth month - Five Ringing Bells
Sixth month - Six Pins for Wearing
Seventh month - Seven Online Make-ups
Eighth month - Eight Tuesday Lunches
Ninth month - Nine Doggie-Doo Bags
Tenth month - Ten Minute Rotarians
Eleventh month - Eleven Pancake Breakfasts
Twelfth month - Twelve GSE Teams
      The refrain was introduced by the phrase, "In the Twelve Months of Rotary Mike Stoner gave to me . . . "
      "I thought itwas hilarious, and I didn't have any idea they were going to do it!" exclaimed Mr. Stoner after the meeting.
      The meeting also featured some serious business from Deb Wieland who explained the membership types and the classification system.

      NOTICE FROM PRESIDENT MIKE STONER:
      This message is being sent to all members of the Rotary Club of Bay City to inform you that the dedication of the club's centennial project, the first micro historical park in Downtown Bay City, previously scheduledfor Tuesday, March 1, 2005, has been cancelled.
      This cancellation became necessary due tothe recent notification by the project contractor and the DDA that it will not be possible to install the metal structure [kiosk] that will be the centerpiece of the new parkby March 1st. In fact, the structure is not expected to be delivered until mid-March at the earliest.
      The Delta College Planetarium staff has agreed to work with the club to reschedule the dedication event at a later date, perhaps in April. This is an unfortunate turn of events, but one that no one has any control over. So, we will have to make the best of the situation. On the positive side, holding the event later in the spring is likely to mean better weather and a more finished looking project, in terms of landscaping.
      As a result of this change, the club will hold its regular Tuesday meeting on March 1st at the Holiday Inn.###