211 Phone System Presented to Rotary
June 19, 2012
By: Stephen Kent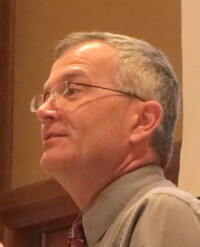 Scott Redman
Got a question? Get an answer!
Scott Redman
, Executive Directory of the 211 Northeast Michigan, spoke about the service and what it brings to our area. A United Way Service, 2-1-1 provides the health and human service equivalent of 9-1-1. Anyone can call the free service to get answers to just about any question.
The local 2-1-1 is run from offices in Midland and covers a 22 county region. Midland is one of eight calls centers in the state. In 2011 alone the service handled 13,416 calls.
2-1-1 is a free service. It offers a single connection to answers from trained specialists in this area. Studies have shown that the majority of callers are very satisfied with the service received. With 90% of Michigan, and 82% of the nation covered, that's a good record.
20% of the calls to 2-1-1 concern housing and shelter. That's followed by 17% for utilities, 16% for food, and the rest for questions such as income, legal services, material goods, transportation and the like.
2-1-1 provides overall efficiencies in helping people get assistance. 9-1-1 Services generally applaud 2-1-1 because it takes the load off the emergency lines. If there's an accident, call 9-1-1, if you just want to know how to get help with a utility bill, call 2-1-1.
Currently you can't dial 2-1-1 from a land line in Bay City but you CAN dial from a cell phone. The service is regulated by the Michigan Public Service Commission and Redman anticipates approval for Bay County to come in August.
For more information go to
www.uwmich.org/2-1-1
.
---
CLUB NEWS and ANNOUNCEMENTS
Gena Gates reported that, as the Rotary year ends, our club is just a few dollars short of our goal of $12,600 for the RI Annual Fund. The goal for Every Rotarian, Every Year is another $12,000 and we are currently just over that total with an average of $116 per member.
The club received a Thank You from Emily King, one of six students who attended Camp Rotary this year. Emily reported that Camp was a great experience where she learned new things and met new people. President Keating also read a thank you card from a class that had received Thesauruses this year
Dues Invoices
have been distributed. The Dues structure started last term requires only payment of dues. Rather than prepaying part of the meal cost, you may pay in advance or pay at the door.


Rotary Bay City on Facebook!
Click on the Blue Facebook to visit us there.

Remember! Check attendance sheets at the front desk.
---
DATES TO REMEMBER
The Annual Golf Outing
date is being rescheduled. An announcement will be made when the new date is set. Visit
RotaryBayCity.org
or see Tim Holsworth for details.
International Night
is scheduled for October 11, 2012.
---
Upcoming Programs
(See the official schedule at RotaryBayCity.org )
June 26, 2012: Lisa Grills
will speak on the YWCA Womens Economic Impact Study in the Great Lakes Bay Region
July 3, 2012: Passing the Gavel
President Ed Keating passes the president's gavel to Kim Prime.
July 10, 2012: Calum Maclean
will speak about the
Sawyer Filter
and how it makes a low cost water filter that is being used in over 70 countries around the globe.
---
Current and past
DISTRICT DISPATCH
newsletters are available on the District site shown in the LINKS section below.


Rotary Bay City on Facebook!
Click on the Blue Facebook to visit us there.

Remember! Check attendance sheets at the front desk.
---
LINKS