Bay City Rotary Clubs Celebrate Centennial with Gala Bash at DoubleTree
Jerome Yantz, Harry Farris, Rob Clark, Mark Hardy Star in Extravaganza
February 26, 2005
By: Dave Rogers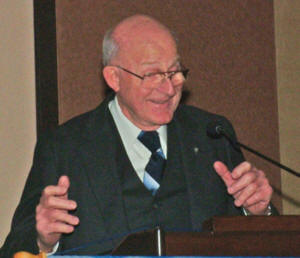 Harry Farris gave a realistic impersonation of Rotary Founder Paul Harris, entering the convention center in a self-propelled wheelchair and wearing a bowler hat. (Anne Trahan Photo)

      It wasn't that hard to transport yourself back in time to Feb. 23, 1905, the founding date of Rotary International.
      The atmosphere was "electric," as master of ceremonies Jerome Yantz commented to the crowd of more than 200.
      "When you put a CPA in charge there's bound to be excitement," he cracked from the podium.
      There was a display of antiques from Rick Schmidt's Finest Antiques. A venerable Alladaphone (reputedly made in Bay City by the Aladdin Company) wheedling out turn-of-the-century music from ancient bakelite tubes.
      Rob Clark sang another of his original compositions, "The Dream of Rotary," displaying a remarkable touch on the keyboard for the first presentation of his poignant tune with lyrics composed at the last minute, he said. Mark Hardy brought back memories of Louie Armstrong with his rendition of "What a Wonderful World" in the jazz master's particular style, accompanied by Gena Gates.
Linda Heemstra and President Mike Stoner double-teamed the recitation of historical facts about the 100-year-old Rotary International and the 90-year-old Bay City Rotary Club.
Shaun Sullivan, president of the Morning Rotary Club, recited the rollercoaster history of that organization of 39-members formed in 1989.
Below
:(Left)Master of Ceremonies, Jerome Yantz (Right) Rob Clark performing an original composition -
The Dream of Rotary
. (Photos By Anne Trahan)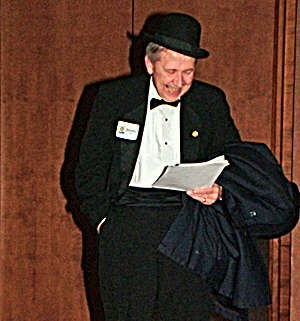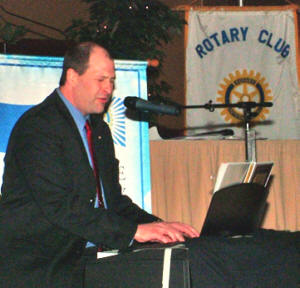 ---
            Commemorative key chains, medallions and a Bay City-produced 40-page history book were handed out as keepsakes of the event.
      The event also featured a continuous large overhead display of historic pictures and graphics operated by Jeff Yantz.
      It was, all in all, a grand, glorious and memorable event fitting for the occasion.
Below
:(Left) Shaun Sullivan, Ruby Iwamasa and Mike Stoner reminiscing(Right) Wes Timm enjoying the festivities. (Photos By Anne Trahan)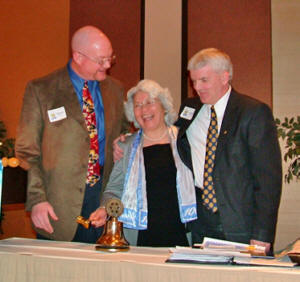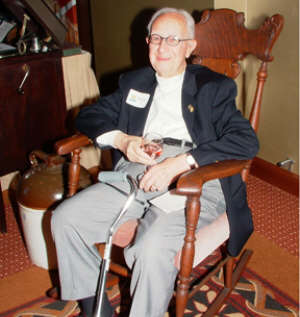 ---
The list of programs for March follows:March 1, 2005 - Gena Gates/Red Cross Relief Work after Florida Hurricane (at the Holiday Inn; Delta Planetarium program cancelled)
March 8, 2005 - Tina Baciagalupo, BASID Skills USA Program [Gail Bitzer]
March 15, 2005 - Career Days/Dave Smith/Youth Exchange
March 22, 2005 - Career Days/Dave Smith/Youth Exchange
March 29, 2005 - Rev. Desmon Daniel/Gospel Choir - Joy Baker, programmer###