Economic Status of Women in the Great Lakes Bay Region
June 26, 2012
By: Stephen Kent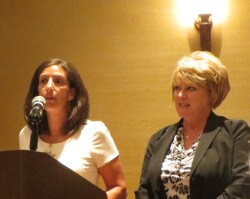 Lisa Grills and Ann Coburn-Collins
Lisa Grills
, Executive Directory of the YWCA, and
Ann Coburn-Collins
, Adjunct Instructor and Coordinator of Gender Studies at SVSU, spoke on a recent study sponsored by the YWCA and SVSU. The study was a special project in 2011-2012 and resulted in the report entitled The Economic Status of Women in the Great Lakes Bay Region.
The project was undertaken by a committee local educators and economic professors. This group compiled data covering areas such as employment & income, education, political leadership, health & wellness and crime & violence.
Grills and Coburn-Collins outlined the results of the survey, which was designed to identify needs in the area and to help develop policies and increased leadership by women to help meet those needs.
Among the various findings were facts about poverty in the area. 36% of households in poverty are headed by females. Females who are employed continue to have a lower earning potential than males. Overall they are not represented equally in higher level positions.
The report was published in a 70 page booklet that was presented to the community. It is hoped that this report and the follow on programs will help improve the life of women in the area.
For more information go to
ywcaglbr.org/documents/advocacy.html
.
---
CLUB NEWS and ANNOUNCEMENTS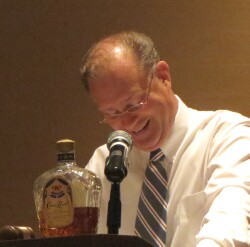 Ed and THE BOTTLE
Last week
President Ed
asked the question: what year was Rotary founded, what year was the Bay City Club founded, and what year was the Bay City Club chartered. There was considerable debate about the answers. Ed then showed a half empty bottle of Crown Royal, which he claimed was full prior to an evening fretting about the answers he had received. To insure fairness, Ed posed the questions again.
Griff Acker
answered that Rotary was founded 1905 and the Bay City was founded 1914 and chartered in 1915.
Gena Gates
reported last week that the club was very near the fund raising goals for the RI Annual Fund and the Every Rotarian, Every Year campaign. She reported this week that the club has now passed both goals as the Rotary year comes to an end.
Tim Holsworth
reported that the
Golf Outing
has been rescheduled for
September 17
this year at the Bay City Country Club. Among the prizes will be a flat screen TV drawing sponsored by Wildfire Credit Union. Information will be updated to the club web site soon.
Eric
reported that
Jency Schnettler
has received her degree from CMU and has finished her internship at Amway. She's now preparing for her time in Shanghai, China as a Rotary Scholar. Jency may be reached by e-mail to
Jency.schnettler@gmail.com
.
Ed read a letter from
Tom Tabor
, who now lives in Florida. Tom regrets that at his age it is unlikely that he will be able to visit again but he thanked the club for the memories and he still believes that Rotary is the best service club. He also said that, if he were here, he would still admonish Rotarians to always wear their pin, probably even on their pajamas!
Dues Invoices
have been distributed. The Dues structure started last term requires only payment of dues. Rather than prepaying part of the meal cost, you may pay in advance or pay at the door.


Rotary Bay City on Facebook!
Click on the Blue Facebook to visit us there.

Remember! Check attendance sheets at the front desk.
---
DATES TO REMEMBER
The Annual Golf Outing
date is being rescheduled. An announcement will be made when the new date is set. Visit
RotaryBayCity.org
or see Tim Holsworth for details.
International Night
is scheduled for October 11, 2012.
---
Upcoming Programs
(See the official schedule at RotaryBayCity.org )
July 3, 2012: Passing the Gavel
President Ed Keating passes the president's gavel to Kim Prime.
July 10, 2012: Calum Maclean
will speak about the
Sawyer Filter
and how it makes a low cost water filter that is being used in over 70 countries around the globe.
July 17, 2012: Exchange Students Amanda Haag and Tanner Norton
will speak.
---
Current and past
DISTRICT DISPATCH
newsletters are available on the District site shown in the LINKS section below.


Rotary Bay City on Facebook!
Click on the Blue Facebook to visit us there.

Remember! Check attendance sheets at the front desk.
---
LINKS