Rotary President Passes Gavel In Time Honored Tradition
July 7, 2012
By: Stephen Kent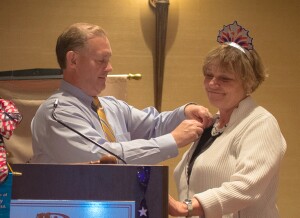 Keating Passes President's Pin to Prime
Photo by Andy Rogers
Pass-Gavel-1531.jpg Following the time honored tradition, outgoing
Rotary President Ed Keating
passed the gavel to
Incoming President Kim Prime
at the last meeting of the Rotary Year. Being a few days before the Fourth of July, many Rotarians wore festive head gear provided by
Dee Dee Wacksman
.
Prior to the changing of the guard, Ed took some good natured ribbing from members, including Frank Janca, who announced that there was still time to impeach Ed.
Ed spoke of some of the accomplishments of the past year. These included the change in meeting location, a new dues structure without requiring pre-paid meals, and a positive ending bank balance.
Jenna Schrumpf
established a Facebook page, six students were sent to Camp Rotary, and the club sponsored International Exchanges.
The club added eleven new members to the club, although others either moved or left the club. We also lost several honored ex-members who passed away:
John Bultrud, Ron Fuller, Leo Najar, and Joy Baker
.
The club exceeded it's RI giving goals for the year. We held our usual fund raising, which were a success and contribute to projects throughout the city.
Ed concluded by review his New Years resolutions, of which he kicked only one: to stop streaking at football games. He then showed a small portion of the Rotary DVD by past RI President Cliff Dochterman titles "If I Could Be President Again".
Ed then passed the well used President's Pin to Kim, who in turn pinned Ed with the jeweled Past President's Pin, which noted his year of service.
Kim began by remembering how, in 2005, Rotarian
George Charles
(then Central High Principal) told Kim that she should get involved in the community. She approached
Hratch Basmadjian
, about Rotary. He bought her lunch and in June George sponsored her as a member of Rotary.
At first Kim didn't know she was actually supposed to attend meetings. After being told by
Kathy Czerwinski
"Kim. What are you doing? You're an embarrassment!". In short order Kim became a very active Rotarian leading to her President's position today.
Kim went on to say something about each of the Presidents since she joined. She mentioned Anne Trahan's green member info cards. "Anne, you had it right. It is so important to seek input and know what members can contribute." Next week Kim will pass out her own cards because she wants to know the members better.
Remembering Rob Clark's popular habit of auctioning off the junk from his desk drawers (really junk), Kim promised to bring that back with her own junk. Funds will go to the club's projects. She also mentioned a fund raising contest with Morning Club president Mac Quin. (Kim promised she will win that contest!)
As her first act as new President, Kim reviewed some of her goals. She also brought attention to a brochure on all tables that listed her officers, board, and goals. It also included suggestions she's been given and she asks all members to review these and give her feedback.
Kim finished by saying "Do you have any questions of me? (I can't kick that teacher thing). Everybody understand?" The only comment was from
Deb Wieland
who said "YIKES! I can see you're going to take us on a ride. I can't wait!"
---
CLUB NEWS and ANNOUNCEMENTS
Welcome to returning member Greg Rosecrans. Remembering Ed's question the last two week, Greg left the front by saying to everyone ??, 1914 and 1915!".
The September 17 Golf Outing information has been updated to the club web site. If you have questions
LINK
to that page.
July through December
dues
are
now due
. If you don't have your invoice, please see Secretary Steve Kent.
| | |
| --- | --- |
| Ed Keating and Greeter Frank Janca | Chris Girard with festive head gear |


Rotary Bay City on Facebook!
Click on the Blue Facebook to visit us there.

Remember! Check attendance sheets at the front desk.
---
DATES TO REMEMBER
The Annual Golf Outing
will be held September 17. See the announcement and info page at
RotaryBayCity.org
or see Tim Holsworth for details.
International Night
is scheduled for October 11, 2012.
MEMBER PHOTOS:
If you missed the opportunity to have
Anne Trahan
take a new picture for the Rotary Directory, don't fret. Give her a call or see her at the meeting to work out a sitting. The directory picture is free. Retouched digital photos and portraits for your own use are available for a small charge.
---
Upcoming Programs
(See the official schedule at RotaryBayCity.org )
July 10, 2012: Calum Maclean
will speak about the
Sawyer Filter
and how it makes a low cost water filter that is being used in over 70 countries around the globe.
July 17, 2012: Exchange Students Amanda Haag and Tanner Norton
will speak.
---
Current and past
DISTRICT DISPATCH
newsletters are available on the District site shown in the LINKS section below.


Rotary Bay City on Facebook!
Click on the Blue Facebook to visit us there.

Remember! Check attendance sheets at the front desk.
---
LINKS