Youth Exchange Student Speaks to Rotary
July 10, 2012
By: Stephen Kent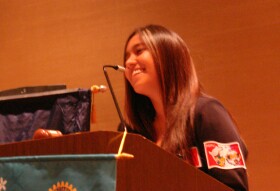 Nadieska Vasquez
International Youth Exchange Student Nadieska (Nadi) Vasquez spoke to the club about her stay in the US and Bay City. Nadi is from Peru and has enjoyed her stay in this area and the time with her host families.
Nadi spoke to the club last August and talked about her home and her plans. This time she reviewed all the great things that she's done while in the states.
In the beginning everything was new; new people, new language, new school. By the end of her first month she asked herself "What am I doing here?". That was soon behind her.
Nadi's first host family was the Owczarzark's. It was here that she experienced snow for the first time. She next moved to Ann Lingle's home where she enjoyed Christmas, roller blading, shopping, and even some time to relax. The Weidner's were the third host family. Here she found a pet snake (yes, she loved the snake), soccer games, and a trip to Chicago!
Going to school at Garber, Nadi fondly reminisced about playing in the the band. She mentioned that she had difficulty with English at first, but her Rotary audience felt that was entirely overcome. She did note that Spanish class was easy.
Talking about food, Nadi said that Cheesecake was her absolute favorite. She also loves Pizza, BBQ ribs and corn, but Cheesecake remains the favorite and is something not found in her country.
Nadi made a number of side trips during her stay including the Detroit Zoo and Chicago. She took a West Coast tour and saw Los Angeles, San Diego, San Francisco, Las Vegas, and the Grand Canyon.
She closed by thanking the club and her three great host families. She said her time was "The most Wonderful experience of my youth."
---
CLUB NEWS and ANNOUNCEMENTS
In her first full meeting as President, Kim Prime introduced the club to some of her new programs. For one, Kim will auction something of hers once a month to raise funds for clean water projects. At this meeting she auctioned off a birdhouse made by her husband and got $45 for it!
Kim also showed her blue rubber bracelets, which she'll offer for $5 each. For full disclosure, she said she'll keep $2.50 for each until she's paid off her expenses.
The CONTEST:
As a fun program that has the potential to raise significant funds, Kim introduced her challenge to the Morning Club and its incoming President Mac Quinn, who was present at the meeting. Kim prepared to large water bottles and signs. These will be put out at the meeting for each club (both meet at the Doubletree). Members are encouraged to drop their loose change in the bottles. The contest ends at the Rotary Concert in the Spring and the looser will be required to sing a solo... song to be chosen by the winning club.
The TWIST:
The contest is, of course, to see who raises the most money. As a twist, though, only coins count UP. Paper money counts DOWN. Therefore, members are encouraged to put coins in their own jug. If they want to contribute bills, put those in the OTHER club's jug to count against them!
The board met today and approved the proposed budget. The previous year ended with a $742 surplus, but with the change in dues and a lower membership count, the next year budget is balanced, but less flexible.
The board also approved the continuation of the Student Exchange program giving Andrea Hales and Brenda Rowley the green light to continue.
Officers, board members, and committee chairs were reviewed and appointed. A complete list is in the member's section of the club web site.
Next month's board meeting will be on August 21 (one week late) to coincide with the District Governor's visit to the club.
The September 17 Golf Outing information has been updated to the club web site. If you have questions
LINK
to that page.
July through December
dues
are
now due
. If you don't have your invoice, please see Secretary Steve Kent.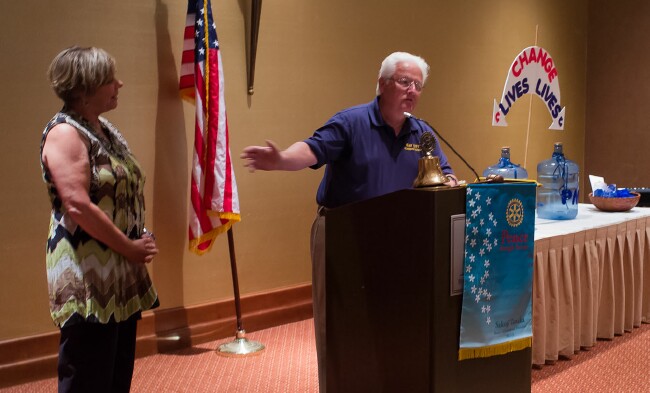 Kim Prime listens patiently as Mac Quinn accepts challenge
Photo by Andy Rogers


Rotary Bay City on Facebook!
Click on the Blue Facebook to visit us there.

Remember! Check attendance sheets at the front desk.
---
DATES TO REMEMBER
The Annual Golf Outing
will be held September 17. See the announcement and info page at
RotaryBayCity.org
or see Tim Holsworth for details.
International Night
is scheduled for October 11, 2012.
MEMBER PHOTOS:
If you missed the opportunity to have
Anne Trahan
take a new picture for the Rotary Directory, don't fret. Give her a call or see her at the meeting to work out a sitting. The directory picture is free. Retouched digital photos and portraits for your own use are available for a small charge.
---
Upcoming Programs
(See the official schedule at RotaryBayCity.org )
July 17, 2012: Exchange Students Amanda Haag and Tanner Norton
will speak.
July 24, 2012:
Christopher Izworski will speak about
Bay Alerts
July 31, 2012: Matt Reid
updates the club on the activities of the
Bay Arts Council
Aug 7, 2012: Camp Rotary.
High School Students will tell us about their experiences at Camp Rotary this summer.
Aug 14, 2012: MAGIC!
Western High student Cameron Zvara, aka "Crazy Cam the Magician", will entertain Rotary with his amazing magic tricks.
---
Current and past
DISTRICT DISPATCH
newsletters are available on the District site shown in the LINKS section below.


Rotary Bay City on Facebook!
Click on the Blue Facebook to visit us there.

Remember! Check attendance sheets at the front desk.
---
LINKS